NEW REPORT: Advanced Energy Companies Account for nearly 48,000 jobs in Indiana
National business group launching work in Hoosier State shows that energy efficiency, renewable energy, and other advanced energy businesses support 2 percent of jobs overall – more jobs than machinery manufacturing and nearly twice as many as colleges and universities in Indiana
[Indianapolis, Thursday, Nov. 17] — Nearly 48,000 workers were employed in advanced energy businesses in Indiana in 2015, according to a new report published today by Indiana Advanced Energy Economy (Indiana AEE). That's more Indiana jobs than are in machinery manufacturing (43,000), nearly two times the 25,000 jobs in colleges and universities, and approaching the 60,000 in auto parts manufacturing.
The report also marks the debut of Indiana AEE, which represents corporate members of the national business group Advanced Energy Economy (AEE) who see significant opportunity for jobs and business growth across the state. The effort is being led by Greg Ballard, former Republican mayor of Indianapolis, and Graham Richard, former Democratic mayor of Fort Wayne.
One out of every 50 workers in Indiana is employed in the advanced energy industry, and employers expect to add over 900 new jobs by the end of 2016 – an increase of 2 percent. Most advanced energy jobs are in energy efficiency, followed by transportation, solar, wind, biomass, and advanced natural gas. The report, Advanced Energy Jobs in Indiana 2016, prepared by BW Research Partnership, a leading workforce and economic development research firm, can be downloaded here.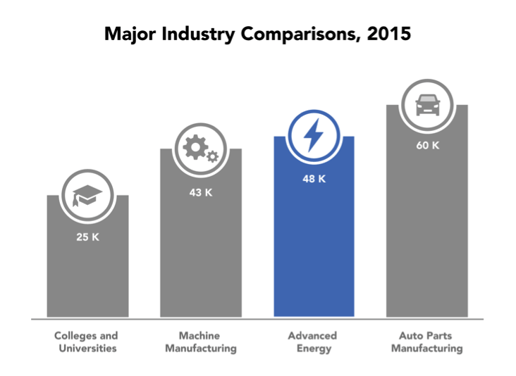 "We are in the middle of an energy transformation, even if most people don't know it," said Greg Ballard, senior fellow at Indiana Advanced Energy Economy, and former Republican mayor of Indianapolis. "Indiana has a chance to embrace that transformation and capitalize on it in jobs and economic growth. Indiana AEE is here to work with public officials and the community to make that happen."
"Across the nation, we are seeing growing demand for secure, clean, and affordable energy resources, among large corporate energy buyers as well as residential consumers," said Graham Richard, CEO of the national business group Advanced Energy Economy (AEE), and former Democratic mayor of Fort Wayne. "With a strong base of manufacturing and services industries, Indiana is uniquely positioned to grow, attract, and retain companies that both provide advanced energy products and services and depend on them for their operations."
"Based on our experience and growth across the United States and globally, we see great opportunities for Indiana in advanced energy," said Steven Schamber, vice president of North America meter development for Landis+Gyr, a global leader in integrated energy management solutions and smart grid technologies. "With a longstanding operations presence in Indiana, we are excited to be working with leaders and policymakers in the state to grow advanced energy business opportunities."
Besides Landis+Gyr, other national AEE members with a strong presence in Indiana include Pattern Energy, CLEAResult, Vestas, and Ameresco. AEE also has a growing membership among major users of advanced energy, including tech companies like Apple, Amazon (which has a wind project in Indiana), Microsoft, Walmart, and Salesforce (which is a major employer in Indianapolis).
Advanced energy has the added benefit of providing rewarding career opportunities for the work force. Included in the report are profiles of workers in four advanced energy jobs.
"I love working for Vestas and the wind industry because of our exciting future. Wind is only going to continue to expand throughout the U.S. in the coming years," said Alan West, Site Manager of the Meadow Lake Wind Farm located in Chalmers, for Vestas, who is profiled in the report, along with Schamber of Landis+Gyr. "I'm proud to be part of a company that is extremely safety oriented and puts a high priority on my future as an employee, and on the future of renewable energy."
Richard points out that Indiana possesses a wealth of energy resources that can support future growth in its advanced energy economy from untapped potential in energy efficiency, wind, biofuels, transportation and biomass, as well as combined heat and power in its many industrial facilities.
Indiana also faces energy challenges, according to Ballard, who notes that 75 percent of its energy comes from aging coal-fired power plants that are, on average, 50 years old. While Indiana ranks 16th in population, it is 9th in per capita for energy consumption, and with 100 outages affecting nearly 200,000 people, Indiana was among the Top 10 states for power outages in 2015. For these reasons, Ballard see opportunity for Indiana to benefit from modernizing its energy infrastructure and improving reliability, cost, and diversity of its electric power system.
About AEE and Indiana AEE
Advanced Energy Economy (AEE) is a national association of businesses that are making the energy we use secure, clean and affordable. Advanced energy encompasses a broad range of products and services that constitute the best available technologies for meeting energy needs today and tomorrow. AEE's mission is to transform public policy to enable rapid growth of advanced energy businesses. Now with Indiana AEE, AEE and its State Partner organizations are active in 27 states across the country, representing more than 1,000 organizations in the advanced energy industry. Like Indiana, AEE works directly in states that are particularly important to its members, including California, Texas, and Florida. www.aee.net @AEEnet
Background Materials
Advanced Energy Jobs in Indiana 2016 shows there are nearly 48,000 advanced energy jobs in the state, breaks them down by segment, and provides examples with actual worker profiles.

This Is Advanced Energy (2016) is a directory of 52 advanced energy technologies that includes descriptions and examples.
Media Contacts:
Monique Hanis, mhanis@aee.net, (202) 391-0884
Susan DeVico, susandv@aol.com, (510) 339-1527