New statewide poll shows smog and air quality adversely impacting quality of life in Colorado; majority support electrifying trucks, buses
DENVER, July 11, 2022 – Most Coloradans say summer smog and air pollution are negatively impacting their quality of life and support policies that would counteract the source of much of that pollution: emissions from gas and diesel vehicles.
The findings are part of a new statewide survey conducted by YouGov on behalf of national business association Advanced Energy Economy (AEE) and come just a month after the American Lung Association listed the Denver metro area as having the seventh-worst ozone pollution in the nation.
"Summer should be about enjoying the outdoors, but in large part because of truck pollution, it's become an ozone warning season when it's often unsafe to be outside," said Emilie Olson, Policy Principal at AEE. "Coloradans want state leaders to take immediate action to reduce the vehicle pollution that's causing poor air quality."
Survey highlights:
73 percent of Coloradans agree that state elected officials should be doing more to decrease pollution from gas and diesel vehicles.
70 percent of Coloradans agree that smog and air pollution negatively impact their quality of life.
64 percent of Coloradans support setting requirements for businesses with high-mileage vehicle fleets to reduce their tailpipe emissions.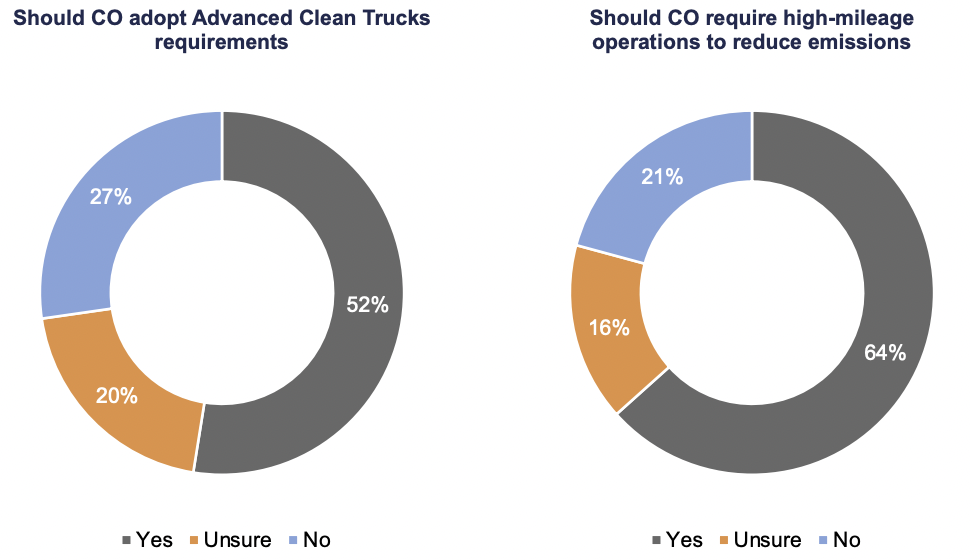 The survey also found that 52 percent of Coloradans support adoption of the Advanced Clean Trucks rule, with 27 percent opposed and 20 percent unsure. The poll described the Advanced Clean Trucks program as a rule which "requires auto manufacturers who sell medium- and heavy-duty vehicles (like vans, trucks, and buses) to sell zero-emissions vehicles as an increasing percentage of their annual sales from 2024 to 2035."
"Phasing out the dirty, long-range trucks that spew high levels of tailpipe emissions as they move through Northern Front Range, Commerce City, and all over the Denver metro area will reduce the toxic smog that plagues our air," added Olson. "This research shows Coloradans will continue to support practical action, like adoption of the Advanced Clean Trucks rule, to get our state closer to an electrified transportation system that's healthier for our communities and our economy."
Results of the poll are available here.
This poll was commissioned by AEE Institute and conducted by YouGov using a statewide representative sample of 600 Colorado residents interviewed online between June 8 – 16, 2022. Respondents were selected from YouGov's opt-in panel to be representative of all Colorado registered voters. The margin of error (at 95 percent confidence interval) is +/- 4.4 percent.