This week, national business group Advanced Energy Economy (AEE) released new research into the economic development potential of establishing a regional transmission organization (RTO) to operate the power grid for Western states. The report, conducted by independent consulting firm Energy Strategies, finds that establishing an RTO for Western states would create as many as 657,000 permanent, high-paying jobs in the West. If you want to learn more, watch the press briefing here.
A Western RTO is a rare win-win-win:
It will improve grid resilience and help keep the lights on;
It will connect sources of clean energy and allow states to reach their climate goals;
And, as this new report shows, it will create hundreds of thousands of permanent, high-paying jobs in the West, diversify state economies, and save ratepayers billions per year in energy costs.
That's why it's no surprise that leaders from a wide-range of sectors and states are sharing this report and calling for a Western RTO. Read below to check out what they're saying, including this tweet from Governor Sisolak of Nevada: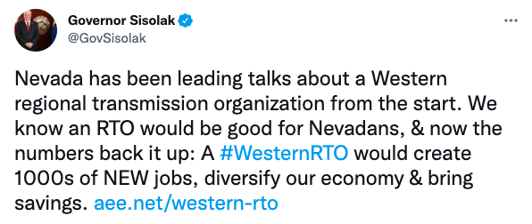 Kris Sanchez, Deputy Director, Nevada Governor's Office of Economic Development: "So many companies with operations in the West — especially those like Microsoft that have ambitious goals to be carbon negative by 2030 — stand to benefit from regionalizing the power grid. We need affordable clean energy ASAP. We need a grid we can rely on. This economic impact study shows us that if Western states collaborate to achieve reliable, affordable clean energy, everyone will prosper."
David Bobzien, Director of the Nevada ​​Governor's Energy Office: "These results are exciting for the Silver State and support work already being done in Nevada and throughout the West," said. "Our state is leading regional efforts to build a Western energy grid that bolsters our commitment to energy affordability, renewable energy and our clean energy economy. We look forward to working with the rest of the region on continuing to move this forward."
Chris Hansen, Colorado State Senator: "This study confirms what we in Colorado have known all along: An RTO is a great win-win, better reliability and lower costs. We must continue to advance the work in our region to better integrate our energy resources so that Coloradans have reliable power and save on their electricity bills. The state should move quickly to create the path to clean, affordable energy and I look forward to working with our state leaders to ensure Colorado remains on track, actively engaged with the rest of the region, and is able to reap the economic benefits tied to RTO formation in the West."
Colorado State Senator Don Coram: "The economic growth potential shown in this study is confirmation that Colorado is on the right path in directing our utilities to join an RTO by 2030. Legislators on both sides of the aisle are dedicated to lowering energy costs for families and businesses and shoring up our grid to make it more reliable."
California Assemblymember Chris Holden: "California should be looking seriously at this study and the benefits an RTO could bring to our state. An RTO could help safeguard against blackouts, reduce household energy costs, and keep high-paying, permanent jobs here in California — all while helping to achieve our ambitious goal of 100% clean energy by 2045. For years, California has been looked to as an innovative leader in the energy sector — but if we don't consider collaborating with the rest of the West, we risk being left behind. We can't afford to do it alone."
Suedeen Kelly, Former FERC Commissioner and Partner at Jenner & Block: "Our electricity system is going through dramatic change and is being challenged in new ways. The West has an opportunity to design an RTO that is aligned with its goals and this data reinforces the tremendous economic benefits that may be unleashed with more regional collaboration."
Sandhya Ganapathy, CEO, EDP Renewables North America: "We've known for years that RTOs make it easier to add more renewable energy resources onto the electric grid. As a renewable energy industry leader in North America, EDP Renewables supports a 100 percent clean energy future in the west and is confident an RTO can help achieve this goal. Through this study, it is evident that an RTO will have far reaching benefits for the entire regional economy, and we must advance this opportunity to capitalize on cost savings and reduce emissions."
Jeffrey Barrett, Director of State Affairs, Western Region at Apex Clean Energy: "RTOs allow the best clean energy to be brought to market — resources that might otherwise never have been developed. It's no surprise that greater economic benefits materialize in states where market conditions drive clean energy investment. This study is an important contribution to the growing consensus that an RTO is a crucial next step for the West's economic and environmental goals."
Mona Tierney-Lloyd, Head of US Public Policy at Enel: "It's exciting to envision the economic potential of a coordinated and integrated Western grid that can not only support the development of new renewable energy and battery storage projects, but also deliver affordable electricity to homes and businesses. This is a unique opportunity to pull together for the good of the region, for each state and for Westerners, and for the economy."
John Karakoulakis, Director, The Western Way: "This study fills an important gap in understanding the potential economic benefits driven by the creation of a Western RTO. From significant permanent job creation to operational efficiencies, the market forces of an RTO would not only grow the regional economy but lower utility rates for consumers. Policy makers will benefit from this analysis as the regional discussion towards markets continues to move forward."
Adrienne Mouton-Henderson, Director, Clean Energy Buyers Alliance: "This study confirms that a west-wide full RTO construct would provide reliable clean power and does so in a way that builds sustainable economic development while driving down costs for Western states. State leadership on market expansion is needed or we will miss the opportunity to increase state revenue in the billions."
Alli Gold Roberts, Senior Director of State Policy, Ceres: "Major companies in the U.S. want to see Western states coordinate on a regional plan to integrate and deploy clean energy across the region. Businesses have ambitious climate and clean energy goals, and this regional approach will increase competition and access to clean energy," said Alli Gold Roberts, senior director, state policy, at Ceres, a nonprofit working with companies to advance climate action through corporate practices and public policy. "By working together to integrate and share clean energy resources on the grid, states can meet their ambitious climate commitments and help reduce energy costs for all."
A full copy of the report can be downloaded here.