Florida's Advanced Energy Industry Has 140,000 Workers, Nearly 2X Agriculture Jobs and More Than Real Estate
Representing 2 percent of the state's workforce, advanced energy jobs span a broad range of technologies and are expected to grow 4 percent in 2016.
[Washington, D.C., July 14, 2016] – Today, the Advanced Energy Economy Institute (AEE Institute) reported that Florida employed an estimated 140,282 advanced energy workers in 2015, nearly twice as many as in Agriculture, more than Real Estate, and equal to Schools, Colleges, and Training Institutions. These jobs spanned a broad range of technologies including energy efficiency, electricity generation like solar energy, as well as grid management and advanced transportation.
The report, prepared for the AEE Institute by BW Research Partnership, a leading labor market research firm, shows there are an estimated 25,528 employers engaged in advanced energy business in the state. Companies surveyed reported they expect to add more than 5,000 new jobs by the end of this year, to reach more than 145,000 total jobs, an expected 4 percent increase.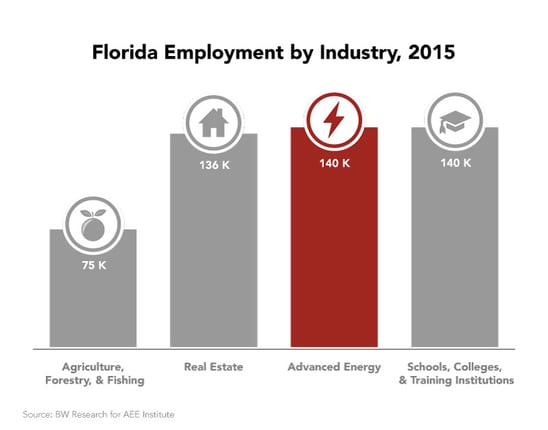 The 2016 Advanced Energy Jobs in Florida report can be downloaded here.
"In Florida and around the country, advanced energy has become a significant market segment. That is paying off in jobs for Floridians," said Graham Richard, CEO of Advanced Energy Economy (AEE), a national business association with many member companies operating in Florida. The AEE Institute is its affiliated nonprofit educational organization. "This report also shows that there is more room to grow. That's good news for advanced energy companies and for the economy of Florida."
"It is not surprising that advanced energy jobs in Florida are growing," said State Rep. Dane Eagle (R-Cape Coral), Chairman, House Energy & Utilities Subcommittee. "We need to provide a strong business environment that helps to foster the growth of these companies - with the least government intrusion as possible. The message we need to send is that Florida is open for business."
"One of the most exciting things about my job is the opportunity to be a part of a global technology company that is working to help the world run smoothly, smartly, simply, and safely with solutions to increase energy efficiency and lower operating costs," said Mary-Suzanne Powell, Miami-based area general manager for energy solutions at Johnson Controls, Inc. (NYSE: JCI). "We're growing and hiring — we already have 1,000 people working in Florida and are growing rapidly with opportunities in engineering, project development, funding, project management, measurement and verification, and sales."
Across the U.S., JCI manages $6 billion in energy management contracts, which allow clients to upgrade and maximize their building equipment and infrastructure to reduce energy consumption and operating costs, with contractually guaranteed results. Powell's team focuses on commercial, health care, government, higher education, K-12 schools, and industrial clients.
The new employment figures come as Florida voters consider a ballot initiative that would support expanded growth in solar energy. On Aug. 30, voters will be asked to approve constitutional Amendment #4 on the statewide primary ballot, which, if passed, would extend a property tax exemption for renewable energy devices, including solar, on commercial and residential properties. The 'Vote Yes on 4' solar campaign describes the issue and explains the ballot language to interested voters. The ballot initiative was put forth by State Senator Jeff Brandes (R-St. Petersburg) along with Representatives Ray Rodrigues (R-Fort Myers) and Lori Berman (D-Boynton Beach), and passed by the Florida legislature in March of this year.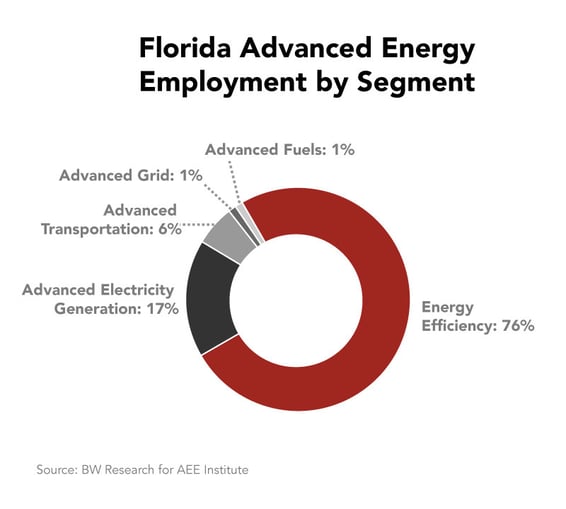 Detailed findings of Advanced Energy Jobs in Florida include:
EMPLOYEES
Advanced energy employs over 140,000 workers in Florida, nearly twice as many as Agriculture (75,000), more than Real Estate (136,000), and equal to Schools, Colleges, and Training Institutions in the state (140,000).
The advanced energy industry now supports 2 percent of total statewide employment.
With over 106,000 workers, Energy Efficiency for buildings makes up three-quarters (76 percent) of Florida's advanced energy workforce.
Advanced Electricity Generation is the second largest advanced energy job segment in Florida. Solar represents nearly half of this segment's approximately 23,500 workers.
Advanced Transportation employs almost 8,000 workers, and is quite large and varied compared to other states: fuel cell vehicles make up the largest share at 38 percent, with growth in Plug-in Electric Vehicle (PEV) and Plug-in Hybrid Electric Vehicle (PHEV) technologies expected to continue.
The state's Advanced Fuel segment is small but poised for growth and diversification in the coming years. Currently, it employs about 1,600 workers, half of which work in corn ethanol.
The Advanced Grid segment employs 962 workers, with nearly half (47 percent) working on electric vehicle charging infrastructure, 39 percent in advanced storage, and10 percent working on smart grid technologies.
Although predominantly male (73 percent), one in four advanced energy workers in Florida is a racial or ethnic minority, with the share of last year's hires significantly higher (39 percent).
Nearly 8 percent of Florida's advanced energy workers are veterans, and one in 10 is over the age of 55.
Advanced energy firms in Florida report they plan to hire more than 5,000 workers this year, a nearly 4 percent growth rate, which would push advanced energy jobs to over 145,000 by the end of 2016.
EMPLOYERS
There are about 25,500 advanced energy companies doing business in Florida; with several profiled in the report, ranging from large global companies like JCI, a leader in building energy efficiency, to smaller local firms like Power Production Management Solar, a residential and commercial solar energy systems installer and authorized dealer for SunPower Corp. (NASDAQ: SPWR).
The vast majority of these companies (70 percent) service local Florida customers.
About half (49 percent) of firms report purchasing from local vendors and suppliers, indicating there is opportunity for growth in upstream advanced energy businesses in Florida.
Installation, maintenance, and repair firms represent the majority of advanced energy businesses (64 percent), followed by engineering, research, and professional service (24 percent); trade, distribution and transport (9 percent); and manufacturing firms (2 percent).
Advanced energy employers are largely small businesses, with 81 percent employing up to 24 permanent employees.
With more than 20 million residents, Florida is the third most populous state in the country, and one of the fastest growing. It is also a big consumer of energy. Florida ranks second nationally in retail electricity sales, and has one of the highest rates of home electricity consumption in the United States, due largely to the need for year-round air conditioning. Advanced energy is meeting more of this growing demand for electricity and vehicle fuel.

A national Energy Employment Index, produced by BW Research Partnership, makes it possible to quantify jobs in the advanced energy industry for the first time. The Index is based on a detailed survey of more than 20,000 businesses nationwide conducted between September and November of 2015. The Index is the basis for the U.S. Dept. of Energy's first annual U.S. Energy and Employment Report, which was published in March. For AEE Institute, BW Research Partnership was able to draw on the Index, which covers employment in the entire energy industry, to quantify the jobs directly associated with advanced energy in the state of Florida.
About AEE and the AEE Institute
Advanced Energy Economy (AEE) is a national association of businesses that are making the energy we use secure, clean, and affordable. AEE's mission is to transform public policy to enable the rapid growth of advanced energy companies. The Advanced Energy Economy Institute is a nonprofit educational and charitable organization whose mission is to raise awareness of the public benefits and opportunities of advanced energy.
Background Materials:
Media Contacts:
Monique Hanis, mhanis@aee.net, (202) 391-0884
Susan DeVico, susandv@aol.com, (510) 339-1527
####
Monique Hanis
Director, Media Relations & Publications
Advanced Energy Economy
The business voice of advanced energy
202-391-0884 | mhanis@aee.net | www.AEE.net | @AEEnet @GreenerMonique
---