[Washington, D.C. – Oct. 22, 2015]: Advanced Energy Economy (AEE), a national business association, issued the following statement in response to the pre-publication notice in the Federal Register of the Environmental Protection Agency's final rule for regulating carbon emissions from the electric power sector:
"With publication of EPA's Clean Power Plan in the Federal Register, states can move forward with modernizing the electric power system for the 21st century," said Malcolm Woolf, Senior Vice President for Policy and Government Affairs at Advanced Energy Economy, a national business association. "The technologies and services needed to meet Clean Power Plan goals are widely available in the energy marketplace today and growing. Putting them to work will save money for customers, create jobs, and drive economic growth. By making full use of advanced energy technologies and services for compliance, states will be able to improve reliability, reduce costs, and give customers more energy choices at the same time. In fact, we hope that EPA will take the opportunity available as it finalizes the Federal Plan to get more of these benefits sooner by giving credit to action taken prior to 2020, and by expanding incentives for energy efficiency gains in 2020 and 2021 beyond projects benefitting low-income communities.
"As we see it, the Clean Power Plan simply accelerates the technology and market trends that are already moving the country toward an electricity system that is more reliable, clean, affordable, and responsive to customer demands," Woolf continued. "Any legal action to delay the implementation of this rule would be disruptive to the market for advanced energy technologies and stifle growth and investment in modernizing the electricity system."
Background
Tomorrow, Environmental Protection Agency's (EPA) final rule for carbon emissions from existing power plants under Section 111(d) of the Clean Air Act, commonly referred to as the Clean Power Plan (CPP), will be published in the Federal Register – the final step in making the rule official. The CPP sets state-by-state targets for emission reductions, but allows states to develop their own compliance plans. The state targets are based on what EPA determined to be the "best system of emission reduction" (BSER). EPA based the BSER on state-specific potentials for emission reductions from a set of "Building Blocks" that include both traditional smokestack controls and "beyond the fence line" measures. Although emission rate targets are set by the building blocks, there is no requirement that states use those specific measures for compliance.
The CPP presents an opportunity for states to modernize and upgrade their electricity systems with a range of advanced energy technologies and services, including energy efficiency, demand response, energy service company (ESCO) building retrofits, natural gas, wind, solar, smart grid, nuclear power, fuel cells, combined heat and power, and transmission and distribution system efficiencies. Used together, these technologies and services create and maintain a high-performing energy system—one that is reliable and resilient, diverse, cost-effective, and clean—while also enabling new customer services.
Following release of the proposed rule on June 2, 2014, AEE submitted formal comments to EPA, noting ways that the draft rule underestimated the full potential of advanced energy technologies to reduce emissions while improving the electric power system.
Since then, AEE and the Advanced Energy Economy Institute (AEE Institute), AEE's nonprofit educational affiliate, have issued a series of studies, several of them involving leading consultants to the utility industry, examining issues raised by the North American Electric Reliability Corp. and found there to be little cause for concern. These reports demonstrated that utilities and grid operators in some areas of the country, such as Texas and Colorado, are already integrating variable renewable energy at levels as high as contemplated by the EPA plan with no impact on reliability; that renewable energy and energy efficiency are cost-competitive resources, which can be readily used to reduce emissions, often saving money at the same time; and that the country's pipeline infrastructure, already being expanded to accommodate additional natural gas use, can support the levels of demand anticipated under the Clean Power Plan. AEE Institute also looked back at prior EPA rules that allowed for market-based compliance and predicted that, given current advanced energy technologies and market infrastructure, the CPP will likely result in a robust industry response to regulatory signals.
At the state level, AEE Institute and the Virginia Advanced Energy Industries Coalition commissioned Meister Consultants Group to analyze compliance scenarios in Virginia, finding that the Commonwealth could create thousands of permanent and temporary jobs by making investments to diversify its power sources with renewable energy, energy efficiency, and natural gas generating plants.
In the coming weeks, AEE will release a series of state modeling scenarios based on the open-access STEER model developed for AEE Institute by 5 Lakes Energy. The first analysis utilizing STEER, published by the Institute for Energy Innovation, shows that reducing energy waste, using more renewable energy sources, cogeneration fueled by natural gas and, depending on long-term price projections, an appropriate amount of natural gas-fired combined cycle generation can help Michigan comply with the CPP at lowest cost. The STEER model itself is available for download.
AEE also proposed design principles for a Federal Plan, showing that a voluntary market-based trading approach would allow flexible compliance through a variety of advanced energy technologies without exceeding EPA's regulatory authority. AEE plans to submit formal comments to EPA on the proposed Federal Plan. A new report by Navigant Consulting commissioned by AEE demonstrated that demand response programs significantly reduce costs for ratepayers, strengthen reliability, and facilitate compliance with the Clean Power Plan.
About Advanced Energy Economy and the Advanced Energy Economy Institute
Advanced Energy Economy (AEE) is a national association of businesses that are making the energy we use secure, clean, and affordable. AEE's mission is to transform public policy to enable the rapid growth of advanced energy companies. The Advanced Energy Economy Institute is a nonprofit educational and charitable organization whose mission is to raise awareness of the public benefits and opportunities of advanced energy.
Additional Resources
STATE PLANS FOR COMPLIANCE AS OF 10/22/2015: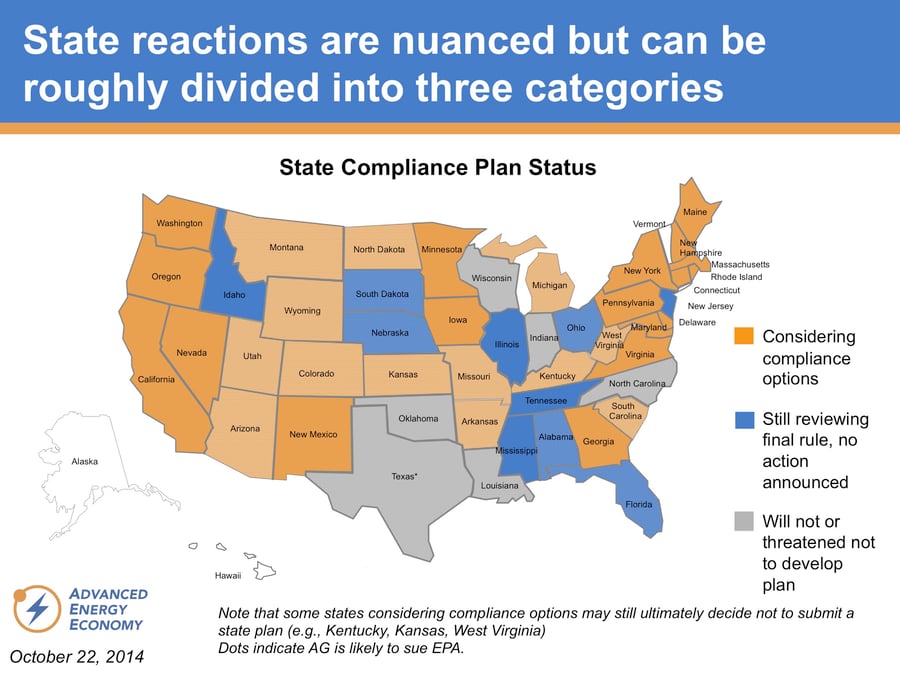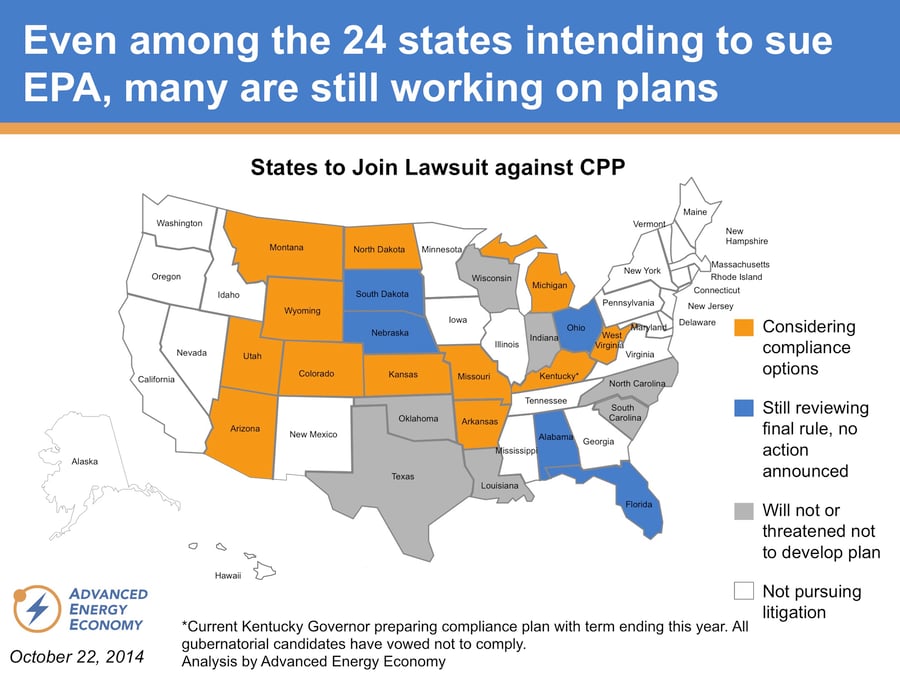 ENSURING GRID RELIABILITY:
NERC's Clean Power Plan "Phase I" Reliability Assessment: A Critique: Shows that NERC reliability concerns are mainly a function of the constraints inherent in NERC modeling that considered only the Bulk Power System and lacked flexibility, even though many important technology and market developments (and thus tools for CPP compliance and maintaining reliability) on the distribution system, including low-cost options for distributed generation, demand response, and energy efficiency already exist.
EPA's Clean Power Plan and Reliability: Assessing NERC's Initial Reliability Review: This in-depth analysis of NERC Initial Reliability Review by The Brattle Group, a leading consultant to utilities and grid operators, finds shortcomings in a number of NERC's assumptions and assertions and ultimately concludes that EPA Clean Power Plan implementation is "unlikely to materially affect reliability."
DRIVING MARKET RESPONSE & EFFECTIVE TOOLS:
Markets Drive Innovation: Why history shows that Clean Power Plan will stimulate a robust industry response: This report looks at outcomes under prior EPA rules and finds that when regulations allow for market-based compliance, efficient and active markets develop rapidly and industry responds with innovations that reduce compliance costs. Examples draw from impact of rules to reduce the lead content in gasoline, combat acid rain, and control regional transport of ozone due to emissions of sulfur dioxide (SO2) and nitrogen oxides (NOx); in all cases, regulatory signals set by EPA rules have led to the development of active and efficient markets.
Advanced Energy Technologies for Greenhouse Gas Reduction: 40 Solutions for Cutting Carbon from Electricity Generation: Provides details on the use, application, and benefits of 40 specific advanced energy technologies and services that provide emission reductions. These advanced energy technologies provide states the opportunity to not only meet carbon reduction goals but also improve the efficiency, resiliency, and cost effectiveness of service provided by electric utilities.
Competitiveness of Renewable Energy and Energy Efficiency in U.S. Markets: Shows how renewable energy and energy efficiency are competitive resources in today's marketplace that will not only be cost-effective mechanisms for CPP compliance but should also be expected to grow strictly on the basis of competitiveness. The report notes that many discussions of these technologies are based on inaccurate information and specifically points out shortcomings in the U.S. Energy Information Administration's projections for these technologies.
Integrating Renewable Energy into the Electricity Grid: The Brattle Group found that "ongoing technological progress and ongoing learning about how to manage the operations of the electric system will likely allow the integration not only of the levels of variable renewable capacity now in places like Texas and Colorado but even significantly larger amounts in the future." Includes case study examples from ERCOT and Xcel Energy Colorado.
Impacts of the Clean Power Plan on U.S. Natural Gas Markets and Pipeline Infrastructure: Changes in the U.S. natural gas market independent of the CPP are driving increases in pipeline gas infrastructure, prompted by dramatic growth in new gas supplies from areas like the Marcellus and Utica shales. This report produced with ICF International finds that compliance with the CPP, even under an unlikely "stress test" scenario of unexpectedly high gas usage, would only modestly increase gas infrastructure needs, in the range of 3% to 7%.
Peak Demand Reduction Strategy: This Navigant Consulting analysis of Illinois and Massachusetts electricity markets demonstrates that demand response programs significantly reduce costs for ratepayers, strengthen reliability, and facilitate compliance with the Clean Power Plan. Specifically, for every $1 spent on reducing peak demand at least $2.62 can be saved by ratepayers in Illinois, and $3.26 by ratepayers in Massachusetts.
FEDERAL IMPLEMENTATION PLANNING:
Design Principles for a Rate Based Federal Plan Under EPA's Clean Power Plan: Shows that a Federal Plan (for guidance or for states that decline to develop their own plans) can reduce costs for states by making full use of energy efficiency and demand response, renewable energy, and other advanced energy technologies. Utilities, independent power producers, and their parent companies are already investing in these and similar resources. Notes how states can slash compliance costs by participating in voluntary trading of emission reduction credits generated by these resources.