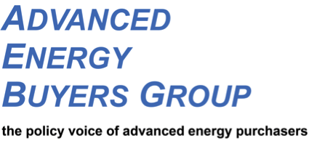 Advanced Energy Buyers Group Weighs in Against DOE Action that Would Raise Prices for Consumers in PJM Region
WASHINGTON, April 26, 2018 — Today, the Advanced Energy Buyers Group (AE Buyers Group), a coalition of large electricity customers, released comments submitted to U.S. Dept. of Energy (DOE) Secretary Rick Perry in response to a request for input from DOE on the Agency's use of its authority under Section 202(c) of the Federal Power Act. The group weighed in specifically regarding a recent request from power plant owner FirstEnergy Solutions seeking a DOE Section 202(c) order to provide emergency financial support for select coal and nuclear plants across the PJM Interconnection region.
In its comments, the Advanced Energy Buyers Group strongly urged DOE "against use of its section 202(c) authority in this case because doing so would be inconsistent with the statute, would be an unlawful departure from its prior use, and would undermine competitive wholesale markets while raising electricity prices at the cost of electricity consumers such as our companies." The Group also noted, "there is no reliability or resilience emergency in PJM that warrants emergency government intervention," and said that "even if any reliability or resilience concerns were to be identified as a result of FES's announced plant retirements, PJM already has many tools at its disposal to respond to such threats, and ample time to do so."
"Large corporate buyers have grave concerns that taking this action absent a real energy emergency adds significant cost to all electricity customers in the PJM region — commercial, industrial, and household alike — for no good reason," said Malcolm Woolf, senior vice president of policy at Advanced Energy Economy, a national business association, speaking on behalf of the Advanced Energy Buyers Group, a coalition of large energy users convened by AEE. "We urge the Department of Energy to reject this request for unwarranted financial support for bankrupt power plants through this or any other emergency authority. There simply is no emergency here."
Background Materials

Advanced Energy Buyers Group comments to Dept. of Energy on Section 202c request are here.
About the Advanced Energy Buyers Group
The Advanced Energy Buyers Group is a business-led coalition of large energy users engaging on policies to expand their opportunities to procure energy that is secure, clean, and affordable. Members of the Advanced Energy Buyers Group are leading companies and organizations spanning a range of market sectors, including technology, retail, education, and manufacturing. AE Buyers Group members share a common interest in expanding their use of advanced energy, with the goal of becoming more competitive, resilient, and sustainable enterprises far into the future. The Advanced Energy Buyers Group is convened and facilitated by Advanced Energy Economy (AEE), a national business association of advanced energy companies.