Poll finds bipartisan support for added incentives behind state standard for clean energy zoning and permitting
INDIANAPOLIS, August 15, 2023 – A new statewide poll of likely Indiana voters found widespread support for clean energy resources and for rules that would make it easier to build clean energy in the state.
Cygnal, an international polling and public opinion firm, surveyed 800 likely voters from July 17-18, finding widespread support for renewable energy across the state. A majority of respondents supported wind (60%) and solar (70%) in the state's energy production mix, and a majority of respondents from all regions of the state said they would be more likely to vote for candidates in 2024 who supported Indiana's renewable energy development.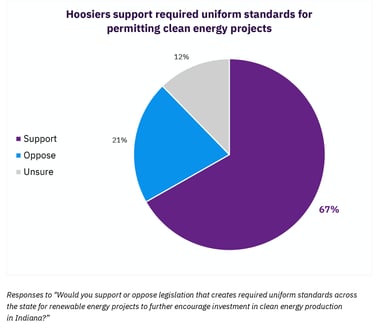 The poll also found 67% of Hoosiers, including a majority of Republicans, would favor legislation to require a uniform standard for the zoning, permitting, and location of renewable energy projects in the state, while four-fifths agreed Indiana should strive to provide consistent and clear regulations to help attract businesses and boost the economy. Over half of all respondents said they would support using state funds to create a financial incentive for local governments that voluntarily adhered to the state standard.
"This polling shows broad interest in building on the success of the voluntary standard passed into law last year, to help cut renewable developers free from a tangle of red tape and be more in keeping with Hoosiers' pro-business values," said Caryl Auslander, Indiana state director at Advanced Energy United, a national business association, which sponsored the poll. "Consistent rules for siting and permitting clean energy will help diversify Indiana's energy portfolio, building a more resilient electricity grid and economy."
"Voters are asking state leaders to continue making Indiana a welcoming home for clean energy businesses," added Auslander. "More work needs to be done to clarify and promote consistency across all jurisdictions in the regulations for wind and solar. We look forward to continuing this discussion with policymakers."
Click here to download the full poll results.
Click here to learn more about Advanced Energy United's work in Indiana.
Cygnal
is an award-winning international public opinion and predictive analytics firm that pioneered multi-mode polling, message mapping, and Political Emotive Analysis. Cygnal was named the #1 Republican private pollster by Nate Silver's
FiveThirtyEight
three cycles running, as well as the #1 most accurate polling and research firm in the country for 2018 by
The New York Times
. Its team members have worked in 49 U.S. states and 17 countries on more than 2,800 corporate, public affairs, and political campaigns.
About Advanced Energy United (formerly AEE)
Advanced Energy United educates, engages, and advocates for policies that allow our member companies to compete to repower our economy with 100% clean energy. We work with decision makers at every level of government as well as regulators of energy markets to achieve this goal. The businesses we represent are lowering consumer costs, creating millions of new jobs, and providing the full range of clean, efficient, and reliable energy and transportation solutions. Together, we are united in our mission to accelerate the transition to 100% clean energy in the United States. Advanced Energy United is online at AdvancedEnergyUnited.org and @AdvEnergyUnited.