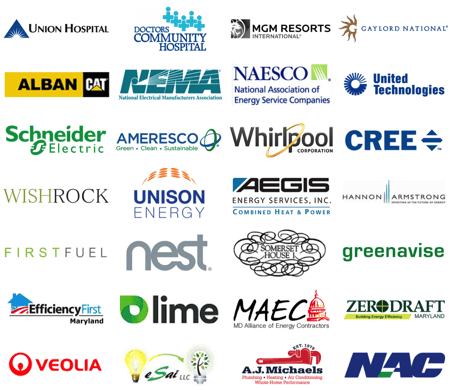 Annapolis, Md., March 28, 2017 – Twenty-three Maryland employers and four trade associations sent a letter today to Gov. Larry Hogan, urging him to sign legislation that would extend Maryland's EmPOWER energy efficiency programs.
The letter refers to Senate Bill 184, which would extend Maryland's EmPOWER energy efficiency programs for six more years. The employers said that extending the energy efficiency programs would allow them to continue to create local jobs that can't be outsourced, keep prices down and be more competitive in a global economy.
"As someone who works in energy efficiency, I see firsthand how legislation like Senate Bill 184 creates jobs and improves people's lives," said Michael Giangrandi, Chairman of the Maryland Alliance of Energy Contractors. "These jobs are good ones, too -- they can't be outsourced, they pay well, they offer benefits, and they're fulfilling because we are improving people's lives by making people's homes and businesses more comfortable and valuable. We need more jobs like these, and this bill helps.
"We want Gov. Hogan to please support EmPOWER Maryland because energy efficiency has proven itself to work for employers and for consumers," said Trisha Knych, Vice President, Government Relations & North American Communications at Schneider Electric. "The state has a tremendous opportunity to boost energy savings, reduce waste and grow its economy."
A full copy of the letter can be found here.
Since its inception in 2008, research shows EmPOWER Maryland has delivered:
Demand savings exceeding 2,000 MW — the equivalent to the output of four large power plants.

Lifetime energy savings exceeding 51 million MWh — the equivalent to the electricity consumption of 850,000 residents each year for five years.

Benefits that will exceed $2.4 billion.
The businesses that signed the statement employ several thousand Maryland workers. The businesses include: Union Hospital, Doctors Community Hospital, MGM Resorts International, Gaylord National, Alban CAT, United Technologies, Schneider Electric, Ameresco, Whirlpool Corporation, Cree, Wishrock, Unison Energy, Aegis Energy Services, Inc., Hannon Armstrong, FirstFuel Software, Nest Labs, Somerset House, Greenavise, Zerodraft Maryland, Lime Energy, Veolia North America, ESai, LLC, A.J. Michaels, and NAC. The trade associations are: the National Electrical Manufacturers Association (NEMA), the National Association of Energy Service Companies (NAESCO), Efficiency First Maryland, and the Maryland Alliance of Energy Contractors (MAEC).
About Advanced Energy Economy
Advanced Energy Economy is a national association of businesses that are making the energy we use secure, clean, and affordable. Advanced energy encompasses a broad range of products and services that constitute the best available technologies for meeting energy needs today and tomorrow. AEE's mission is to transform public policy to enable rapid growth of advanced energy businesses. AEE and its State and Regional Partner organizations are active in 27 states across the country, representing more than 1,000 companies and organizations in the advanced energy industry. Visit AEE online at www.aee.net.
Contact:
Daniel Bloom, State Policy Associate, dbloom@aee.net, 847-370-8776
---