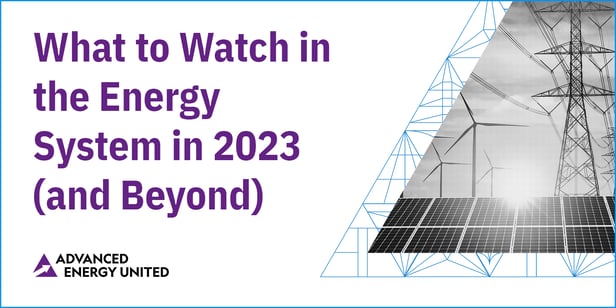 Advanced Energy United is looking at macro trends impacting the electricity system in 2023 and beyond. This is the sixth in a seven-part series looking at what lies ahead – part of a broader look at what lies ahead for policymakers, customers, and utilities following government incentives and market shifts in 2022. Read the rest of the series here.
Addressing long-standing inequities in energy access.
Certain communities have historically borne the brunt of the negative impacts of our energy system. These are the same communities for whom energy costs typically impose higher financial burdens. Now, efforts are underway to address long-standing inequities and to ensure that the energy transition benefits everyone, especially vulnerable communities – including low-income, fixed-income, rural, frontline, and otherwise historically disadvantaged populations.
Broadly speaking, conversations have moved beyond traditional bill assistance programs (though these programs remain of critical importance). Today the focus is on programs and investments that could lower households' energy burden over the long term while creating economic opportunity and providing appropriate clean energy solutions that meet the needs of communities that need them most.
The Inflation Reduction Act (IRA) offers new federal dollars to support equity and environmental justice across the country. Many of the bill's tax credits have add-ons for certain types and locations of projects, such as those sited within an "energy community" – defined as a community impacted by a current or former fossil fuel site. Projects in low-income communities and on tribal lands are eligible for a bonus tax credit. Environmental and Climate Justice Block Grants will provide $3 billion in competitive grants to states, tribes, municipalities, and community-based nonprofits to address clean air and climate pollution in disadvantaged communities. The Rural Energy Program will provide $2 billion in loans and grants to agricultural producers and rural small businesses to install renewable energy systems and improve energy efficiency, and nearly $10 billion for rural electric co-ops and utilities serving rural customers to build clean energy. The Tribal Energy Loan Guarantee Program supports investments in energy projects with a $75 million allocation. Money is also set aside for home retrofits, weatherization, and electrification upgrades.
Looking ahead: In 2023, these major pieces of state legislation and the IRA will be implemented. As with all policy, the devil is often in the details and stakeholders will be engaging with agencies, utilities, developers, and local and state governments to ensure that maximum benefits flow to the intended recipients.
More conversations are needed about the best ways to protect low-income and vulnerable customers from volatile fuel costs. Decision-makers will inevitably have to confront tradeoffs and difficult decisions as they make choices that will impact customer bills.
Advanced Energy United Managing Director Hannah Polikov and Policy Principal Angela Kent contributed to this series.
Next up: Part 7: Reliability, Resilience, Resource Adequacy, and Risk: a path forward for the decisive decade ahead