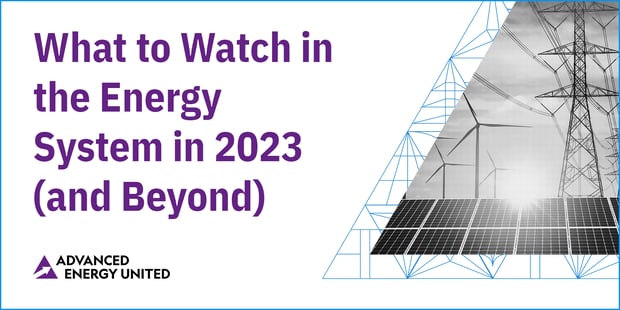 Advanced Energy United is looking at macro trends impacting the electricity system in 2023 and beyond. This is the sixth in a seven-part series looking at what lies ahead – part of a broader look at what lies ahead for policymakers, customers, and utilities following government incentives and market shifts in 2022. Read the rest of the series here.
The Four Rs of the future electricity system.
Each of the Four Rs look at different but interconnected attributes of the electricity system:
Reliability:

the ability to serve load consistently without outages;

Resilience:

the ability to withstand and recover from major disruptions;

Resource Adequacy:

a measure of whether a power provider has enough resources to serve energy demand; and

Risk:

a general measure of how exposed we are to disruptions of different types (e.g., in energy availability/supply, delivery capability, and cost).
Addressing the Four Rs has always been central to the planning and operation of the electricity system, but in a time of rapid change for an industry accustomed to more gradual evolution, this takes on new urgency and will require new approaches in 2023. This includes the integration of large amounts of variable renewable generation and planning for more extreme weather events with the potential to impact demand and our ability to reliably use coal and gas power plants, hydroelectric dams, pipelines, and transmission lines. Recent years have seen power plant equipment and pipeline freezes, inadequate fuel supplies to meet demand, thermal power plants overheating, severe drought, and wildfires that knocked out resources we have traditionally relied upon.
At the same, we are relying more and more upon our electric system to power our lives, from transportation to buildings to remote work. Together, these changes increase electricity demand and change usage patterns throughout the day and across seasons in ways that our current grid infrastructure doesn't fully account for.
These concerns beg many questions. Should we increase reserve margins? How must we evolve our understanding of the capacity contribution of both fossil and renewable resources? Should we engage in more financial hedging? How much should we build to prepare for low-probability events? Will a new infrastructure project with a design life of 30-40 years still be "used and useful" in 10 or 20 years? What is the optimal level of coordination across regions or across energy systems to address these problems?
Looking ahead: Stakeholders across the industry have many different opinions in response to questions around the Four Rs. There will be no silver bullet solution – instead, the path forward most likely relies upon many complementary technologies. That means more resilient transmission capacity and redundancy and microgrids that rely on distributed energy resources to keep us powered if the grid goes down. Energy efficiency and demand-side management and grid-scale energy storage. Green hydrogen to power industrial operations and the electrification of residential and commercial building heat. Implementing the full spectrum of these technologies will be key to navigating energy needs in the coming year and beyond.
States and regions will invariably take different approaches to the challenges surrounding the Four Rs and the obstacles outlined in this and in previous posts. We'll have much to learn from their experiences – and several ways to use that insight to help us navigate the transformative times ahead. The trends shaping 2023 are likely to continue to drive the energy transition for much of the next decade, as advanced energy technologies continue to develop and the full impact of government subsidies and private investment in the energy transition come to fruition.
Advanced Energy United Managing Director Hannah Polikov and Policy Principal Angela Kent contributed to this series.