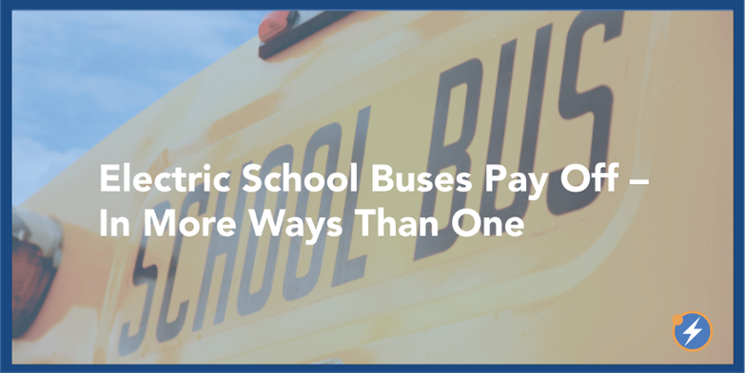 What electric school buses do for air quality is well known. Swapping diesel buses for electric buses eliminates these vehicles as sources of local air pollution, which affects the schoolchildren who ride them every day as well as the communities they travel through. But investing in electric school buses also contributes to the economy. With the funding for school bus electrification provided in the recently passed infrastructure bill, that economic boost is on the way.
In June, AEE released Economic Impact of Stimulus Investment in Transportation Electrification, a report that analyzed the effect federal investment in electrified transportation (ET) would have on the U.S. economy. The report looked at not just direct spending but also induced private investment, employment, and additional tax revenue from proposed investments in ET. The report found substantial economic value in such activity, calculating that each dollar of public investment in this sector generates $2.60 of additional direct private investment.
The Infrastructure Investment and Jobs Act (IIJA) creates a $5 billion grant and rebate program for the replacement of existing school buses with clean and zero-emission buses. While Congress could still include more funds for school bus electrification in future legislation, including the Build Back Better Act now pending in the Senate, the economic impact the funding already committed will have can already be estimated.
Applying the same IMPLAN methodology to the IIJA school bus appropriation as in our previous analysis, we find an expected $6 billion added to the gross domestic product, 46,000 jobs (measured in job-years), and $1.25 billion in additional tax revenue for state and local governments created as a result.
It's worth noting that these figures do not account for other potential electric school bus savings, such as fuel cost and reduced vehicle maintenance, or the commodity supply chain impact from the transition to electric buses.
The new program will be administered by the Environmental Protection Agency (EPA) on a competitive grant (or rebate) basis, and awards can be for up to 100% of costs for state and local governments, school transportation associations, tribal schools, and eligible contractors. While the EPA has historically disbursed funding for programs based on air quality and criteria pollutant reduction, we believe that additional considerations such as these economic benefits should also guide the program. Because of the robust economic value of such spending, AEE recommends that the EPA make sure the funding goes to a wide range of localities.
Some states are already moving forward on school bus electrification on their own. California recently approved an additional $130 million for its School Bus Replacement Program, and Colorado Governor Jared Polis' 2022 budget proposal included $150 million to replace half the state's fleet. New York is also considering a package (S5268) that would provide additional financial aid for school districts to switch their school bus fleets, and also make the associated infrastructure eligible for state aid.
With all the benefits that electrification provides – health, air quality, and economic – the time has come to upgrade the yellow fleet to electric.