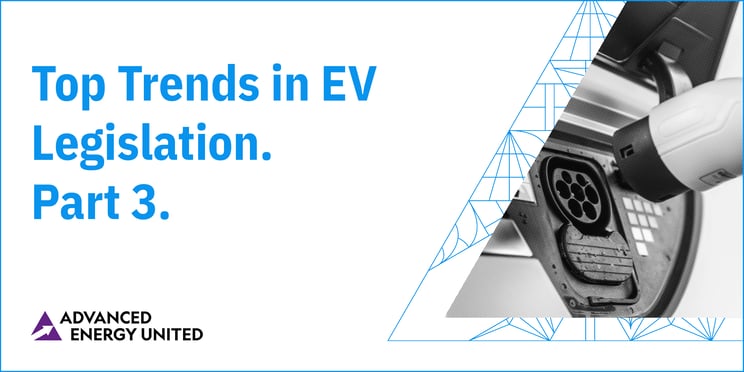 In our previous posts, Charging toward the EV transition. Part 1. and Charging toward the EV transition. Part 2. we covered the first six trends in EV legislation—looking back at 2022:
Part 1

Trend #1: The Inflation Reduction Act paves the way for EVs

Trend #2: States Revving Up for 100% Zero Emissions

Trend #3: Driving State-Owned Fleet Electrification
Part 2

Trend #4: All Aboard the Electric School Bus

Trend #5: States Plug into Financial Incentives for EVs

Trend #6: EV Infrastructure Nets Big Legislative Wins
Now keep rolling to travel through our final trend, and look ahead to 2023:
Part 3

Trend #7: Amping Up EV Ready Building Codes and Multi-Unit Dwellings

Driving Forward into 2023
Note: Most of the links in this post reference bill filings and other documents in Advanced Energy United's software platform, PowerSuite. Click here to sign up for a free trial.
Trend #7: Amping Up EV Ready Building Codes and Multi-Unit Dwellings
While providing funding to accelerate the adoption of chargers is crucial, incorporating public chargers into a community can be a challenge. New construction often does not include EV chargers, or the pre-wiring needed for their eventual installation. This problem is further exacerbated when you consider that most EV drivers complete their day-to-day charging at home in their driveway or garages. But what about drivers who don't have a private parking space with charger access, or those who live in multi-unit dwellings? To close the gap, Legislators across the country are adapting building codes to include EV chargers, while also preventing housing associations from blocking the installation of EV chargers.
To begin assessing this problem, Hawaii House Bill HR42 creates a governmental working group to examine issues and barriers to the installation of EV charging infrastructure in multi-unit dwellings. Delaware Senate Bill SB187requires municipalities with populations over 30,000 people to develop procedures for the installation of chargers in residential zones. New York Assembly Bill A06165, Connecticut's "Act Concerning The Connecticut Clean Air Act." (SB00004), and Washington's bill "Concerning electric vehicle charging stations in common interest communities." (HB1793) all prohibit homeowners associations from adopting or enforcing policies that prohibit or unreasonably restrict the installation or use of EV chargers. Connecticut Senate Bill SB00004 also updates the state building code to require that that the new construction of state facilities, schools, and commercial buildings must include level 2 chargers in at least 10% of designated parking spaces. California requires the incorporation of EV charging standards into building design and construction standards through its "Energy: electric vehicle charging standards." (AB2075), while also passing "Building standards: installation of electric vehicle charging stations: existing buildings." (AB1738) that requires the California Building Standard Commission to develop mandatory building standards for installing EV chargers in existing multifamily dwellings, hotels, nonresidential development, and parking facilities.
Driving Forward into 2023
Lawmakers are already teeing up bills for the 2023 legislative sessions and the trends we saw in 2022 show no sign of slowing down.
The number of electric transit and school buses on the roads will increase across the country in 2023, both through the EPA's Clean School Bus Program and the above enacted legislation. At Advanced Energy United, we anticipate an uptick of bills focusing on vehicle-to-grid capabilities, increased funding for school and public transportation electrification, and bills that aim to increase the number of zero-emission commercial vehicles in high-impact and environmental justice communities.
We also anticipate multiple states to follow California, Connecticut, Massachusetts, and New York in their bold 100% ZEV transportation goals, while even more will focus on electrifying state fleets. Increasing numbers of states will adopt 100% ZEV mandates, both legislatively and through regulatory adoptions such as the Advanced Clean Trucks rule. To accommodate this transition, states need to enact further financial incentives and planning policies to ease pain points, such as high upfront purchasing costs, charging infrastructure gaps, and adjustments to building code to support EV readiness. States will also need to enable proactive utility planning to prepare the electric grid for the surge of EVs hitting the road. Without this preemptive action, mass EV adoption will be logjammed with high purchasing burdens on businesses, schools, and individuals; significant delays in installing critical charging infrastructure; and grid instability. While these challenges are at times daunting, we are excited to see how states continue to drive solutions.
All in all, it's an exciting time to for the EV transition, and we will be keeping a close eye as progress is made in 2023.
Join us here for Charging toward the EV transition. Part 1. and Charging toward the EV transition. Part 2. where we cover more trends—and cover the ground they come from!
Keep up to date on all legislative and regulatory action with Advanced Energy United's PowerSuite.