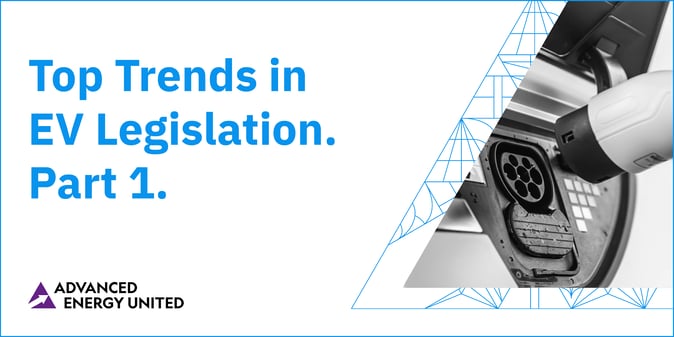 As we navigate our way into a new year, our team is reflecting on the legislative wins that drove the electric vehicle (EV) industry forward at a historic pace in 2022 and considering the actions and opportunities they create in the year ahead. This year's review of enacted federal and state legislation tells a story of increased urgency, funding, and massive commitments by governments and utilities to expand transportation electrification. To synthesize the EV action across the country, Advanced Energy United read and summarized thousands of pages of enacted legislation, which we provide now as a three-part series that covers seven dominant trends.
Rather than describing each bill signed into law last year individually, we've framed our assessment around the areas where lawmakers dedicated attention to EV policy. We've also provided our insights into potential 2023 legislation based on the successes of 2022.
Part 1

Trend #1: The Inflation Reduction Act paves the way for EVs
Trend #2: States Revving Up for 100% Zero Emissions
Trend #3: Driving State-Owned Fleet Electrification
Part 2

Trend #4: All Aboard the Electric School Bus
Trend #5: States Plug into Financial Incentives for EVs
Trend #6: EV Infrastructure Nets Big Legislative Wins

Part 3

Trend #7: Amping Up EV Ready Building Codes and Multi-Unit Dwellings
Driving Forward into 2023
There's a lot of ground to cover, so let's buckle up and roll into the Top Trends in EV Legislation!
Note: Most of the links in this post reference bill filings and other documents in Advanced Energy United's software platform, PowerSuite. Click here to sign up for a free trial.
Trend #1: The Inflation Reduction Act paves the way for EVs
Any current legislative summary would be remiss not to include passage of the Inflation Reduction Act (IRA). This expansive landmark legislation, passed in September 2022, aims to reduce the United States' dependence on oil in the transportation sector, grow the domestic supply chain of critical minerals used in EV batteries, and accelerate the transition to all electric. While some of the bill's incentive requirements for passenger vehicles will be challenging to meet for vehicle manufacturers and EV buyers, overall, the IRA is a big win for EVs.
The new Commercial Clean Vehicle Tax Credit (45W) allows businesses and tax-exempt entities to reduce the cost of purchasing an EV, or other alternative fuel vehicle. The IRA also provides $1 billion in grants through the Clean Heavy-Duty Vehicles program to replace class 6 and class 7 vehicles including school and transit buses, garbage trucks, and medium-duty trucks with zero-emission alternatives. These funds can also be put toward charging infrastructure, associated technological investments, and a wide range of workforce training.
The IRA also introduces The Advanced Manufacturing Tax Credit (45X), which incentivizes domestic manufacturing and battery innovation that will greatly impact the automotive industry.
The law is a win for light-duty passenger vehicle purchasers as well thanks to revisions to the federal New EV Tax Credit (30D) that support the purchase of new EVs for personal use. Eligible buyers can receive the tax credit for purchasing a new EV that meets domestic content standards, does not exceed MSRP (Manufacturer Suggested Retail Price) limitations, and had its final assembly in North America. Similarly, the IRA establishes a Used EV Tax Credit (25E) to reduce the cost of purchasing a pre-owned EV for personal use. To help support the increased number of EVs on the road, the Act extends the Alternative Fuel Fueling Station Credit—now dubbed the EV Charging Station Credit (30C)—to help individuals and commercial customers cover the costs of installing charging stations.
To reduce emissions from the transportation sector, the IRA establishes funding buckets to reduce greenhouse gas emissions, especially near disproportionately impacted communities. The funds will finance the purchase of zero-emission vehicles at port facilities across the country, allow states to adopt greenhouse gas and zero-emission vehicle standards, and help identify and reduce diesel emissions at goods movement facilities in low-income and disadvantaged communities.
The continued momentum toward transportation electrification poses a significant opportunity for businesses, governments, and households to cut costs, improve localized air quality, and help revitalize America's manufacturing industry. While the IRA will make vehicle electrification more accessible for many Americans, the Act alone cannot get the U.S. to 100% electric. States have been and will need to continue aiding in the charge.
Trend #2: States Revving Up for 100% Zero Emissions
Several states are driving their ambitious 100% zero-emission transportation goals and deadlines with landmark bills from 2022.
California
In November of 2022, California adopted the Advanced Clean Cars (ACC) II rule which requires 100% of passenger vehicles sold in California to be zero-emission by 2035. As a reminder, California was granted an exemption in the Clean Air Act in the 1960s which allows California to apply its own, more stringent vehicle regulations. By passing ACC II, California has not only set an ambitious timeline of its own, but also clears the way for other states to adopt California's more stringent regulations.
Connecticut
Among the most ambitious legislative enactments, Connecticut's "Act Concerning The Connecticut Clean Air Act" (SB0004) requires 100% of new light duty vehicle sales to be zero-emission vehicles (ZEVs) by 2030, 100% of transit buses to be ZEV after 2024, 100% of school buses in environmental justice communities to be ZEV by 2030, and 100% of all school buses to be ZEV by 2035. The bill also updates the state building code to require EV chargers in parking spaces, prohibits housing associations from blocking EV chargers, and creates numerous financial incentives for the purchase of alternative fuel vehicles.
Massachusetts
Massachusetts "Driving clean energy and offshore wind" (H5060) codifies a similar goal by requiring all new vehicles in the commonwealth to be ZEV by 2035. The bill also aims to broadly increase the electrification of public transit infrastructure. Specifically, all new buses purchased and leased by the Massachusetts Bay Transportation Authority must be ZEV by 2040, and EV chargers must be installed at commuter rail and subway stations. This is in addition to creating light-, medium- and heavy-duty vehicle incentives that will make it easier for businesses and residents all over the state to purchase clean vehicles.
New York
The succinctly titled, "Act to amend the environmental conservation law, in relation to providing that one hundred percent of in-state sales of new passenger cars and trucks shall be zero-emissions by two thousand thirty-five" (S07788) also sets a national example by requiring 100% new passenger, off-road, medium, and heavy-duty vehicle sales and leases in the state to be ZEV by 2035.
Maryland
Maryland's "Climate Solutions Now Act of 2022" (SB528) follows suit by requiring the state to achieve net zero-statewide GTG emissions by 2045; 100% ZEV light-duty vehicles in the state fleet by 2036; and, beginning in 2024, only ZEV school buses may be purchased or used in the state.
Trend #3: Driving State-Owned Fleet Electrification
Multiple states have recognized the cost saving opportunity EVs offer and have passed legislation to capitalize on this. While EVs still have a higher upfront purchase cost than an internal combustion engine equivalent, many EVs have a lower overall cost of ownership thanks to dramatically reduced maintenance and powering costs. Accordingly, states are requiring their fleets go fully electric to save taxpayer money, while others require the use of a total cost of ownership calculator to ensure that state fleet managers are purchasing the most cost-efficient option.
To save lifetime costs and reduce GHG emissions from its state fleet, Maine's "Act To Transition State and Local Motor Vehicle Fleets to Plug-in Hybrid Vehicles and Zero-emission Vehicles" (LD1579) requires the state's fleet of light-duty, public transportation, and public-school transportation vehicles to all be zero-emission by 2040. Similarly, the District of Columbia's "Climate Commitment Act of 2021" (B24-0267) requires the DC government to reach carbon neutrality by 2045 and purchase or lease exclusively zero-emission vehicles after January 1, 2026. California's Senate Bill SB1305 directs the state to maximize the purchase of alternative fuel vehicles in its state fleet and requires the adoption of a total cost of ownership calculator that takes GHG and air pollutants associated with each vehicle into consideration. In Virginia, Senate Bill SB575 requires state fleet managers to use a total cost of ownership calculator prior to the purchase or lease of any vehicles.
Join us here for Charging toward the EV transition. Part 2. and Charging toward the EV transition. Part 3. where we cover the more trends—and look down the road at the year to come!
Keep up to date on all legislative and regulatory action with Advanced Energy United's PowerSuite.