If transportation electrification is a puzzle, Governor Sisolak just put another critical piece in place. Last Thursday, he announced that Nevada would be joining a multi-state memorandum of understanding (MOU) that commits the Silver State to collaborating with 16 other states, the District of Columbia, and the Province of Quebec, to accelerate the market for zero-emission medium- and heavy-duty vehicles. The goal of the MOU is to ensure that 30% of all in-state sales of trucks, buses, and vans are zero-emission by 2030, and 100% by 2050. Now representing nearly 40% of the U.S. population, the consortium of states will be a powerful market mover in a space that's already got plenty of momentum behind it.
In Nevada, this action neatly complements other recent state actions to build more charging stations, expand consumer access to clean vehicles, and bring Sisolak's vision of a "clean energy revolution" to life. These include the Nevada Electric Highway program, adoption of Clean Cars Nevada, and passage of Senate Bill 448 (2021), which authorized NV Energy, the state's largest electric utility, to invest in grid and charging infrastructure to support all classes and types of electric vehicles. NV Energy's Economic Recovery Transportation Electrification Plan will spend $100 million across a number of different EV use cases, including urban depot charging, interstate corridors, public agencies, recreation and tourism, and transit and school buses. The utility will also be filing another transportation electrification plan on September 1, which will guide its investments over the medium- and long-term. We would also be remiss not to mention the state's commitment to building out new transmission and clean energy resources to power these vehicles with zero-carbon electricity, and its big plans to strategically use federal Infrastructure Investment and Jobs Act dollars to supplement state efforts. (Read more about the National Electric Vehicle Infrastructure Formula Program here!)
However, much work remains ahead, especially in the medium- and heavy-duty sector. In his announcement video, Sisolak acknowledged that actions by the collective of states will be more powerful than any state action on its own. Though dialogue between the states will continue on for some time, signatories of the MOU have published a draft action plan with a series of policy recommendations to set the states up for success. These recommendations relate to sales and fleet purchase requirements, purchase incentives, utility actions, financing, infrastructure planning, education, outreach, and equity for both overburdened and underserved communities and workers, and more.
The MOU announcement coincided with an event hosted by the Electrification Coalition that brought policymakers, fleet owners, and critical stakeholders together for a "bootcamp" to explore the challenges and opportunities in electrifying the medium- and heavy-duty vehicle sector. The event fostered dialogue on many of the same topics as the action plan.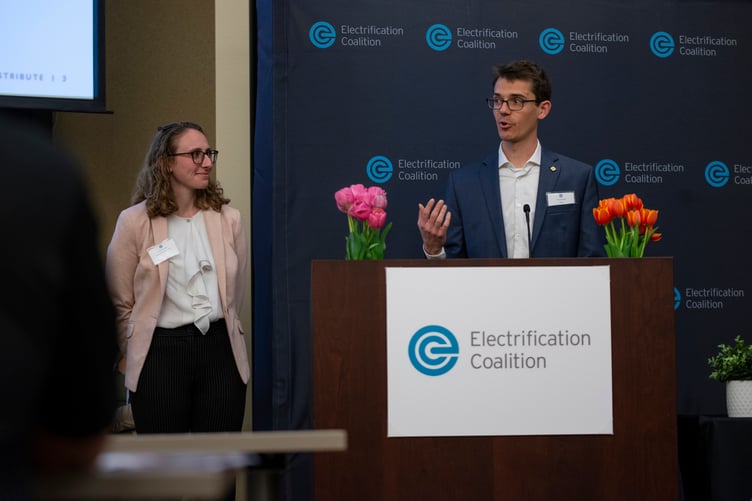 AEE's Sarah Steinberg, with Tom Van Heeke of Rivian at the podium.
I had the pleasure of moderating a panel that discussed the business perspective on medium- and heavy-duty electrification policy. The panel featured Tom Van Heeke, Senior Policy Advisor to Rivian (pictured above), Bill Williams, Executive Vice President of Business Development at Endera, and Marie Steele, Vice President of Electrification and Energy Services at NV Energy. We began by setting the stage with the current state of the market:
More than 125 different zero-emission models are already available across Class 2b-8 vehicle segments in North America

Each dollar of public investment in medium- and heavy-duty zero-emission vehicles generates almost $3 of additional private investment that would not otherwise occur, and each new dollar invested in zero emission vehicles can generate nearly $5 in gross domestic product growth (see AEE's economic impact report here)

Zero-emission trucks and buses can save owners thousands of dollars over the vehicle's lifespan from lower operations and maintenance costs

Electricity costs in Nevada are highly stable and lower than the national average, while diesel and gasoline costs are extremely volatile

Collectively, hundreds of thousands of medium- and heavy-duty vehicles have been pre-ordered by commercial fleets, especially in the growing e-commerce and package delivery space
Panelists then discussed the biggest barriers to medium- and heavy-duty electrification, which included upfront purchasing costs and the need for more charging infrastructure, and the policies levers that would really move the needle. Van Heeke stressed the importance of a low carbon fuel standard, adoption of an Advanced Clean Trucks rule, and upfront vehicle purchase incentives. Steele addressed NV Energy's plans to develop the charging and grid capacity, its own efforts to electrify its light-duty fleet and the auxiliary power functions of its medium-duty service vehicles, and its plans to harness the battery capacity of electric trucks and buses as a grid resource (sitting at the back of the room was a Nuvve bidirectional charger). Williams gave advice on how to work with companies, like Endera, providing turnkey electrification services so they can match fleet managers with the vehicles that best suit their needs. The enthusiasm from all three speakers was clear – Nevada is a top market for private investment because it has demonstrated leadership and commitment to the cause. Governor Sisolak's announcement was yet another green light.
Attendees also heard from state legislative champions Assemblyman Howard Watts, Assemblyman C.H. Miller, and Assemblywoman Rochelle Nguyen, who discussed policy efforts to clean up the transportation sector and ensure benefits are shared by all members of the community. A panel of members from the Sisolak Administration included Dr. Kristen Averyt, the state's first-ever Senior Climate Advisor; Sondra Rosenberg, Assistant Director of Planning at the Department of Transportation; and Matthew Tuma, Deputy Director of the Department of Administration.
These state leaders discussed state electrification plans and the new opportunities afforded to them with money from the federal Infrastructure Investment and Jobs Act (echoed by U.S. Senator Catherine Cortez Masto, in a video address), emphasizing the need to consider comprehensive lifecycle costs and benefits. Importantly, these state leaders called for a paradigm shift away from needing to justify why an electric vehicle can work for a specific use case, and toward a justification for why not electric. Clark County Commissioner Justin Jones, school districts and transit agency experts spoke about their electrification journeys and their plans to engage communities in the transition, while Southwest Airlines previewed its work to convert its airport vehicle fleet. Melissa Ramos of the American Lung Association shared a new report on the public health benefits of electrification.
Electric school buses were one of the stars of the show. These vehicles promise quieter, cleaner, and healthier rides to school for all children, especially those with respiratory ailments that can be exacerbated by dirty diesel fumes. They also offer NV Energy, the state's largest electric utility, a suite of batteries that can serve as grid resources and emergency backup power for the state's electric utility in the many hours during the day and over the summer that they sit idle. Carolina Chacon, the Coalition Manager for the Alliance for Electric School Buses, discussed progress in this space as a BYD electric school bus sat in the parking lot outside. In the Vegas heat, the bus was kept on to provide air conditioning to those of us who ventured inside to check it out – but you wouldn't have known because it was silent and entirely fume-less.
All in all, Nevada's progress on transportation electrification is beginning to become a reality. Work remains to create the conditions for ultimate success, but last week's bootcamp made clear that the state is in the driver's seat. A hearty congratulations to Governor Sisolak and his team for their hard work and accomplishments to date.