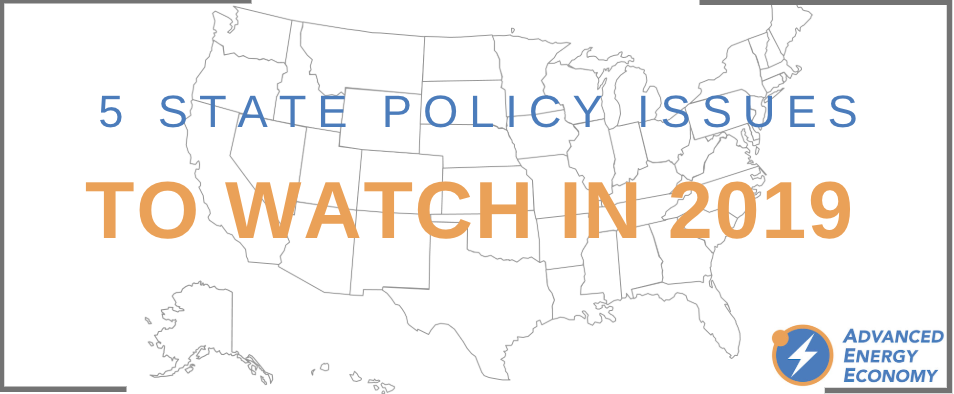 Those of us who follow energy policy likely spent a good portion of December looking at year-in-review articles. That period of reflection on what went well and what's left to be done is important. So too is the process, beginning in January, of looking out toward the horizon to see where the road goes from here. We know that much of the action on advanced energy will be driven by state governments across the nation. So here is a look at the five issues we think will drive state policy for – or against – advanced energy in the year ahead.
1. Fulfilling 100% clean energy pledges
The 2018 election showed that 100% clean energy isn't a notion confined to states like California and Hawaii. It has become a mainstream policy idea for those seeking governorships across the country, and a political winner. This month, nine new governors in states as diverse as Maine, Nevada, Illinois, and Colorado are taking the oath of office having endorsed 100% clean energy.
In AEE's work engaging with gubernatorial campaigns throughout 2018, we discovered that these pledges weren't just made for political expediency. These candidates, now chief executives, realized that investments in clean energy – some defining them as strictly renewable energy, others as a broader set of advanced energy resources – make economic sense. In Colorado, Xcel Energy has just completed the Colorado Energy Plan to shut down a portion of its coal fleet. The most cost-effective resources to replace that energy were shown to be wind and solar with storage and other advanced energy resources.
These public officials have come to understand that advanced energy investments will lead to prosperity in communities across their states by growing the local economy, creating good jobs, and saving consumers money. Now, it is time to see their pledges put into action.
In the short run, we expect to see legislation to increase state RPS requirements in Nevada (putting into statute an increase approved by voters, avoiding a second vote in 2020 necessary to put it into the state constitution) and New Mexico. Illinois will likely begin working on a comprehensive bill that would raise its advanced energy ambitions beyond the 2016 Future Energy Jobs Act. None of these packages will lock states into 100% clean energy, but they will start the conversation.
In addition, those interested in a clean western grid should continue to monitor efforts to establish a western RTO. We don't expect to see states knocking down the door to join CAISO, California's grid operator, in 2019, but a western states dialogue driven by new governors could build momentum toward a wholesale market in the west, much of it built on advanced energy.
2. Next steps in grid modernization
States throughout the country, most notably in the Midwest, have been engaged in investigations on grid modernization for the past two years. AEE will be watching to see how new governors build upon the work of public utility commissions (PUC) on grid modernization in states such as Illinois, Michigan, and Ohio with key appointments. The opportunity to establish planning guideposts and a regulatory framework to ensure a leading role for advanced energy in preparing the electric grid for the future has been well established by these commissions. We look forward to engaging with all three governors as they continue this work in their new administrations.
3. Electric vehicles getting charged up
With the falling costs of battery technology and electric vehicles (EV) available for roughly $35,000, we are on the verge of a shift in the vehicle marketplace in the years ahead. – and public utility commissions across the country are starting to get ready. As with any substantial market shift, however, incumbent technologies are digging in their heels to protect their financial interest in the status quo.
This can be seen in oil interests starting to mobilize opposition to EVs across the country. This opposition became clear in a number of regulatory filings by Big Oil groups and allies in the fall of 2018, along with reports of that industry's support for President Trump's move to weaken federal fuel efficiency standards, even beyond what automakers called for.
With momentum building for EVs in states like California, Pennsylvania, and even Michigan, the game will be on this year. We fully expect that decision makers, both legislative and regulatory, will side with consumers and recognize the benefits of EVs for drivers and the electric grid, but not without a fight. We will be looking for major EV policy victories in multiple states in the Midwest and Northeast in 2019.
4. New states taking action to limit carbon emissions
The closing months of 2018, and opening days of 2019, have seen a number of new states considering actions to limit carbon emissions. Pairing this with public electoral commitments from a number of new governors and there is clear momentum for reducing carbon emissions across the country.
After reducing the proposal's overall cap on carbon emissions late in 2018, we expect the Virginia Dept. of Environmental Quality to finalize its carbon reduction plan, which will allow the Commonwealth to associate with the Northeast's Regional Greenhouse Gas Initiative (RGGI). The rule is being challenged by the General Assembly, but we fully expect Gov. Northam veto any legislative rejection and that Virginia will become the first state in the South to join RGGI .
In addition, Gov. Roy Cooper of North Carolina and Gov. Tom Wolf of Pennsylvania have both issued Executive Orders to reduce carbon pollution in the past six months. These orders will likely face legislative opposition, slowing down the regulatory process, but ultimately create new markets for advanced energy in these states. With three new states seeking to limit carbon on the East Coast, many questions arise. Do we see a new and expanded RGGI? Do these new states link together to create a new cap and trade program?
Only one thing is completely known – that more states are deciding there is a need to address carbon emissions, creating new markets for advanced energy as a result.
5. States protecting the nuclear industry
For nearly two years, the Trump Administration has sought to find a way to prop up uneconomic power plants that can't compete on cost in wholesale markets. While the Trump initiative is aimed at bailing out aging coal plants, states like Ohio and Pennsylvania are engaging in debates about the future of their nuclear power plants.
AEE views state efforts to bailout nuclear plants as a threat and an opportunity. If states simply create payment structures to keep existing nuclear facilities in operation, with no consideration of advanced energy development needed for the future, there will be unfair risks and costs to ratepayers. If, on the other hand, the debate around the future of nuclear leads to full consideration of the state's energy future, including a transition from uneconomic energy sources to low-cost advanced energy resources for the long run, that could be a win for consumers and the economy. We look forward to engaging in this debate, in both Ohio and Pennsylvania.
These are the top five issues AEE will be looking at – and engaging in – in 2019, but undoubtedly there will be more. State tuned – and get engaged!