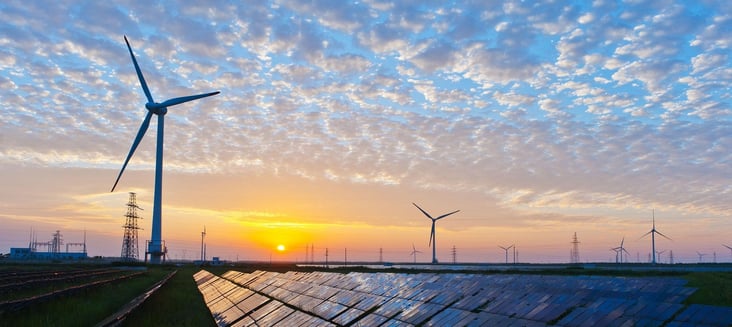 By any measure, this year has been a doozy, and advanced energy has been in the headlines throughout. From the first American offshore wind power to the economic power of advanced energy to employ millions of people, advanced energy is a major growth market that shows no signs of stopping. All year long, we have been collecting clips (and links) on the top 10 news topics of 2016. Here is Part 1 of our two-part roundup of advanced energy news of the year, covering the first five. Be sure to check back next week for Part 2!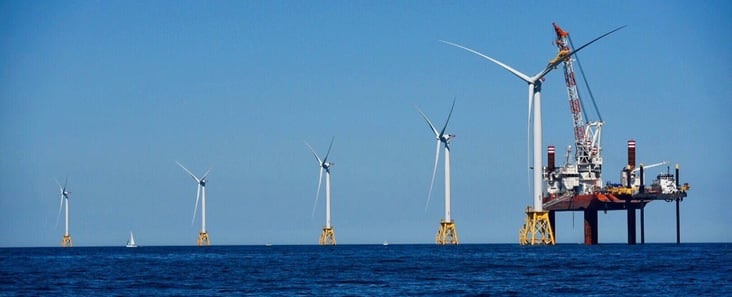 1) Finally! American Offshore Wind No Longer a Dream
Offshore wind power in the U.S. has been a notion since Cape Wind was a twinkle in Jim Gordon's eye, but it was long stymied by political (and NIMBY) interests. Last year's top news round-up had some solid good news: construction had begun on the nation's offshore wind installation, though it was not in Nantucket Sound.
Finally, this year – this week, in fact – Rhode Island's Block Island Wind Farm went online and is now pumping power to the small vacation destination. Offshore wind is officially a reality.
We followed the construction of the Block Island Wind Farm, and other projects in development, throughout the year. We saw Massachusetts legislators pass a bill requiring offshore wind as a part of the state's energy generation mix in the future and the Long Island Power Authority moving toward construction of a wind farm as well. This week we also saw headlines that AEE member DONG Energy is pairing up with utility Eversource Energy on Bay State Wind, the proposed project 15 miles off the coast of Martha's Vineyard that will be among the facilities vying for the contracts mandated by the Massachusetts legislature.
As AEE's affiliate member Mintz Levin wrote in a guest blog post, offshore wind has the capacity to energize the coasts. We can't wait!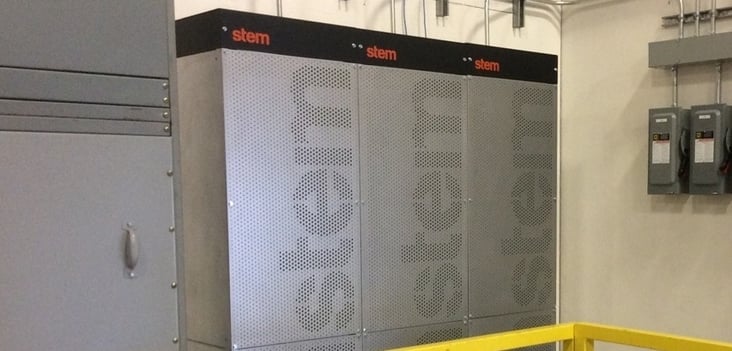 2) Energy Storage's Best Year Ever
We've long known that energy storage is a game changing technology allowing for a more agile and responsive grid. In 2016, energy storage went from being a cool technology promising to change the game to a booming business that is actually doing it.
From AEE member SolarCity's self-supply solar + storage systems available to the average consumer to energy storage as a service for utilities and large-scale consumers like school districts, it was clear the technology was ramping up, driven in part by integration of renewable technologies. Regulators took notice as well: There were 89 distinct regulatory actions taken on storage as of October, and FERC examined barriers to energy storage in organized electricity markets, with an eye toward removing them.
In other storage news, Duke Energy tested out a solar + storage microgrid and AEE member Tesla Energy's Powerwall and Powerpack batteries (for consumers and utilities, respectively) started to be deployed across the globe. Plus, interesting storage technologies, from fire and ice-based systems to actual, literal trains are under development to further the technology. By the time AEE affiliate member Navigant Research declared 2016 energy storage's best year ever the technology was past the tipping point. We can't wait to see what 2017 holds.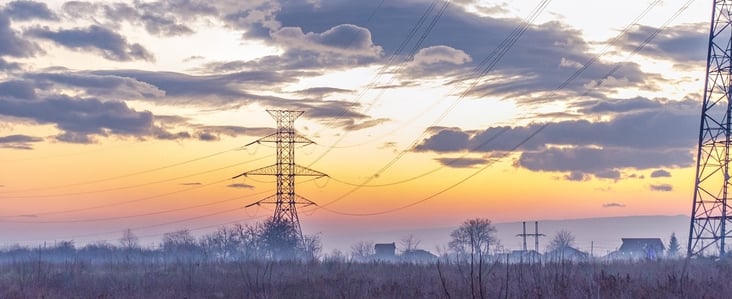 3) Clean Power Plan: Big Story Turned Conundrum
You didn't think we'd get too far in this roundup without talking about the CPP, did you? For most of the year, EPA's Clean Power Plan has been a big, ongoing story, as the final rule was issued, planned for; taken to court, not stayed, stayed, not planned for; then America voted and, well, since then everything's a bit up in the air. Here's what happened:
In February, in an unprecedented move, the Supreme Court voted 5-4 to overturn the D.C. Court of Appeals decision to deny a stay of the rule. States suddenly faced a decision of their own: plan for a rule that might not be implemented? Or risk being caught unprepared if it is? Different states chose different strategies, which we outlined in February. Many utilities also began to plan for the rule. Meanwhile, the Clean Energy Incentive Program, or CEIP, the optional, early-action incentive program, set up compliance credits in advance of any decision from the judicial branch. In July CEIP was published in the Federal Register (we still have some thoughts on how it could be improved).
In May it was announced that a full D.C. Circuit Court would hear oral arguments on the CPP, which it did in September. We were prepared to wait until next year for the Circuit Court to issue its decision. Then, the election of Donald J. Trump, who declared his intent to dump the rule, changed everything… again.
Here's what we know for sure: The energy transformation we thought the CPP could accelerate is already underway. As Graham Richard and Howard Wenger put it, the advanced energy future is on its way. Models show that the CPP requirements and current trends already underway are converging, even without the rule in place.

4) Corporations Commit to Advanced Energy
More and more major corporations are committing to purchasing, developing, and operating on renewable energy and other advanced energy technologies. This year we saw announcements from all kinds of businesses, from tech giants like Apple, Google, and Amazon to consumer goods moguls like Johnson & Johnson. We released several studies this year on how states can capitalize on the Fortune 100 and 500 companies (and others) looking to renewable energy to power their operations.
A new market brief from AEE, published earlier this month, found that 71 of the Fortune 100 companies have renewable energy or sustainability policies in place, up from 60 two years ago. Among the Fortune 500, 43% of companies are committed to advanced energy. A study developed in conjunction with the Center for the New Energy Economy at Colorado State University details how states can capitalize on this private investment. Published in conjunction with this month's market brief, Private Procurement, Public Benefit: Integrating Corporate Renewable Energy Purchases with Utility Resource Planning, details the opportunities available for state energy markets. Another market brief published earlier this year, developed by Meister Consulting Group, looked at six simple policies states could implement to attract more private investment in renewable energy.
We say: What are they waiting for? Expect to see more on this in 2017.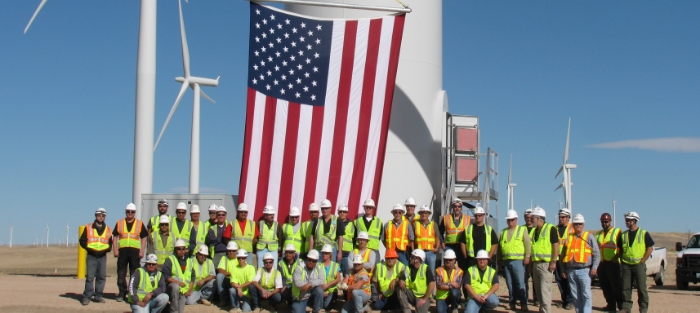 5) Advanced Energy is a Jobs Engine
Jobs was one of the major touchstones of the 2016 election, but we've been tracking advanced energy employment for some time and can confidently say that it's growing in many states, and has the capacity to grow in many more. Just this year we released employment reports for Indiana, California, and Florida, and our friends at the Texas Advanced Energy Business Alliance published a report for the great state of Texas. Finally, we got our hands on the full extent of advanced energy employment nationwide – more than 2.5 million jobs supported by advanced energy, more than agriculture and mining combined, and equal to grocery stores and supermarkets.
In Indiana, advanced energy supports jobs for nearly twice as many people as colleges and universities. In Florida, it's twice as many people as agriculture. In California, advanced energy is three times bigger than Hollywood, or, technically speaking, the motion picture, TV, and radio industry. In Texas, advanced energy employs more than chemical manufacturing and petroleum refining. That's right – in terms of jobs, advanced energy is bigger than Texas crude.
The full story of advanced energy employment isn't just the numbers, even though they are formidable. The real story is the people building the advanced energy future. From Ryan Logan, the facility manager of Amazon Wind Farm Fowler Ridge in Benton County, Ind., who says, "I really like knowing that what I am doing will benefit our future generations, especially my kids," to Jason Gonos, a mechanical engineer and the Director of Operations at Power Production Management in Gainesville, Fla., who says solar is his passion. From Dipal (Paul) Patel, who works at Veolia North America in California and loves working on new solutions to complex challenges to Anneliese Bujanda, an electrical engineer at Spruce Finance in Houston, who knows that processing solar equipment orders will have a positive impact on the world, advanced energy is providing livelihoods and building the future. Next time you think of an American job, think of a wind turbine technician, a construction worker who utilizes energy efficient building materials, or a software developer figuring out how consumers can save money by using less electricity.
Click below to download the latest jobs report out of Indiana, and check in next week for Part 2!