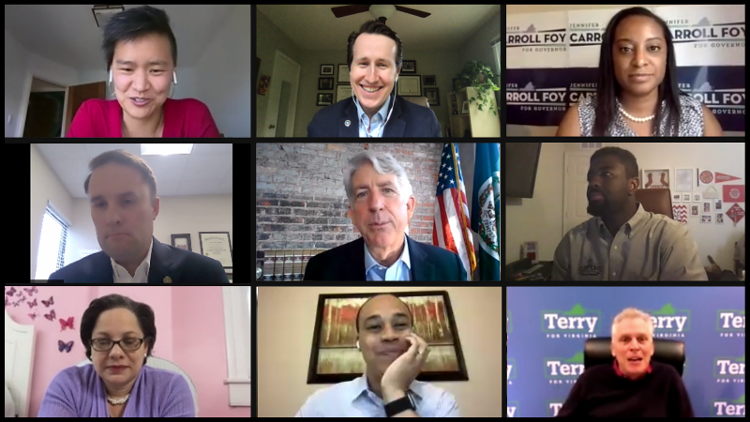 Images compiled from separate virtual meetings with candidates. Clockwise from top left: Audrey Lee, Microsoft; Harry Godfrey, AEE; Jennifer Carroll Foy, candidate for Governor; Ebo Entsuah, AEE; Terry McAuliffe, candidate for Governor; Delegate Jay Jones, candidate for Attorney General; Senator Jennifer McClellan, candidate for Governor; Delegate Jason Miyares, candidate for AG; Attorney General Mark Herring, center.
Advanced energy and transportation have made tremendous strides in Virginia over the past four years. The Grid Transformation and Security Act (GTSA), Virginia Clean Economy Act (VCEA), and Clean Cars Act are some notable examples, and there are plenty of smaller wins as well. This success was built upon early and frequent engagement with Gov. Northam's Administration and lawmakers at the General Assembly, beginning with business roundtables AEE held with gubernatorial candidates four years ago. Now, with Gov. Northam ineligible for re-election this fall because of Virginia's single-term limit on its chief executive, we are doing it all again, focusing on candidates for both Governor and Attorney General.
Virginia Advanced Energy Economy is now deep into a thorough candidate engagement program to elevate advanced energy issues with candidates for Governor and Attorney General. Over the course of 16 days, Virginia AEE and representatives of 13 member companies met with six candidates for statewide office, three for Governor and three for Attorney General.
The program brought advanced energy companies face-to-face with hopefuls for Governor and Attorney General. Candidates for Governor included former Governor Terry McAuliffe, a long-time proponent of advanced energy and transportation, running for a second, but non-consecutive, term; State Senator Jennifer McClellan, patron of the Virginia Clean Economy Act, and former Delegate Jennifer Caroll-Foy, who has co-sponsored legislation to reward businesses for investing in renewable energy. All three are Democrats; Republican candidates for Governor did not reply to our outreach or opted to delay meeting until after the party's nominating convention on May 8.
For Attorney General, Virginia AEE was able to speak with current Attorney General Mark Herring (D), a member of the Green 20, a group that is committed to clean energy, and a candidate for re-election; Delegate Jason Miyares (R); and Delegate Jay Jones (D), a proponent of progressive energy and environmental policies.
As a business organization, Virginia AEE was excited to connect these candidates for Governor and Attorney General with our member companies. Our member companies range from solar generation and energy efficiency to transportation electrification, including passenger vehicles and electric school buses. The discussion provided the candidates with insights into the industry – what our companies build and deliver – and provided companies the opportunity to highlight both the economic opportunities that flow from greater advanced energy and transportation and the continued impediments that are blocking advanced energy in the marketplace.
With the Virginia Clean Economy Act passed last year, many of Virginia AEE member companies are focused on implementation and expansion of the landmark law. Roundtable discussion centered on next steps and how the VCEA can be accelerated to reach a 100% clean grid sooner while ensuring affordable electricity and empowering consumers.
The VCEA established standards to decarbonize the grid. Now, the Commonwealth needs a regulatory model that will make sure Virginia's utilities fully meet those standards. To that end, Virginia AEE members spoke with candidates about Outcomes-Based Regulation (OBR), a framework that will help to align the financial interests and actions of regulated utilities with public policy objectives and customer interests.
Advanced transportation was also an area of focus – and candidate interest – during our roundtable conversations. Today, the Commonwealth employs 5,400 people in the advanced transportation sector. To grow this important part of Virginia's economy, member companies and candidates discussed a wide variety of policy priorities, such as state fleet electrification and Clean Cars implementation, building on the groundwork laid by the Northam Administration and General Assembly.
These new methods of advanced energy and transportation not only have the potential to save money for the average consumer, they can also provide cost savings to school districts across Virginia. With over 2,800 public schools throughout the Commonwealth, it is important that the next administration help to strengthen Virginia's school system. Our conversation focused on various methods to create cleaner, healthier, and more resilient schools, including electrifying school bus fleets, adding solar for schools and finding more ways to increase the energy resilience of these community institutions.
Finally, member companies shared with candidates the ways in which advanced energy can help Virginia's energy system become more resilient in the face of unprecedented threats to the grid due to natural disasters and extreme natural events. The winter storm power outages in Texas can be instructive to policymakers regarding what Virginia can do to strengthen and decarbonize the grid, while keeping consumers safe in the event of an emergency.
In these meetings, candidates for Virginia's Governor and Attorney General learned a lot about the momentous opportunity for advanced energy growth in Virginia. Virginia AEE looks forward to working with these candidates and others while playing our own part in creating a bright new future for the Commonwealth of Virginia.