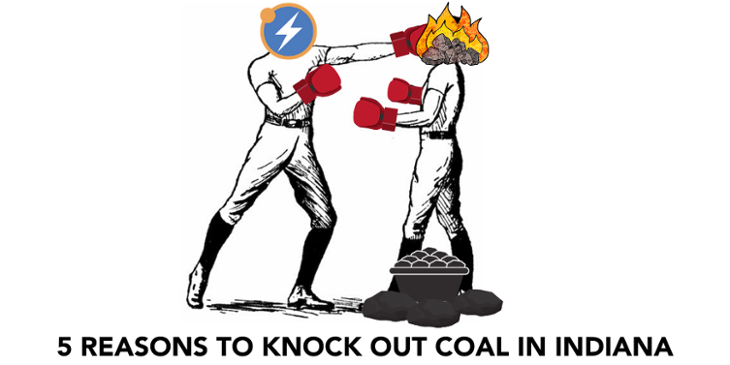 As the Indiana General Assembly passed the halfway mark of its session last week, the question of whether to offer a lifeline to costly coal plants came to the forefront for the second year in a row. Last year, the advanced energy industry claimed victory as the House rejected a proposal that would have placed a 20-month moratorium on Indiana Utility Regulatory Commission (IURC) action on any matter involving more than 250 MW of generating capacity. This proposal would have locked in Indiana's coal-fired generation for nearly two years and prevented Indiana's utilities from pursuing their plans for advanced energy investment. Unsurprisingly, coal interests came back to the legislature this year looking for protection again. Despite rejecting the moratorium last year, a new proposal to require IURC approval before a utility can retire a coal plant was approved by the Indiana House. Now moving to the Senate, this bill is threatening to slow Indiana's transition to investment in advanced energy. Here are the top five reasons the legislature should act to defeat this proposal:
1) The legislature should let the market decide, not cobble together regulations to protect coal
Indiana is currently the epicenter of the transition to cleaner energy resources on economic grounds alone. Indiana has no state policies driving this transition – no RPS, no carbon-reduction target – but market forces are pressuring coal plants to retire in favor of resources like wind, solar, storage, and demand-side technologies, and Indiana utilities are following these forces. Most notably, the Northern Indiana Public Service Co. (NIPSCO) announced in a 2018 plan that the utility would close all of its coal plants by 2028 in favor of advanced energy to save consumers $4 billion. Last year, the IURC also rejected a proposal to build an 850 MW natural gas plant, citing the need to consider a diversity of energy resources that could better serve the utility's ratepayers in an era of rapid technological innovation. These market forces and policy decisions simply point to a larger truth: Advanced energy resources are the most cost effective resources today in the market. Consumers – whether businesses or households – stand to benefit from greater investments in advanced energy.
2) Indiana businesses want advanced energy to power their operations
On top of the consumer benefits of advanced energy, Indiana consumers, particularly large energy users, are seeking to have their electricity come from locally sourced renewable energy. It's nothing new that the ability to control energy costs and sources is a critical business priority for large commercial and industrial customers. Cheap electricity from coal has long been an Indiana advantage for business. But energy costs have been going up, with Indiana going from eighth to 28th lowest in the nation for electricity costs.
But low cost is not enough anymore. Now, 71 of the Fortune 100 companies and 43% of Fortune 500 companies have set ambitious corporate sustainability goals. To reach those goals, they need renewable energy
In August 2019, this trend came to the Hoosier State, as nine companies with Indiana operations, including Cummins, Eli Lilly, General Motors, Salesforce, and Walmart, sent a letter to the 21st Century Energy Policy Development Task Force calling for more renewable energy through utility programs. In that letter, the companies noted that demand for renewable energy by large energy users has resulted in significant market activity, but less than 15% of that market activity has been procured through utility offerings, which is the most likely way for companies to get renewable energy in a state with vertically integrated utilities like Indiana.
In order for Indiana to stay competitive and to attract these businesses with renewable energy goals to the state, AEE has advocated for utilities to offer options that allow companies to contract for or purchase the output of renewable energy directly through their local utility. With properly structured utility offerings, Indiana has an opportunity to be a national leader in meeting C&I demand for renewable energy sources, while meeting other important policy goals for the state, including providing low-cost energy options, enabling economic growth, and encouraging cleaner energy resources.
AEE has made these points both to the legislature, in testimony to the 21st Century Energy Task Force, and in comments on recent IRP filings by Duke Energy Indiana and Indiana & Michigan Power. Consistently, we advocate for increased use of advanced energy resources and better options for consumers – whether large or small users – to access these affordable and reliable resources.
3) Indiana can attract over $5 billion in investment and create nearly 25,000 jobs by meeting large consumer demand for advanced energy
Recognizing that consumer demand for advanced energy was rising in Indiana, AEE commissioned a report to determine how Indiana stood to benefit from meeting this demand. In January, AEE released this new report concluding that Indiana could benefit from over $5.78 billion dollars in investment and nearly 25,000 jobs if commercial and industrial (C&I) businesses had more options to procure renewable energy through their electric utilities over the next 10 years.
The legislature should work to open up opportunities for Indiana businesses to get access to advanced energy to attract more investment and create jobs in the state.
4) Legislation to slow down retirement of coal plants will lead to higher energy costs
This legislation, HB 1414, will increase energy costs for Indiana households and businesses for two reasons. Indiana utilities, through their own resource planning processes, have demonstrated that retiring coal plants and transitioning to renewables, storage, and demand management is cheaper than continuing to operate old plants. Artificially prolonging the use of coal, rather than allowing utilities to transition to lower-cost options, will raise energy costs for Indiana households and businesses.
In addition, as currently written, the bill allows for utilities to get cost recovery for keeping a 90-day supply of onsite fuel. Proponents of the bill have cited this provision as improving reliability. In reality, analysis has shown that fuel supply issues are responsible for just 0.00007% of lost customer electric service hours.
During debate on the House floor, even the bill sponsor admitted that this legislation will force Indiana households to pay more to keep coal plants online.
5) Indiana should look to grow the advanced energy industry, not stand in its way
The advanced energy industry provides many benefits to Hoosiers, including lowering the cost of energy, providing billions in dollars of investment in local economies, and creating tens of thousands of jobs across the state. AEE has shown that the advanced energy industry employs over 90,000 Hoosiers with good jobs. The legislature should look for opportunities to harness the power of advanced energy for all its benefits, including job creation, rather than stand in its way.
Despite the House vote in favor of the bill, there is no public clamoring to thwart the economically driven transition to advanced energy. As originally filed, HB 1414 was opposed not only by AEE but by the Indiana Chamber of Commerce, Indiana Industrial Energy Consumers, the states utilities, consumer and environmental groups; at the public hearing, the only group to testify in favor of the bill was the Indiana Coal Council. This widespread opposition forced bill sponsors to water it down enough to pass, but it still requires a regulatory review process before an outmoded coal plant could be shut down – which would, at very least, send a political signal to utilities to think twice.
AEE and its many allies will now make the case to the Senate for a market-based transition to the better, cleaner, cheaper advanced energy resources of the future instead of putting a politically driven safety net under the energy resources of the past. With the Indiana legislature driving toward its likely last day of session on March 11, AEE will keep fighting for the advanced energy industry and the many benefits it has to offer Indiana.
Download "Opportunities for Meeting Commercial and Industrial Demand for Renewable Energy in Indiana" by clicking below.