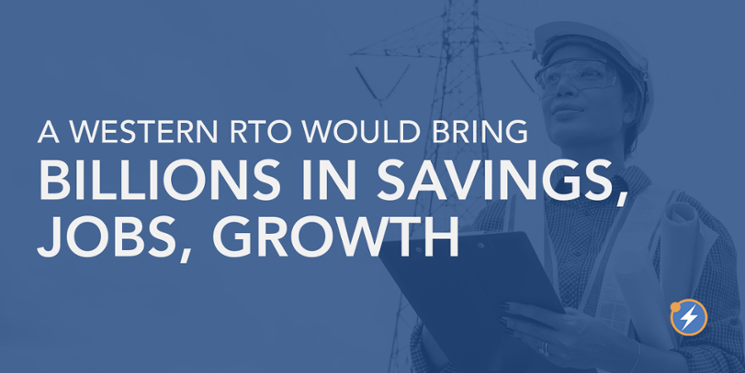 As the West deals with a record-setting heat wave that is fueling catastrophic droughts and wildfires and is testing the limits of America's aging power grid, our team at AEE is focused on how we can improve grid resilience and connect more clean energy by establishing a regional transmission organization (RTO) to operate the power grid for Western states. Now, we can say with certainty just what the West would gain in savings, jobs, and economic growth - and it's a lot.
To gain a better understanding of the other potential benefits of regional collaboration, we hired independent consulting firm Energy Strategies to take a deeper look at the economic impacts of a Western RTO. The results, detailed in "Western RTO Economic Impact Study," were huge: The analysis found that a Western RTO would create up to 657,000 permanent, high-paying jobs in the West, while also diversifying state economies and saving ratepayers millions of dollars per year in energy costs.
The benefits don't stop there: By 2030, a Western RTO would also add up to 4,400 MW of additional clean energy to the Western grid. This is welcome news as consumers, including large employers across the West, seek clean energy for their operations and are looking to expand into states that can maintain energy affordability and reliability. This will bring billions in economic development, jobs, and tax revenue, along with cleaner air. And, critically, a Western RTO would save Western states $2 billion in annual energy costs savings, as a region-wide market brings down electric rates for all.
The 11 states studied in the report were Arizona, California, Colorado, Idaho, Montana, Nevada, New Mexico, Oregon, Utah, Washington, and Wyoming — and notably, the analysis found that all 11 states would benefit from the economic benefits of a Western RTO. These benefits are driven by:
Lower electricity prices for households and businesses;
Additional clean energy development across the region;
And the expansion of existing, as well as attraction of new, businesses to the West
Across the West, government and business leaders with a variety of perspectives joined us in sharing this new report and calling for a Western RTO, including Governor Sisolak of Nevada, who tweeted:
"California should be looking seriously at this study and the benefits an RTO could bring to our state," said Assemblymember Chris Holden. "An RTO could help safeguard against blackouts, reduce household energy costs, and keep high-paying, permanent jobs here in California — all while helping to achieve our ambitious goal of 100% clean energy by 2045. For years, California has been looked to as an innovative leader in the energy sector — but if we don't consider collaborating with the rest of the West, we risk being left behind. We can't afford to do it alone."
"Our electricity system is going through dramatic change and is being challenged in new ways," said former FERC commissioner Suedeen Kelly. "The West has an opportunity to design an RTO that is aligned with its goals and this data reinforces the tremendous economic benefits that may be unleashed with more regional collaboration."
"RTOs allow the best clean energy to be brought to market — resources that might otherwise never have been developed," added Jeffrey Barrett, director of state affairs, Western region, for Apex Clean Energy. "It's no surprise that greater economic benefits materialize in states where market conditions drive clean energy investment. This study is an important contribution to the growing consensus that an RTO is a crucial next step for the West's economic and environmental goals."
And John Karakoulakis, Director of The Western Way, said, "This study fills an important gap in understanding the potential economic benefits driven by the creation of a Western RTO. From significant permanent job creation to operational efficiencies, the market forces of an RTO would not only grow the regional economy but lower utility rates for consumers. Policy makers will benefit from this analysis as the regional discussion towards markets continues to move forward."
If you want to learn more, you can watch a recording of the media briefing we held announcing the report findings here. You'll hear remarks from Colorado State Senators Chris Hansen and Don Coram; Director of the Nevada Governor's Office of Energy David Bobzien; Head of U.S. Public Policy at Enel Mona Tierney-Lloyd, and the analysis authors and economists.
To download the full report, click below.