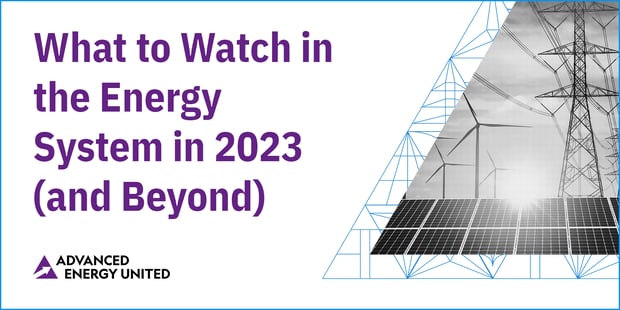 Advanced Energy United is looking at macro trends impacting the electricity system in 2023 and beyond. This is the fourth in a seven-part series looking at what lies ahead – part of a broader look at what lies ahead for policymakers, customers, and utilities following government incentives and market shifts in 2022. Read the rest of the series here.
Turning toward clean heating and building electrification.
When future generations look back on the energy transition, 2022 may be seen as the year of the heat pump – but it's also when attention in the clean energy industry shifted decisively towards the built environment and the future of heat.
At the federal level, IRA tax credits and rebates for high-efficiency electric products and whole-home efficiency retrofits were introduced to accelerate a transition to electrified buildings. In addition to these funds, California, New York, and Washington set dates to phase out gas-fired furnaces and water heaters in new construction and retrofits, and Massachusetts, Maryland, New York, Rhode Island, Colorado, and Washington, DC introduced enhanced building code and performance standards, At the local level, municipalities and utilities also made moves to encourage electrification using a spectrum of different policy levers (see Denver, Chicago, and Eugene).
Appliance manufacturers are also preparing to meet the demand from electrification policies and incentives by scaling up production. Forecasts have the global heat pump market reaching $118.4 billion at a compound annual growth rate of 11.37% by 2030. Several major market players have spoken up in support of efforts to move towards electrified heating, including Carrier, Daikin, Fujitsu, Johnson Controls, Mitsubishi Electric, Rheem and Trane. Manufacturers are also introducing electrification products that are compatible with residential electrical systems; Rheem has launched a new electric heat pump water heater that uses a regular 120-volt outlet, and several similar products are on the way from A.O. Smith, General Electric and Nyle. While recent studies have demonstrated that cold weather air source heat pumps already on the market are performing well in some of the country's most frigid climates, the Department of Energy is also partnering with Lennox International to develop the next generation of electric heat pump technologies.
Looking ahead: Conversations around the future of gas in the face of electrification's growing momentum are heating up (pun intended!) in a number of states. Policymakers are beginning to consider what the increased energy demand from electrified buildings will mean for the grid. An electrified future will profoundly change our long-term infrastructure needs away from pipelines and toward electric distribution and transmission wires, and away from natural gas extraction toward more gigawatts of solar, wind, and batteries.
The investment decisions that utilities make (and regulators approve) to address this need will have financial consequences for customers for decades. That's why many state public utility commissions (PUCs) have started investigations to explore how we'll heat our buildings in the coming years. New York and California have implemented new regulations to set up processes to consider gas infrastructure investments, and to compare them against possible non-pipeline alternatives. California, Colorado, Washington, Oregon, and Minnesota have also made changes to the way they subsidize new gas system expansions.
And it's not just PUCs. Governors, state legislatures, municipalities and counties are also focusing on the gas transition. Expect battles around bills, ordinances, codes, regulations, and executive orders addressing the continued use of fossil fuels in buildings – and the suitability of alternative fuel-based substitutes – to rage on in 2023. But as those battles continue, more and more consumers are likely to jump on the electrification bandwagon, scaling up the market and the workforce and taking the future of heat into their own hands.
Advanced Energy United Managing Director Hannah Polikov and Policy Principal Angela Kent contributed to this series.
Next up: Part 5: Accelerated Development and Looming Concerns: How transmission and wholesale markets are shaping development.