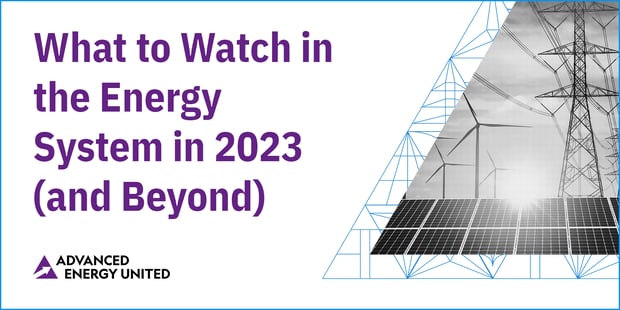 Advanced Energy United is looking at macro trends impacting the electricity system in 2023 and beyond. This is the second in a seven-part series looking at what lies ahead ­– and the impact these trends will have on policymakers, ratepayers, and utilities. Read the rest of the series here.
Storage deployment and distributed generation will transform grid development.
A number of extreme weather events that used to be described as "once in a century" hit almost every corner of the country in 2022 – and underscored the need for grid reliability in the face of rising temperatures, sudden cold snaps and massive storms. Looking ahead to 2023, we're seeing two interconnected trends emerging in how utilities and grid developers are working to address that need.
Storage deployment is accelerating
A decade ago, a mere 200 megawatts (MW) of battery storage capacity had been installed in the United States. Today we live in an entirely new world. Over 2,500 MW were installed in 2021 alone, bringing our cumulative capacity to nearly 5,000 MW.
With the price of lithium-ion batteries down 89% since 2010, and the growing need for variable renewable energy integration, energy storage is set to take off. Still, critical mineral supply constraints, demand from several growing markets (like distributed storage, electric vehicles, and hybrid grid-scale renewable+storage projects), and the need for longer-duration storage have put pressure on the industry to find new chemistries.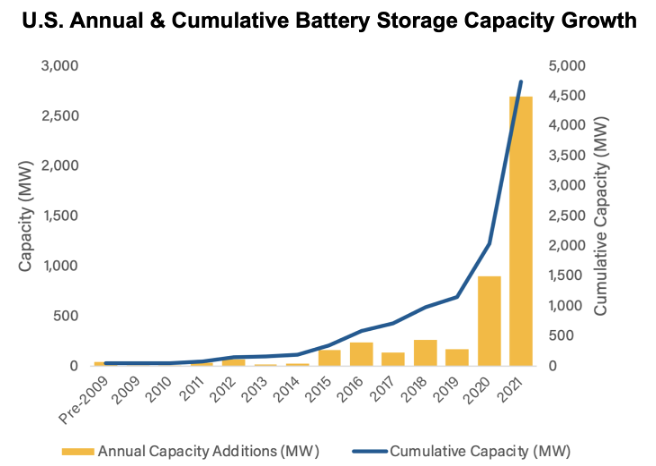 Source: Clean Power Annual Market Report 2021, Executive Summary, American Clean Power Association, 2022.
Looking ahead: As new energy storage technologies come to market, grid operators will have to gain confidence with their operations. As storage becomes a staple of a modern and clean electricity grid, expect to see policy conversations about storage targets, widespread lithium-ion battery deployment, new utility long-duration storage pilot programs, revamped modeling techniques that better integrate storage and its unique performance attributes, and wholesale market rule changes.
The future of the grid is distributed.
Across the country, consumers are getting more and more energy savvy. Broadly speaking, residents and businesses want more control over their energy usage and costs, a preference that only intensifies as bills spike and energy burden grows. As the grid's vulnerabilities to extreme weather and natural disasters become clearer, customers want localized systems that protect them from outages. By and large, customers also prefer those systems to be clean.
Distributed energy resources (DERs) encompass a range of options, including distributed generation like rooftop solar, batteries, energy efficiency, demand response and other demand management technologies and services, microgrids, as well as electric vehicles. All DER markets are growing, and the selected items below highlight this transition to a more distributed, flexible grid.
Distributed solar capacity has grown to more than 45,000 MW across the residential, commercial, and community sectors. This trend has sometimes brought bitter debates on the best ways to support this growth, in states ranging from California to Indiana.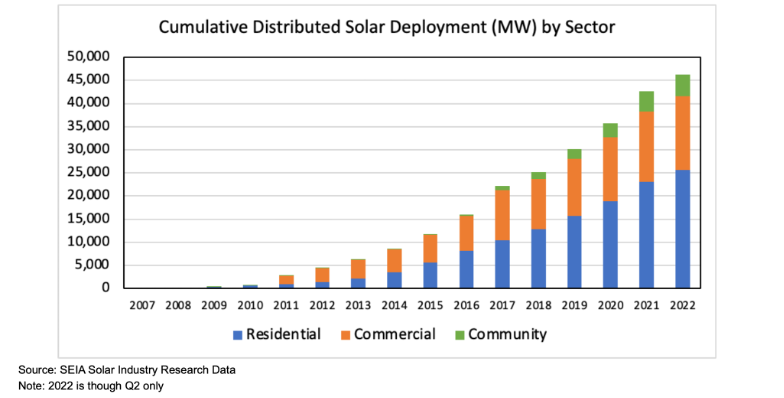 Energy storage is also increasingly paired with residential and commercial solar systems. In 2021, about 9% of distributed solar systems across the country (the vast majority of those being residential) were installed with a battery, up from just 0.1% less than a decade earlier. This creates new customer and grid value and requires that existing utility and operational and resource compensation frameworks be updated. Simultaneously, Regional Transmission Organizations and Independent System Operators are forging ahead with the development of rules to allow DERs to participate in their markets as per 2020's FERC Order 2222.
Another DER – demand response (DR) – is gaining recognition as a critical solution for an increasingly stressed and variable grid. Demand response uses load shifting and load shedding to increase reliability and balance power grids. As an example, California used its DR programs and voluntary calls for conservation for several days in a row to avoid blackouts during the summer 2022 heat wave. Within minutes of a text alert, consumers reduced their electricity use by over 2,100 MW. New York City's government increased its participation in Consolidated Edison's DR program with over 550 new facilities to reduce electricity costs and alleviate stress on the grid as the city baked in the 2022 summer heat. Texas's Public Utility Commission increased the budget for industrial DR (their Emergency Response Service program) to avoid grid catastrophe.
Looking ahead: Summer after summer and winter after winter, it seems that peak energy demands are becoming harder to meet — and harder to meet affordably. As 2022 closed, a winter storm and arctic blast hit almost the entire continental United States. Layered on top of sky-high natural gas prices, the event showcased some of the grid's most pressing challenges. In 2023, look for a growing number of examples of DERs rescuing the grid from tight conditions, and more residents and businesses moving from consumer to prosumer as they take energy resilience, reliability, and affordability into their own hands.
Advanced Energy United Managing Director Hannah Polikov and Policy Principal Angela Kent contributed to this series.
Next up: Part 3: The Wheels Are in Motion: Transportation electrification is gaining momentum as the light duty vehicle market approaches an inflection point.