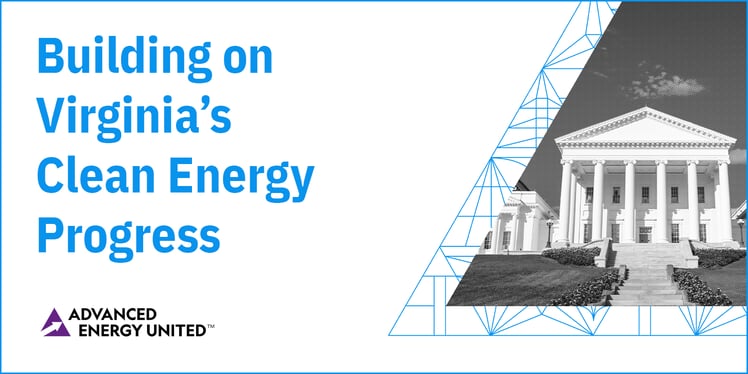 From July to August, Advanced Energy United hosted 23 candidate education meetings with six member companies for Virginia's General Assembly candidates, Governor Youngkin's policy team, and the Virginia Department of Energy in Richmond, Norfolk, Charlottesville, and McLean. These small group discussions provided a space for both new and seasoned candidates to ask questions and learn more about who we are, what we do, and how our member companies are saving consumers money, creating good-paying jobs, and generating new economic rewards while decarbonizing the American electricity grid and transportation sector.
The Commonwealth's current General Assembly consists of a Senate Democratic majority and House Republican majority. Virginia voters bid farewell to several long-time incumbents in the primary elections, some of whom have held their seats for over a decade. Additionally, comprehensive redistricting and a swath of retirements mean this election will undoubtedly result in an influx of fresh faces. United is excited to embrace the latest class of lawmakers and looks forward to working together and building on Virginia's clean energy progress. With a politically divided government and 140 seats in the legislature up for grabs this election, each General Assembly seat is hotly contested and has the potential to sway the balance of power next session.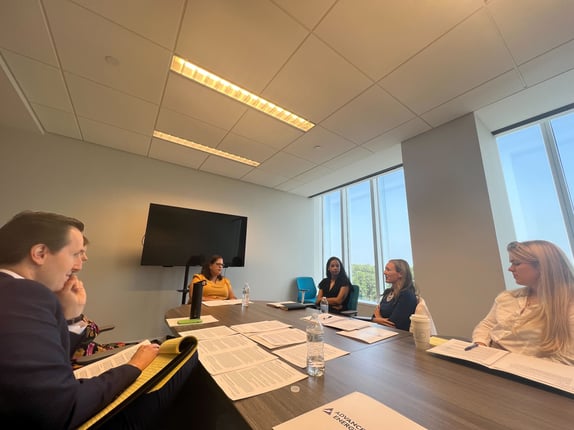 Pictured left to right, Harry Godfrey (Advanced Energy United); Nitzan Goldberger (New Leaf Energy); Stella Pekarsky (Candidate for VA Senate District-36); Kim Jemaine (Advanced Energy United); Rachael Estes (Apex Clean Energy); and Taylor Overman (Apex Clean Energy) discuss how clean energy projects create market competition, good-paying jobs, and tax revenue for local communities in McLean.
The Virginia Clean Economy Act (VCEA) 2020, the Commonwealth's landmark energy law establishes clean energy and battery storage targets, fossil fuel retirements schedules, renewable portfolio standard, energy efficiency resource standard, purchase power agreements for third-party developers, and mandates utilities to reach 100% clean by 2050. Advanced Clean Car Standards (Clean Cars) 2021 reduces dirty transportation emissions by steadily increasing electric vehicles (EV) supply in dealerships across the Commonwealth, giving customers greater access to diverse and affordable electric and hybrid options, and signaling to auto manufacturers that Virginia is a priority state for EV delivery. Regional Greenhouse Gas Initiative (RGGI) 2020, a carbon-capping program, fines fossil fuel polluters and distributes the proceeds towards energy efficiency and home weatherization upgrades for low-income households. These laws work in unison to give more communities access to clean energy resources, increase savings on electricity and gas bills, and reduce state dependence on expensive fossil fuels. Combined with federal dollars unleashed by the Inflation Reduction Act (IRA) and Infrastructure Investments and Jobs Act (IIJA), we can accelerate Virginia's clean energy transition and produce greater economic, environmental, and public health benefits for all.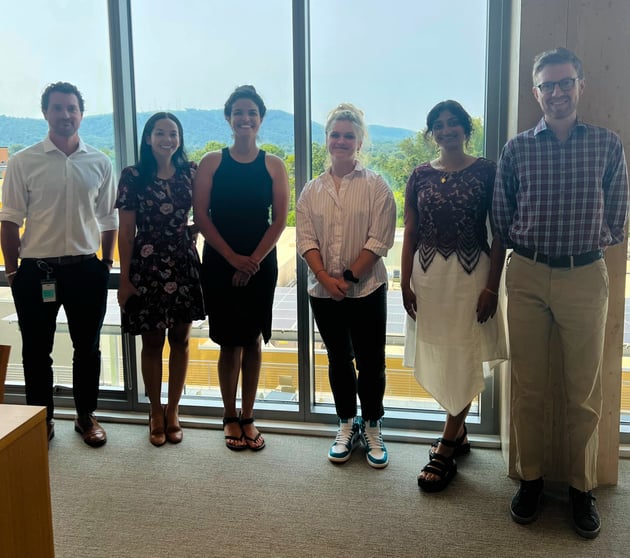 Pictured left to right, Devin Welsh (Suntribe); Kim Jemaine (Advanced Energy United); Katrina Callsen (Candidate for VA House District-54); Taylor Overman (Apex Clean Energy); Aisha Shekara (Advanced Energy United); Sam Campbell (Apex Clean Energy) inside Apex Clean Energy's headquarters in Charlottesville.
Our 2023-2024 candidate education platform addressed: distributed energy resources, transportation electrification, siting and permitting reform, optimizing existing transmission, outcomes-based regulation, actualizing federal funds, and approaching emerging technologies.
During our conversations, we demystified the technologies we represent, deconstructed energy issues into digestible terms, identified the restrictions the industry is facing, and how to take advantage of this moment in history by problem-solving through policy. We shed light on why the current cost-of-service (COS) utility business model is a dirty deal because it incentivizes capital-intensive investments like new gas plants and transmission lines and does not promote low-cost alternatives like energy efficiency, demand-response, battery storage, smart EV charging, and grid enhancing technologies. We reinforced the necessity of siting criteria that are clear and predictable for developers. We also discussed the potential role for emerging technologies like small modular nuclear reactors and green hydrogen under the VCEA.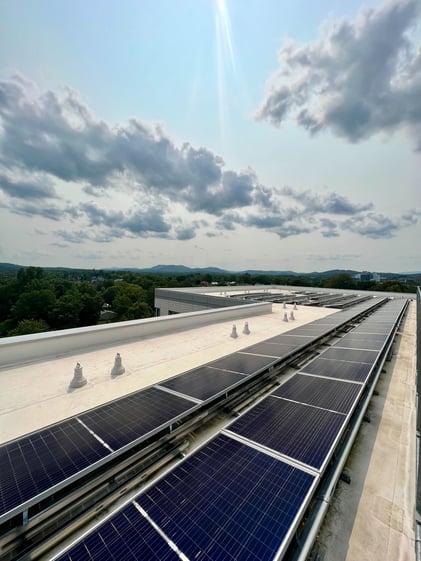 A rooftop view of United member company Apex Clean Energy's headquarters in Charlottesville.

Along with our member companies, we worked to ensure that candidates had an introduction to United and how clean energy solutions like distributed generation, demand-side management, and transmission can be paired to ensure resilience, and how our technologies can be deployed through legislative and regulatory action. United enjoyed connecting with candidates, discussing our platform early on, and establishing our role as a resource on energy policies before the hustle and bustle of legislative session. This upcoming year, we aim to preserve Virginia's clean energy victories and further enhance these successes to achieve a 100% carbon-free future.