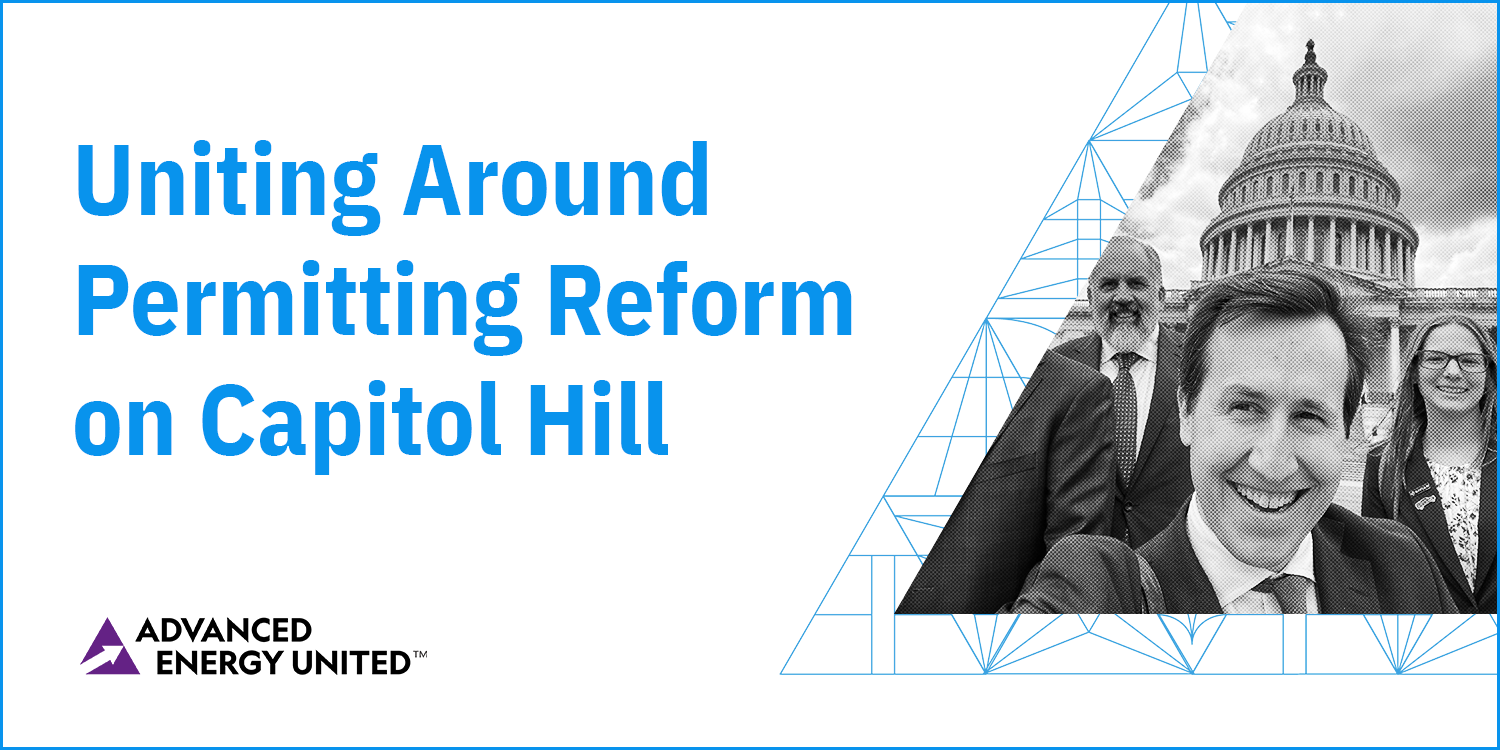 Incentives from the Inflation Reduction Act (IRA) and the Bipartisan Infrastructure Law (BIL) are working as intended: they are spurring increased deployment of new wind, solar, and electric vehicle (EV) charging projects, and advanced energy manufacturing projects are proliferating across the country. But there remain regulations that are stalling further investment. In particular, cumbersome permitting processes for energy projects have created significant roadblocks to our 100% clean energy goals and imperil the energy transition. In response, permitting reform is a key priority for the 118th Congress.
On Thursday, May 4, Advanced Energy United and a set of member companies—Apple, Enel, MN8, Rivian, and SunPower—visited Capitol Hill to discuss permitting reform around critical minerals, transmission, and more. The day consisted of 14 meetings with staff in both chambers and both parties. This lobby day comes at a salient moment as bipartisan interest for permitting reform percolates on the Hill. United and its member companies are focused on ensuring permitting policy effectively addresses the needs of the advanced energy industry. In the past few months, United has released a pair of Policy Principles regarding Transmission and Critical Minerals Production, Reuse, and Recycling. We focused on these topics, and principles, in each of our meetings.
Whether we're talking about building a new transmission line or copper mine, the U.S. has arduous permitting processes, where projects can take a decade or more to get permitted. In contrast, countries with similar environmental standards, like Canada and Australia, can greenlight energy projects in two to four years. United recognizes that meeting our goal of transitioning to a 100% clean energy power sector and 100% transportation electrification by 2050 requires streamlined permitting reform that will reduce these timelines.
In this pursuit, United has prioritized several aspects of permitting reform for transmission, including enhancing interregional transmission capacity, resilience, and innovative grid enhancement approaches. This is pivotal to unlocking the full benefits of the IRA and BIL. We discussed these various aspects of transmission needs, including increased capacity, resilience, and innovative grid-scale solutions.
Our conversations didn't only focus on the transmission level, but also distribution level issues in the form of permitting for rooftop solar. The Department of Energy's SolarApp+ has been a game changer for rooftop solar installations. Since its inception, this tool has saved over 135,000 days in permitting delays and has made the solar installation process more predictable and standardized for users. This is just one example of how permitting reform is not a monolith and that it has broad implications and applications.
Critical minerals production, reuse, and recycling also drove many of our conversations. The advanced energy industry recognizes that, to build a 100% clean electric grid and fully electrify transportation, we will need to ramp up production and processing for critical minerals. If we want to manufacture those technologies in the U.S., we will need to expand domestic mining and processing. But we cannot do that at speed and scale without permitting reform.
At the same time, the critical minerals that underpin clean energy and electric vehicles can be reused and recycled – a fundamental difference between advanced energy and fossil fuels. Offices on both sides of the aisle and in both chambers expressed an interest in building a circular U.S. economy around critical minerals. Reuse and recycling policy is a natural complement to permitting reform for critical minerals.
Moreover, we discussed the national security and environmental benefits of building a circular advanced energy economy. Onshoring production, processing, and recycling for all advanced energy technologies—from solar panels, to batteries and wind turbines—enhances our national security, diversifies our supply chains, and reduces the need for more mineral extraction. Simply put, once a mineral is recycled in the United States, it becomes a domestic natural resource. Growing our domestic advanced energy industry is paramount to realizing the benefits of the IRA and BIL. Growing sub sectors from processing to recycling will enable us to deploy clean energy at scale and in line with our clean energy goals all while protecting our national security.
So, when can a permitting bill get across the finish line? Indications from our meetings pointed, optimistically, to expectations of passing broad permitting reform by the end of the year, or in early 2024. To that end, Advanced Energy United will continue to actively engage in these conversations and lead advocacy for policies that facilitate the energy transition.