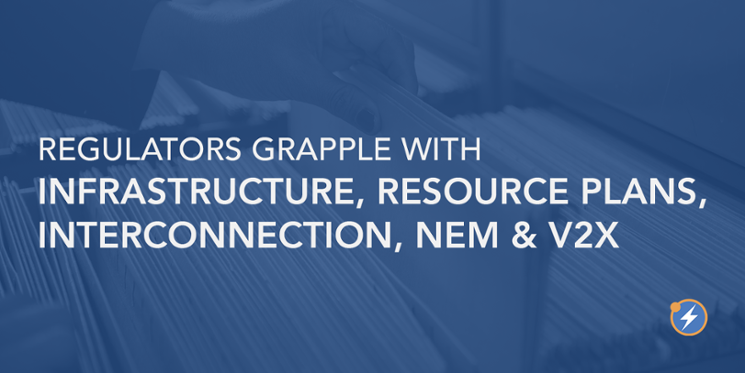 With 2022 more than halfway through, AEE returns with the latest edition of its biennial top utility regulatory trends roundup. Utility regulatory commissions across the country have been off to a busy start, navigating supply chain hurdles, inflationary pressures, extreme weather events, and the accelerated adoption of clean energy technologies. With PowerSuite, AEE's policy tracking platform, we cut through the noise to provide insights on the trends shaping utility regulation this year and in years to come.
Note: some links in this post reference PUC filings and other documents in AEE's software platform, PowerSuite. Click here and sign up for a free trial. PowerSuite – policy tracking by policy professionals.
IIJA Prompts States to Prepare for Clean Energy Spending
With the passage of the Infrastructure Investment and Jobs Act (IIJA), funds are available to state, local, and tribal governments for a variety of advanced energy infrastructure. The bill provides funding to address some of state and local policymakers' top energy priorities, such as ensuring a reliable electric grid, lowering energy bills, and supporting advanced energy jobs. State public utilities commissions (PUCs) also have several roles to play in the implementation of IIJA, including consulting on and overseeing the spending of $5 billion in grid resilience formula and competitive grant funding available to states and electric utilities, approving investments stemming from $3 billion in competitive funding for the Smart Grid Investment Grant program available to electric utilities, and taking action on PURPA 111(d) requirements for state regulators to consider enhancing demand response programs and rates that facilitate transportation electrification.
Several state regulators have already taken action to prepare for IIJA implementation. The Public Service Commission of South Carolina recently opened an investigatory proceeding to assess funding opportunities eligible to regulated utilities, including but not limited to electric vehicle charging and hydrogen fueling infrastructure, pumped storage projects, and loans for new electric transmission development. Recognizing the benefits that IIJA can provide to utility customers, the Commission's Office of Regulatory Staff asserted that regulated utilities "should fully and carefully consider these grants, loans, and incentives" and use the proceeding as a repository to inform stakeholders of utility plans to seek federal funding. Regulators in Pennsylvania, North Dakota, Nevada, Michigan, and other states have opened similar dockets to receive feedback on how they can best avail themselves of funding opportunities provided in IIJA to advance state regulatory and policy goals.
IRPs Integrate State Climate Policy Goals
Integrated resource planning – the practice of developing a portfolio of supply- and demand-side resources to meet state electricity needs reliably and affordably – has been a cornerstone of utility regulation in many states. Now, utility integrated resource plans (IRPs) are becoming even more "integrated" as they account for state decarbonization goals. Currently, 14 jurisdictions have goals to both 1) reduce greenhouse gas emissions (GHG) by at least 75% and 2) and achieve at least 75% renewable and/or clean energy grids by 2050 (or sooner). As state climate policy continues to evolve, more IRPs will need to not only satisfy state renewable portfolio standard requirements, but also support the achievement of broader decarbonization goals.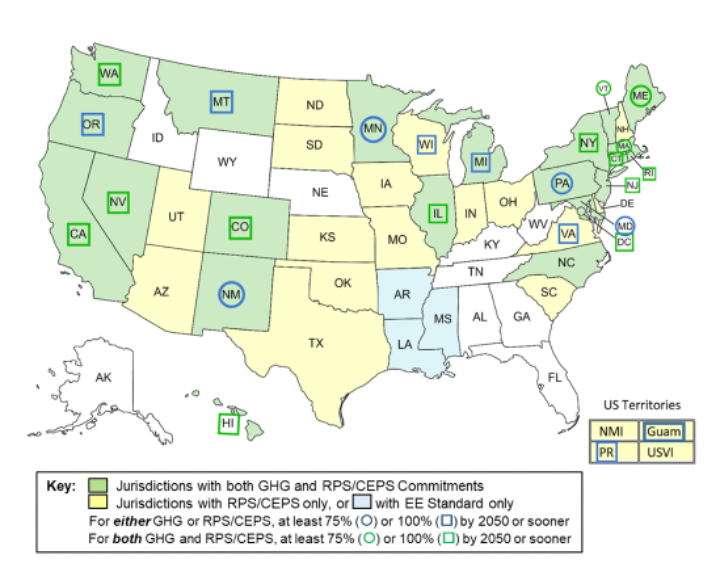 Source: National Association of Regulatory Utility Commissioners
Pursuant to HB 2021, which passed the Oregon legislature in 2021 and requires electric utilities to fully decarbonize retail electricity sales by 2040, the Oregon Public Utility Commission initiated a new proceeding to establish Clean Energy Plan (CEPs) filing requirements and ensure CEPs were well-integrated with existing IRP processes. In early June, the Commission issued an order requiring utilities to file CEPs with their next IRPs, while providing flexibility to submit CEPs no later than six months after IRPs. In Colorado, which passed similar CEP legislation in 2019 with ambitious electric utility decarbonization targets, Xcel Energy's inaugural CEP is still pending Commission approval in a wide-reaching proceeding. The utility states its CEP will position the company to achieve 85% GHG reductions by 2030 (above the required 80% reduction), and estimates that approximately 5.5 gigawatts (GW) of renewables and storage would be developed before 2030. In a recent settlement pending Commission approval, Xcel Energy also committed to retiring the Comanche 3 plant by 2031, which could effectively end the company's use of coal. Regulators in Michigan are also in the process of updating utility IRP filing requirements to bring them into alignment with the state's decarbonization goals.
Successors to Net Energy Metering Face Challenges
Net energy metering (NEM) has been an important tool to compensate distributed solar and other distributed energy resources (DERs). Regulators in some more mature DER markets are looking to move beyond NEM and develop new forms of DER compensation, but finding it challenging to achieve.
In California, which has approximately 10 GW of distributed solar, regulators proposed a successor tariff that would largely eliminate retail rate NEM and replace it with values based on utility avoided costs while introducing large fixed charges for solar customers. The proposal, which attracted strong opposition, is still under review as the Commission contemplates feedback on a modified proposal, which would provide more compensation value for NEM exports relative to the original. At the same time, the Commission recently released a white paper outlining a new vision, policy roadmap, and framework for DER compensation. Under this broad proposal for rate reform, customers would transition to real-time pricing based on wholesale market prices and receive compensation for DER exports to the distribution system based on dynamic prices that reflect real-time grid conditions.
In North Carolina, distributed solar reemerged as a hot topic after some solar installers opposed an agreement that Duke Energy reached with the industry in 2021 to revamp the utility's NEM policy. The settlement includes new monthly minimum bill thresholds for solar customers and moves these customers onto time-of-use rates. Now, opposing parties – including the Attorney General – contend that the North Carolina Utilities Commission failed to meet a statutory requirement to assess the costs and benefits of distributed generation prior to approving the agreement. It remains to be seen how the Commission will address these concerns before the new NEM policy is slated to come into effect in 2023, creating additional uncertainty for distributed solar developers in the state. Regulators in states like Arkansas, Vermont, and New York also dealt with NEM issues, including legal challenges to end NEM and proposals for new community distributed generation programs.
FERC Grapples With Transmission and Interconnection Bottlenecks
There are unprecedented levels of clean energy waiting to interconnect to the grid: In April, Lawrence Berkeley National Laboratory estimated that of the approximately 1,000 GW of new generation capacity in queues across the country, 930 GW are zero-carbon resources; 420 GW of energy storage also awaits interconnection approval, with much of it co-located with renewables projects. However, a dearth of available transmission capacity and outdated interconnection processes prone to delay threaten to stall many clean energy projects under development.
The Federal Energy Regulatory Commission (FERC), the country's bulk power system regulator, now appears ready to address these issues head on. Building on a far-reaching Advanced Notice of Proposed Rulemaking (ANOPR) on transmission planning, the agency released a proposal in April that would require transmission providers to update their planning processes to take a 20-year view into the generation and load they expect to serve. The proposal also requires wholesale market operators to consider a broader range of benefits associated with regional transmission projects, including statutory clean energy goals and impacts of building and transportation electrification – potentially clearing the way for more transmission development needed to bring new advanced energy resources to the grid.
FERC also committed to exploring interconnection reforms for the nation's wholesale market operators with a series of proposals released in June. Grid operators would need to simplify and streamline their interconnection studies – allowing for "clusters" of studies rather than project-specific evaluations. Grid operators and project developers would also face greater accountability: grid operators could face financial penalties for unreasonable interconnection study delays while developers would need to complete more siting and permitting work prior to entering the interconnection queue. This new dynamic could help speed up development for the most viable projects and address the longstanding challenges that have slowed the energy transition in various regions across the country.
These developments at FERC align with broader transmission development and interconnection reforms at the state level: for example, the New York Public Service Commission recently approved a new cost-benefit analysis methodology for the approval of transmission lines necessary to meet Climate Leadership and Community Protection Act goals. Minnesota regulators also directed the state's largest utility to speed up its review of solar projects by clustering interconnection studies in a more efficient manner.
Vehicle-to-Everything (V2X) is Coming
As if vehicle-to-grid (V2G), which enables electric vehicles (EVs) to send power from their batteries back to the grid, was not cutting-edge enough, regulators are now contemplating the advent of vehicle-to-everything (V2X). Despite continued hurdles, technology improvements and expanded interest in resilience solutions are starting to pave the way for the commercialization of bi-directional power flows between EVs and not only the grid but buildings, microgrids, and other beneficiaries of mobile power storage.
Nowhere has the appeal of V2X been more apparent than in California. As part of the state's new emergency demand response pilot to shore up summer grid reliability, the Public Utilities Commission (CPUC) permitted aggregations of EVs to receive payments to discharge electricity back to the grid during peak times – taking advantage of the vehicles' batteries when parked. This spring, the CPUC approved Pacific Gas & Electric's portfolio of V2G pilots across light-duty and commercial EV segments, along with a vehicle-to-microgrid demonstration that will test a novel pathway to enhance resilience. Moreover, PG&E has proposed a rate pilot that, if approved by the Commission, would be the first to enable fleets of EVs to export power back to the grid, improving the economics of fleet electrification. Finally, the CPUC also recently joined a memorandum of understanding with the U.S. Department of Energy and other government, utility, and industry groups to validate and collect data on V2X initiatives. New York and Colorado regulators also oversaw activity on utility V2X pilots and demonstrations.
With the pace and scale of new developments occurring at the nexus of advanced energy and utility regulation so far this year, 2022 promises to be another milestone year for the country's energy transition.
PowerSuite provides policy tracking by policy professionals, covering legislation and regulatory dockets in all 50 states, Congress, FERC, and Regional Transmission Organizations/Independent System Operators. For a free trial of PowerSuite, click below.