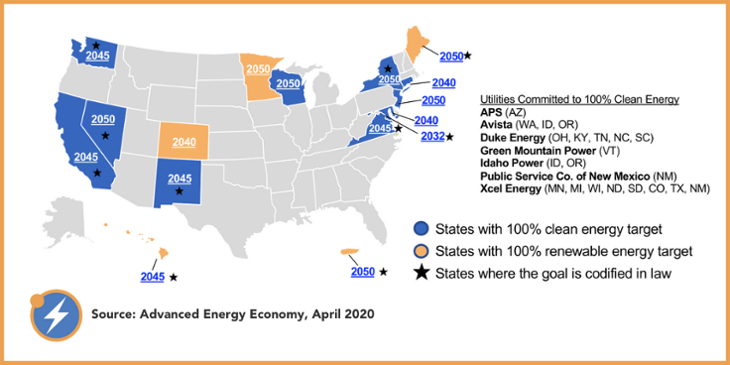 In the past five years, 100% clean or renewable has become the new standard of ambition in energy policy. As the map above shows, states across the U.S. are embarking on a path to a 100% clean energy supply. Today roughly one in three Americans lives in a state, county, or city committed to 100% clean energy. The latest to join the club is Virginia, which in April passed the Virginia Clean Economy Act, making it the first southeastern state to set a 100% target. This would have been unthinkable a few years ago, when AEE began work in the Commonwealth. But now, for a growing number of states, declining costs and clear economic benefits are making clean energy not just a policy aspiration but a compelling value proposition.
Hawaii and California were met with skepticism when they passed their 100% requirements in 2015 and 2018, respectively. But driven by declining costs of renewable energy and technological advancements, each year more states are following their lead. In 2019 alone, 11 states plus Puerto Rico announced commitments to 100% clean energy. This includes Maine, Maryland, Minnesota, Nevada, New Mexico, New York, Washington, New Jersey, Connecticut, Colorado, and Wisconsin.
100% clean energy policies are no longer novel. In total, 14 states plus the District of Columbia and Puerto Rico have mandates or goals for 100% clean or renewable electricity by 2050 or earlier. In addition, a number of utilities have established their own targets, reflecting customer demand for clean energy, the general policy environment, as well as the favorable economics of clean energy.
While these policies all lead to a similar destination, definitions and pathways come in many different forms. Some states are targeting "renewable" resources while others use the broader definition of "clean energy," which encompasses all zero-carbon energy sources. Some states are aiming at not only a 100% clean electricity sector but also deep decarbonization of the economy, including transportation, buildings, and industry. Some targets are binding mandates codified in law (e.g., Washington) while others are only goals, typically set by Executive Orders issued by the state's governor (e.g., Wisconsin).
While these distinctions are important, setting goals is generally the easy part. To meet their commitments, states must also design and implement targeted policy measures and develop a clear roadmap. In other words, the devil is in the details.
While critics have long pointed to impending economic doom as a result of these targets, clean energy technologies are becoming more cost-effective with every passing day. As a result, states could meet their goals sooner than expected and at lower cost.
The experience of early adopters such as California and Hawaii is certainly promising. The three large investor-owned utilities (IOUs) in California are currently ahead of their procurement requirements, as the state's electric suppliers are expected to invest in a record amount of battery storage, 11 GW of utility-scale solar, and approximately 3 GW of wind energy over the next decade to stay on track with decarbonization goals. In Hawaii, the state's largest utility found that it could achieve the target years ahead of schedule and for billions of dollars less than the "business as usual" case. According to AEE's recent study, Virginia's new 100% law will reduce monthly electricity bills for Virginians while increasing jobs, income, and state GDP, as well as improving health and the environment.
The energy transition is underway but COVID-19 is upending plans for everyone. Amidst the uncertainty, it is essential that current conditions not halt advanced energy progress. As we shelter in place, COVID-19 has increased our residential electricity demand and exposed the shortcomings of our inflexible power system. Now, more than ever, we need to pursue policies that make our grid more flexible, resilient, and save consumers money. Instead of pausing progress, many states such as New York, Connecticut, and California are reaffirming their commitment to clean energy goals and engaging the advanced energy industry to help provide their customers with reliable, cost-effective, and clean energy. To emerge from this crisis with a stronger energy system, policymakers must stay on track.
Click below for a downloadable version of the map of states, with live links to Executive Orders and legislation setting 100% goals by target year, via AEE's PowerSuite online policy tracking tool.