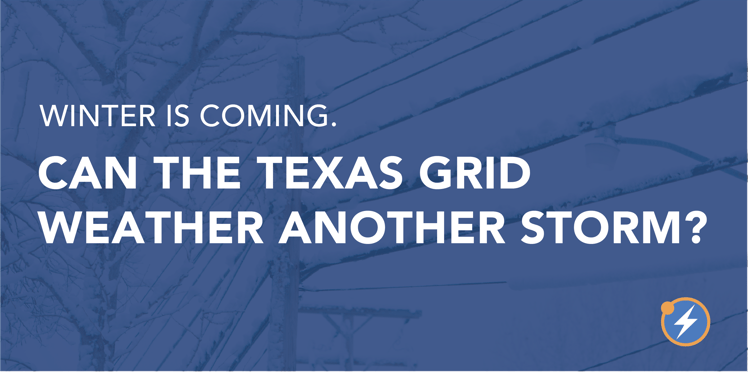 With 2021 in the rearview mirror and colder weather returning to the Lone Star State, it's a good time to take stock of how Texas regulators responded to the electricity grid crisis following Winter Storm Uri. Heading into 2022, Texans want to feel secure that their lights will stay on, and that's exactly what Governor Abbott has promised. But is there good reason to feel secure? See where Texas took positive steps forward for advanced energy, and where regulators should resolve to do better in the New Year.
It's been well-established that the near-collapse of the Electric Reliability Council of Texas (ERCOT) grid last February was not due to fundamental flaws with its competitive market structure, which was established by law in 1999 and developed over more than two decades. Rather, federal regulators concluded that 75% of the generator failures were from frozen equipment or fuel failure. For the generators with fuel failures, 87% of those were caused by natural gas system failures. 2021 was also not the first time Texas experienced equipment failures during extreme winter weather, but this time the system came precariously close to complete shutdown.
In response to the power outages, the Texas Legislature passed several measures, including the omnibus Winter Storm Uri bill, SB 3. Since then, the Public Utility Commission of Texas (PUCT), with its four newly-appointed commissioners, has been evaluating options for market changes. Prior to taking off for the holidays, the PUCT adopted a loose "blueprint" with both shorter-term (Phase 1) and longer-term (Phase 2) policy provisions, many of which would be better characterized as directional concepts or intentions rather than well-defined policy changes. As of this writing, the PUCT has yet to issue any orders related to the "blueprint," so this review is based on written materials available and previous discussions in PUCT open meetings.
Some of Texas Commissioners' policy choices last year should surprise no one. For example, in a "better late than never" effort the PUCT finally passed a rule requiring utilities and generators to winterize their equipment or else face stiff penalties. The measure had previously been recommended following a severe 2011 winter storm featuring similar equipment failures. Regulators further committed to a Phase 2 weatherization rulemaking to implement more detailed steps following an additional ERCOT study in coordination with the Office of the Texas State Climatologist. It bears repeating that until the natural gas industry also takes steps to winterize, Texans are still at risk for similar failures when another Uri-like weather comes around. The PUCT also took steps to moderate scarcity pricing to reduce price volatility and provide revenues to generators and demand response during more hours throughout the year, and expressed support for efforts already underway at ERCOT to develop and expand ancillary services products for system reliability. Together, these steps are exactly what to expect from regulators in response to the storm.
A more positive change following the crisis is the greater attention being given to distributed energy resources (DERs) – like rooftop solar plus battery storage and electric vehicles. An important piece of the energy pie, DERs represent more than $5.47 billion in potential value over 10 years for Texans once these resources are fully integrated into ERCOT markets. A step in the right direction, the PUCT is directing ERCOT to identify barriers limiting aggregated DERs – aka "virtual power plants"– in ERCOT markets. However, ERCOT must remove these barriers, not just identify them, to ensure that the state keeps up with other organized markets in the U.S. that are integrating DERs as part of FERC Order 2222. The PUCT has also stated its intent to open new rulemakings in 2022 to enhance demand response, achieve more from energy efficiency programs, and streamline interconnection of distributed generation. While it is a positive step-forward just to have regulators actively considering demand-side policy changes, it's critical the Commission take concrete steps this year to deepen the state's adoption of these resources.
Although Texas did not have a shortage of installed generation capacity when the storm hit, the PUCT has determined that it will continue to explore potentially adopting a "load-side reliability mechanism" to financially reward "dispatchable" generation. The commissioners have agreed to develop a backstop reliability service, and are also considering a load-serving entity obligation, a "dispatchable energy credits" program, or a combination of these models. What continues to be missing — and what TAEBA and a wide range of stakeholders are advocating for — is a definition and quantification of the problem, along with an analysis to determine the costs, benefits, and market impacts of potential solutions. This definitional stage is critical before ERCOT and the PUCT move forward with any fundamental structural changes to the competitive market structure.
As we move to the next phase of this process, Texas energy lobbyists and stakeholders continue to have an overabundance of work to focus on in the New Year. The PUCT gave ERCOT homework over the winter break, asking for an implementation plan by January 10 for completing Phase 1 of the blueprint. ERCOT was also directed to work on a plan for Phase 2 by early February. While the Commission has stated they will explore demand-side resources in 2022, it's up to the industry to collectively demand meaningful action in place of window-dressing. The PUCT also has unfinished business from the 2021 legislative session, including implementation of changes to transmission policy to facilitate low-cost energy being able to reach customers anywhere in ERCOT, and completion of many other rulemaking projects on the PUCT's rulemaking roadmap.
2022 is a year when the PUCT could make lasting changes to the Texas electricity system so that it is cleaner, more affordable, and more reliable. With a whole new year ahead of us, we will approach our work on behalf of advanced energy with the hope and optimism that comes from a New Year's fresh start but also with the wisdom that comes from a lifetime of understanding there too will be missed opportunities, failures, and mistakes.