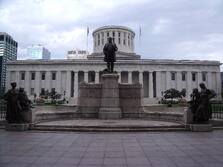 The 1988 Baltimore Orioles had a bad season – the worst losing streak in baseball history – when they chalked up 21 losses before winning a game. Opponents of advanced energy surpassed this record, going 0-26 in 2013 for bills introduced to roll back or eliminate renewable and energy efficiency standards. The latest loss took place in Ohio, just this month – which means another win for advanced energy.
2013 is going out with a bang when it comes to advanced energy policy, slamming the door on the legislative efforts of the American Legislative Exchange Council (ALEC). As noted previously, ALEC-led efforts to roll back renewable portfolio standards around the country were rebuffed, even in states like North Carolina and Kansas, where a strong Tea Party presence was expected to support their passage. In those states, the economic argument of investment and job creation won out over ideological opposition to diversifying energy resources.
However, in Ohio, the rollback effort continued on into the fall, when Sen. Bill Seitz (R-Cincinnati), chairman of the Senate Public Utilities committee, introduced Senate Bill 58, which would "gut" the Renewable Portfolio Standard as well as the Energy Efficiency Resource Standard, in the view of Ohio AEE President & CEO Ted Ford.
Dilution of the energy efficiency standard by allowing big industrial users to opt out and letting utilities claim power plant efficiency upgrades, which do not provide savings to consumers, toward EERS requirements was widely seen as catering to FirstEnergy, Ohio's largest investor-owned utility, while a provision to end a 50 percent in-state requirement for RPS would pull the rug out from under wind and solar developers in Ohio, and allow imports of existing large-scale hydropower from Canada instead of building the local advanced energy industry.
Facing an onslaught of opposition led by AEE's state partner, which organized a broad group of business stakeholders (including, most prominently, the Ohio Manufacturers' Association), Seitz saw support for his proposal erode among his colleagues. Ohio AEE released a study by Ohio State University showing that SB 58 would cost Ohio ratepayers over $300 million per year in higher electric bills and sacrifice 6,500 new advanced energy jobs. The state's ratepayer advocate also came out against the bill.
In support of its Ohio partner, Advanced Energy Economy weighed in with an online digital advertising campaign. With search ads, promoted tweets, and banner ads, the highly targeted ad campaign drove home Ohio AEE's message "protect Ohio's energy future" to decision makers and opinion leaders, and directed them to an Ohio AEE web page for more information.
Seitz proposed substitute language shortly before Thanksgiving in an attempt to salvage the bill. But after a Senate GOP Caucus where SB 58 consumed much of the discussion, he cancelled the Dec. 5 committee hearing where the bill was expected to be reported out, effectively killing the effort for the year. These issues may be joined yet again in 2014. But Ohio AEE will be ready.
Ohio follows North Carolina and Kansas in showing ideologues opposed to a competitive marketplace for advanced energy technologies that the industry is here to stay. AEE's "Economic Impacts of Advanced Energy" Report quantified the advanced energy global market at $1.1 trillion in 2011, with the U.S. market at $132 billion and growing an estimated 19 percent in 2012. Advanced energy employs more people than the U.S. airline industry, and is larger nationally by revenue than the trucking industry.
That kind of market is one that states are increasingly seeing as an opportunity for their companies to invest, profit, and create jobs. In fact, the National Governors Association has recently launched a competitive program, supported in part by AEE, to assist states in strengthening their advanced energy sector. Arizona, Mississippi, Minnesota, and Puerto Rico were selected by NGA to take part in a comprehensive look at policies and other factors that will drive investment to take advantage of this growing marketplace. AEE is proud to serve as part of the faculty for this important examination of the nexus between state action and private investment.