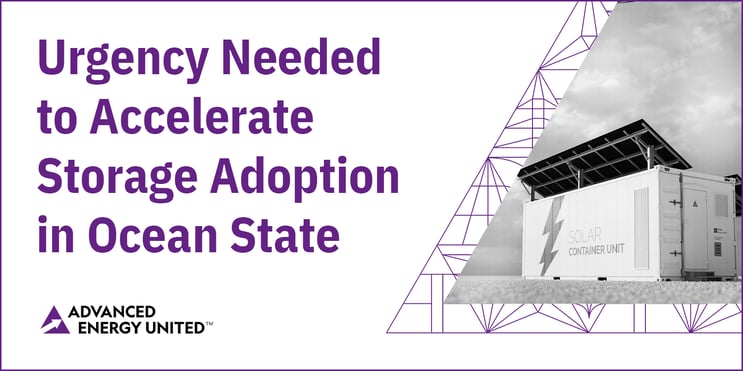 Batteries and other energy storage resources are increasingly touted as a critical piece of the clean energy transition – but, as a relatively new and dynamic resource, evaluating and integrating storage projects requires a fresh approach. On October 18, the Rhode Island Public Utilities Commission (PUC) released a much-anticipated final report regarding the value of and need for energy storage resources in the state. Although there are insights from both the process and final document that are instructive to policymakers in Rhode Island and beyond, the report lacks the necessary urgency and ambition to accelerate storage adoption and create a vibrant energy storage market in the Ocean State.
Background
Charged by Senate Resolution 416, the PUC was tasked with assessing the benefits of storage to Rhode Island and determining if additional programs or tariffs are needed to support storage resources. The request was incorporated into existing PUC Docket 5000, opened in December 2019, to investigate the treatment of storage as a system resource. PUC staff convened a series of stakeholder workshops that provided a forum for discussions of storage resources. In September, the PUC hosted a final workshop where stakeholders raised questions and shared feedback on the draft report findings.
The PUC used a framework of five scenarios in the report to organize the range of system needs, technology options, and benefits storage can offer. Storage is a unique asset because it can serve multiple functions, such as providing essential reliability service, enhancing grid resilience, improving the integration of clean energy resources, and reducing electricity system peak. These issues can become a major driver of utility costs; however, storage resources, deployed strategically, can optimize system usage. In its final report, upon reviewing the various scenario outcomes, the PUC staff states that "[a]ssigning the same costs to standalone storage resources as consumption-only load customers and making them pay the same rates may be inaccurate and may pose a hinderance to the deployment of net beneficial storage resources." We agree. Energy storage resources are fundamentally distinct from a traditional consumer or power-generating source, so we must treat them differently.
What the Report Gets Right
The PUC determined that current utility tariffs need to be improved to create the necessary economic incentives for energy storage resources to provide grid benefits and services. Put simply, the current tariff structure was not designed to recognize the broad set of attributes that storage can supply. The PUC found that a reformed interconnection and retail tariff could assist storage procurement, noting that a "more flexible interconnection tariff could allow energy storage resources to interconnect to the system with dynamic operating allowances, which could potentially reduce their interconnection timeline and costs and improve their ability to deliver value to the power system." Similarly, an enhanced retail tariff that allocates the particular costs and benefits of energy storage resources could more accurately reflect the relationship storage has with the broader power system. Advanced Energy United supports these findings of the report.
Where the Report Falls Short
The report emphasizes that, while storage can fulfill various functions and deliver value, the cost of storage may exceed alternative resources delivering that same service. The PUC narrowly looks at storage procurement in the context of meeting Rhode Island's Renewable Energy Standard (RES) and Act on Climate goals, and ultimately concludes storage is not currently needed. This approach is far too limited and reductive. In both our written and verbal comments to the PUC, United highlighted the need to consider storage procurement in the context of broader system reliability, peak reduction, and the critical need to facilitate more renewable energy integration.
What's Next?
We need to accelerate the pace of the clean energy transition in Rhode Island, so the state—through the PUC, the Office of Energy Resources, and the legislature—should be developing energy storage policies that reflect time is of the essence. Developing storage projects can be a multi-year process. The state has ten years to meet its 100% renewable electricity target and energy storage can—and should—play a significant role in meeting and maintaining it over time.
While the report confirms new tariffs are useful to advance storage, it fails to adequately consider new programs or procurement mechanisms as requested in the Senate Resolution. Waiting until 2030 or later (as the PUC suggests in the report) to establish a foundation for storage rules carries too much risk for ratepayers, the storage industry, and the grid. Advanced Energy United plans to work with Rhode Island policymakers to accelerate storage deployment and integrate it as a solution in our power system. Setting a storage procurement target for the state and explicitly integrating storage among the solution options for future planning are logical next steps. We will continue to work with our members and local allies to chart a strategic path forward. Storage alone won't meet allour evolving energy system needs, but it is an essential resource that we need to foster today if we hope to leverage it successfully in the future.