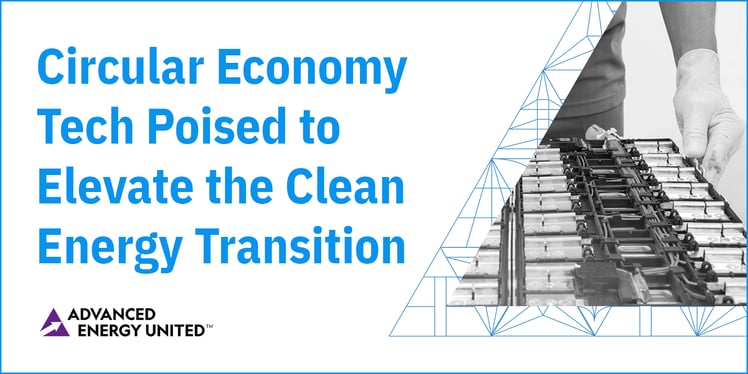 Repowering our economy using advanced energy technologies will lead to significantly lower air and climate pollution – and lower costs for consumers – but will still require considerable extraction and production of critical minerals. But unlike a fossil fuel-based economy, which requires continuous extraction to meet energy needs, an economy that uses advanced energy can deploy 'circular economy' practices which reduce the environmental burdens of landfilled waste and extracted processes used to meet supply chain needs. As we work to achieve 100% clean energy and transportation systems, we need to also champion the trailblazing companies that are, in parallel, pioneering circular economy methods and practices.
The International Energy Agency (IEA) estimates that a concerted effort to meet the goals of the Paris Climate Agreement would result in a quadrupling of mineral requirements for clean energy by 2040. This is why circular economy practices are indispensable in a clean energy transition: while circular economy practices of recycling and reuse will not eliminate primary supply requirements (the total demand net of recycled volume), they do show notable potential to reduce those requirements and shrink the need for mining by proxy. The IEA predicts that recycled quantities of copper, lithium, nickel, and cobalt from spent electric vehicle (EV) and energy storage batteries alone could reduce primary supply requirements for those minerals by up to 12 percent by 2040. Furthermore, circular economy practices can reduce landfill capacity burdens by turning advanced energy waste into feedstocks, and eventually new advanced energy products.
The potential role that recycling critical minerals and other materials could play in meeting supply requirements has led to significant funding for recycling ventures in recent months. In early February, the Department of Energy (DOE) granted battery recycling company Redwood Materials a $2 billion loan commitment for a battery materials campus in Nevada. Redwood uses end-of-life battery and production scrap feedstocks to remanufacture critical minerals. The company says it recovers an average of 95% of critical mineral components, such as lithium, nickel, cobalt, manganese, and copper, in an end-of-life battery. After recycling these critical minerals, Redwood uses them to domestically produce cathode and anode elements for EV batteries. At full capacity, the campus's cathode and anode production is expected to support the production of over 1 million EVs per year. Several weeks later, DOE granted Li-Cycle a $375 million loan to help fund the construction of a lithium-ion battery recycling facility. Li-Cycle uses a trademarked Spoke & Hub Technologies model where plants, or "spokes," aggregate and process lithium-ion battery materials into black mass, which is produced when batteries are dismantled, shredded, and further processed. This new "hub" plant will process black mass into battery-grade lithium carbonate, nickel sulphate, and cobalt sulphate for use in new batteries. The facility is expected to support the battery requirements of about 203,000 EVs per year. As EV demand soars in the U.S., these projects could be critical components of our supply chain.
While EVs often take a central role in circular economy conversations about critical minerals and advanced energy materials, recycling in other advanced energy technology spaces also shows promise. In March, solar panel recycling company Solarcycle raised $30 million in Series A funding to expand the capacity of their recycling plant from 500,000 to 1 million solar panels by the end of 2023 and to finance further research and development. Solarcycle says its patented technology can recover 95% of valuable materials such as aluminum, glass, copper, silver, and silicon from the end-of-life photovoltaic panels that they divert from landfills and return those materials to the solar supply chain. With solar capacity projected to grow an annual average of 21% from 2023 to 2027, recycling ventures like Solarcycle are essential to provide materials for new panels and ultimately to remediate solar supply chain constraints. Furthermore, such ventures are critical to raise the photovoltaic panel recycling rate from an estimated less than 10% and to reduce landfill capacity burden as growing numbers of photovoltaic panels reach end-of-life.
Another innovator applying circular economy practices to advanced energy-generating technologies is working to divert decommissioned wind turbine blades from landfills and strengthen wind turbine supply chains. In early April, the DOE Wind Energy Technologies Office awarded wind turbine blade recycling company Carbon Rivers $1.1 million in Phase III funding under the office's Small Business Innovative Research (SBIR) program after awarding the company Phase I and II SBIR funding in previous years. Carbon Rivers processes the composite used to make blades down into hydrocarbon products for energy production and glass fiber for new products. The company will use the funding to improve its current technologies and convert glass fiber extracted from decommissioned wind turbine blades into nonwoven fabrics that can be used in new turbine blades, among other applications. The funding will also support plans for a facility that could recycle up to 5,000 blades per year, thus diverting thousands of tons of waste from landfills, reducing the need for primary extraction, and aiding wind turbine supply chains –important activities as U.S. wind capacity is projected to nearly triple between 2020 to 2050.
The recent financial support for these exciting recycling ventures points to a positive trajectory for the clean energy transition supply chain. Turning these pioneering ventures into a robust circular advanced energy economy is possible with national policies that support end-of-life reuse and recycling of critical minerals and other materials, as well as policies that support manufacturers that design and produce technologies that promote efficient recycling and reuse. National policy is particularly important to help facilitate economies of scale and avoid a patchwork of state and local regulations, even well-intended ones, that could complicate or stifle growth. As Redwood, Li-Cycle, Solarcycle, and Carbon Rivers demonstrate, such policies are worthwhile endeavors to achieve a 100% clean energy and transportation system while reducing the environmental burdens of landfilled waste and extractive processes, diversifying the sourcing of critical minerals and other materials, and minimizing uncertainty and constraints in essential supply chains. As policymakers in Congress contemplate policy to facilitate our energy transition, address permitting challenges, and bolster U.S. energy independence, reuse and recycling policy is a natural compliment.
Advanced Energy United supports policies that promote the circular economy practices exemplified by these companies in the long term, as well as policies to meet primary supply requirements in the short term. United has developed policy principles for critical minerals mining, reuse, and recycling; read them here.