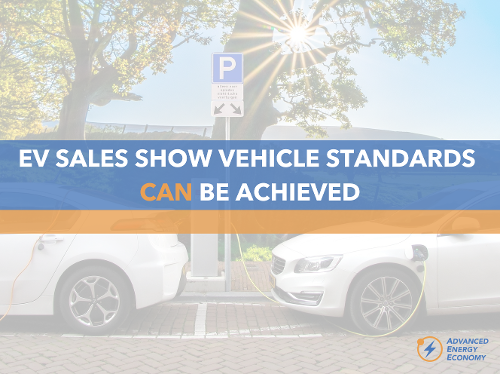 Amid the controversy surrounding the Environmental Protection Agency's proposed rollback of greenhouse gas emissions standards for light-duty vehicles, AEE filed an amicus brief in support of petitions brought by 17 states, the District of Columbia, and others in the U.S. Court of Appeals for the District of Columbia Circuit seeking to halt EPA's efforts. In a first for the organization, AEE and its members chose to weigh in on this issue in court because EPA's actions ignore overwhelming realities about the availability of cost-effective technologies to reduce automobile emissions, particularly the burgeoning electric vehicles (EV) market.
At stake is whether the current greenhouse gas emissions standards for light duty vehicles for model years 2022-2025, first adopted in 2012, will remain in place. These standards, which required automakers to improve fuel efficiency, among other emission-reduction measures, have provided a regulatory framework supporting the development of low- and zero-emissions vehicle technologies, including EVs.
In the years since this stable regulatory framework was put in place, technology advances and cost declines have allowed the EV industry to achieve explosive growth. In the past year, U.S. EV sales have grown 81%. This EV market growth is not just a current reality, but it shows no sign of stopping. By 2025, EVs are expected to comprise 11% of vehicles sold in the United States and over the next 12 years the price of batteries for electric cars will decline by two-thirds due to technological advances and increased production. According to public utility filings, light duty EV sales have grown more than 50% annually since 2011 while utility EV infrastructure investments have grown from $58.1 million in 2017 to $880.79 million in 2018.
The case now before the D.C. Circuit challenges EPA's decision last year to withdraw its previous determination, reached by the agency in January 2017, that the light-duty vehicle greenhouse gas emissions standards for model years 2022-2025 are technically achievable and cost-effective. That decision set the stage for a now-pending proposed rulemaking that, if adopted, would weaken those standards. The 17 States, District of Columbia, and other challengers argue that in withdrawing the January 2017 determination EPA failed to fulfill its responsibilities under the Clean Air Act and relied on faulty and incomplete data and an unlawful process.
In fact, the case for sticking to the original emissions standards is undeniable, given that the technology to meet those standards exists today, and is even more cost-effective than was originally estimated in 2012. The automotive industry has been gearing up for these standards for years. The proposed EPA rollback would only serve to create market confusion, regulatory instability, and material market harm.
Representing the perspective of a national business group representing manufacturers and solution providers that develop cost-effective technologies to reduce air pollution from vehicles, AEE's brief argues that:
EPA Ignores the Clean Air Act's Focus on Technological Development.
The Clean Air Act (CAA) is a "technology-forcing" statute designed to incentivize innovation and ingenuity to reduce air pollution and increase fuel efficiency in the automotive sector. A vast body of work by EPA and other national and state agencies demonstrates that more stringent fuel-efficiency standards are achievable and technically feasible given the availability and cost-effectiveness of evolving automobile technologies, including electric vehicles (EVs) and other low- and zero-emitting automobile technologies.
EPA's Actions Have Created Regulatory Instability, Which Inflicts Present, Material Harm Warranting Judicial Review.
EPA's withdrawal of its previous determination that the current standards are achievable, and the process by which that occurred, harms AEE member companies, which have relied on the long-standing 2022-2025 standards to guide their investment decision-making. Given this ongoing harm to the burgeoning market for EVs, AEE argues that the court should step in now to require EPA to undertake the appropriate legal and technical analysis of the achievability and cost-effectiveness of the existing standards, rather than waiting to see what EPA will do in its now-pending rulemaking to weaken the standards.
EPA's New Final Determination Suffers from Fatal Procedural Flaws.
EPA failed to apply the rigorous technology analysis that is required by the CAA and its own regulations. Instead, EPA essentially skipped to the final step in the process, choosing to base its decision almost entirely on information provided by a few parties that was not made available for public comment.
EPA's Reversal of Its Previous Technical Feasibility and Cost Effectiveness Findings Fails to Meet its Basic Legal Obligation to Engage in Reasoned Decision-Making.
EPA's decision to withdraw the 2017 finding that the current standards are achievable and cost-effective fails to address any of the evidence in the record that runs contrary to its conclusion. EPA, in fact, barely bothered to acknowledge market realities and uncontroverted facts in the record. For example, EPA's discussion of technology feasibility and cost-effectiveness claims that the agency "identified areas where EPA underestimated costs" in its previous determination, but fails to address its own finding that the costs of compliance "are lower than those projected in the 2012 rule," analysis by California's air regulator (CARB) demonstrating that the current standards can be met at the same or lower cost than originally predicted when they were adopted in 2012, and market data showing declining costs and increasing consumer adoption of zero-emission vehicles. This failure is classic "arbitrary and capricious" decision-making that requires reversal by the courts.
As amicus curiae (or "friend of the court"), AEE's role in this case is to ensure that the court has the full picture regarding the availability and cost-effectiveness of vehicle emissions control technologies, and that the court hears directly from the advanced energy and EV industries regarding the potential for EPA's abrupt reversal of long-standing emissions rules to stifle the high-growth EV market in the U.S. and abroad.
EPA has until April 8 to file its response, and intervenors in support of EPA have until April 15 to file briefs. Reply briefs of states and others (including utilities) challenging EPA's actions (i.e., the Petitioners) are due May 6. The briefing process will be complete on May 28, and the court will then schedule an oral argument, expected in early fall.
The full amicus brief is available by clicking below.
Hope Jones is an AEE communications intern from Rollins College in Florida, completing American University's Spring Internship program in Washington, D.C.