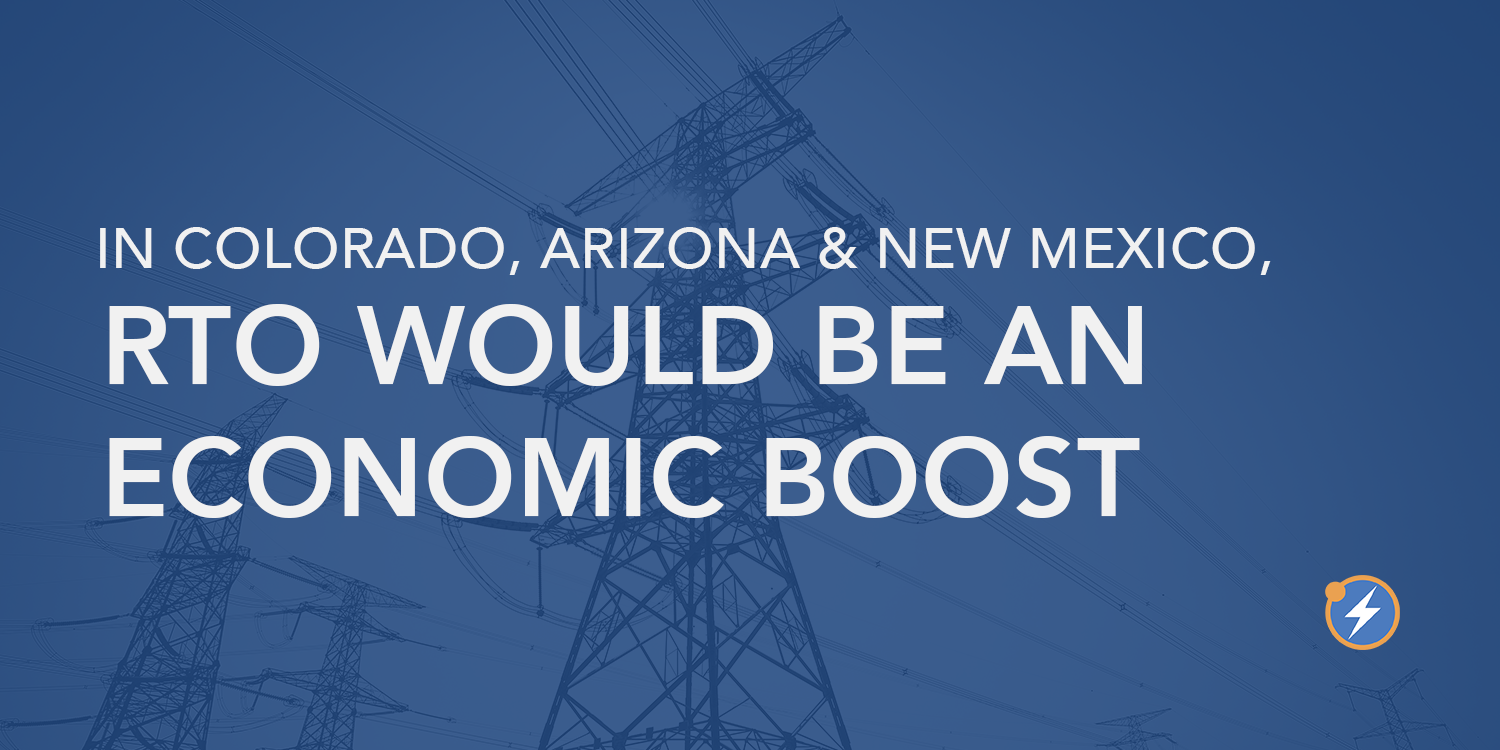 As consumers face the electricity cost hikes and threats of blackouts that come with extreme weather conditions, it's more important than ever to consider the potential benefits of a West-wide power grid. We already know that a Western regional transmission organization (RTO) could improve power system reliability, but a recent west-wide analysis conducted by Energy Strategies on behalf of AEE confirms that the region would also net major economic gains by establishing this kind of regional power grid. AEE also released three state-specific summaries showing that a Western RTO would generate huge economic benefits in Colorado, New Mexico, and Arizona. And that got people talking.
Last week, AEE held a press briefing with the studies' authors and advocates in the Southwest. Here's what the panelists and leaders across the region are saying about the new numbers.
"The Western RTO would benefit each and every state and create significant impacts in all of the individual states and regionwide," shared Steve Peterson, one of the studies' co-authors. And the numbers from each study back him up:
In Arizona, joining a Western RTO would:
Create up to 28,200 permanent, living wage jobs

Save ratepayers as much $142 million in energy costs annually

Generate up to $81 million in annual state and local revenue
In Colorado, joining a Western RTO would:
Create up to 80,500 permanent, living wage jobs

Save ratepayers up to $139 million in energy costs annually

Generate up to $216 million in annual state and local revenue
In New Mexico, joining a Western RTO would:
Create up to 18,800 permanent, living wage jobs

Save ratepayers up to $114 million in energy costs annually

Generate up to $116 million in annual state and local revenue
"Lower energy costs result in increased business recruitment, increased business retention and increased business growth from incumbent firms," said Tim Nadreau, Ph.D. Regional Economics and another of the studies' authors. We know that firms have been attracted to low-energy-cost areas and that is a worldwide phenomenon not just in the West but generally."
In the press briefing and in public statements, elected officials, businesses, and regional clean energy advocates have something to say about the economic value a western electricity market could drive to their states.
"We are continuing to save people money, lower energy bills, and bring more good-paying jobs to Coloradans, and this new report confirms that a Western market advances our bold work achieving these goals," said Colorado Governor Jared Polis. "Colorado has committed to join a Western market by 2030, and we look forward to continuing to work with leaders across the region to lower energy costs while making progress towards our goal of 100% renewable energy by 2040."
"It's important to [Colorado's] decarbonization transition strategy to be able to demonstrate there are economic growth opportunities at a statewide level," added Keith Hay, Senior Director of Policy for the Colorado Energy Office, who participated in the briefing."The key takeaway for us here in Colorado is this study really does help us fill an important data and information gap. Senate Bill 72 here in Colorado requires our utilities to move towards an organized wholesale market or an RTO by 2030, and [this analysis] directs the state public utilities commission and those of us engaged in the conversation in the state to think about what the customer savings benefits are to Colorado customers. The work that Energy Strategies and Advanced Energy Economy has done here really helps to address that question for us."
Sarah Webster, Senior Vice President of External Affairs & Market Development for Pattern Energy pointed directly to the economic growth benefits. "Pattern Energy supports the formation of a Western RTO as a critical step to establishing a more resilient grid for the region. The coordinated transmission planning that can come from an RTO will help drive economic growth across the region while saving consumers literally billions of dollars."
Rikki Seguin, Executive Director for Interwest Energy Alliance pointed out that an RTO can bolster the region's energy security. "Customers and businesses across the West benefit from clean, reliable, affordable energy – and an RTO can help accelerate the opportunity coming our way from the clean energy transition. Interwest is excited to see this report detail just how much New Mexico, Arizona, and Colorado would benefit from an RTO with good-paying permanent jobs and enormous cost savings. It's time for the West to move into action and secure our energy system."
On the press call, John Karakoulakis, Director for the Western Way also emphasized the benefits an RTO would spur for rural communities. "What AEE's study shows is … if we have an RTO and we have the right structure and system, that means there's a lot more jobs that can come to rural parts of the West where renewable and clean energy resources typically are. It's a huge opportunity for a lot of communities out there who are transitioning to cleaner energy and need jobs and haven't been able to take on the economic boom that a lot of urban areas have seen. It's very promising for the future of the rural West when we see these types of numbers. Glad that we're able to see this on paper for the first time and see what this looks like."