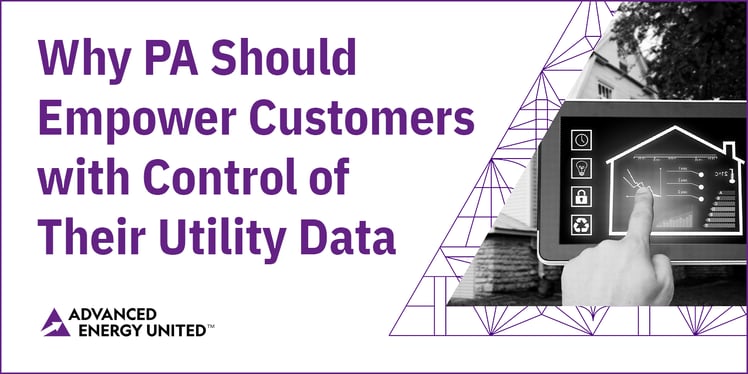 Data is the lifeblood of a modern economy. Today, consumers are empowered with unprecedented data access in virtually all aspects of their lives. Yet the ability of utility customers to access their own energy usage data – and the means for them to easily share that data with the companies of their choice – is lagging. This is unfortunate, because making better use of energy usage data can provide a range of benefits, including achieving greater energy efficiency savings and smart energy management during times of peak electricity demand when costs are higher and the risks of power outages increase. That's why we were surprised when the Pennsylvania Public Utility Commission (PUC) closed its investigation into how to enable this type of data access without taking any action.
Pennsylvania has had a competitive electricity market for over 25 years, ever since the Commonwealth restructured the industry in part to use competition to spur innovation and drive down costs. In this model, utilities remain responsible for delivering electricity, which is still a natural monopoly, but utility customers can choose their electricity providers, companies known as Electric Generation Suppliers (EGSs). While initially focused on bulk electricity generation and retail sales of electricity, competition enables electricity customers to seek out a range of energy products and services from non-utility companies. In order to get the most out of those offerings, third-party providers need easy, timely access to customer data, and customers need a simple way to authorize those companies to access their data on their behalf. However, on July 3 of this year, the PUC issued a secretarial letter closing docket M-2021-3029018, which was opened to address this very issue. This letter and action by the PUC not only perpetuates unnecessary market barriers for the clean energy and energy efficiency industry but further prevents utility customers from effectively managing their energy use and costs.
This PUC action stems from a 2019 petition filed by Advanced Energy United member CPower, in which they sought to register as an EGS for the purpose of gaining access to customer data, even though they had no intention of operating as an EGS. That petition was denied, but it prompted the PUC to open docket M-2021-3029018 to investigate if there was another pathway for third parties to gain access, with customer permission, to utility customer data. United submitted comments in support of strong PUC action to facilitate a data-rich environment and make it easy for customers to securely share their own data with third parties. Unfortunately, the PUC, citing First Energy's voluntary tariffs that enable third parties to procure this customer data, decided that no further action was necessary.
Not only is this decision a missed opportunity, but in keeping with the principles behind Pennsylvania's commitment to competition in the electricity sector, access to this data should not be predicated on voluntary utility actions. Utilities are the custodians of this customer data, but they are not the owners of it. The data belongs to the customer and the PUC should be putting systems in place that make it easy for customers to authorize third parties to access their own data, just like systems are in place for an EGS to securely access this data.
Moreover, as with energy efficiency, where all customers pay a small amount on their bills to fund the state's programs, whether they participate in the programs or not, third-party data access supports broad system benefits. Therefore, the costs of providing that access should not be in separate tariffs, but should instead be considered a basic utility service, just as is providing customer data access to EGSs.
Data is Essential to All Areas of the Energy Industry
Just like in many aspects of our personal lives and in business, data access and data analysis are critical. The energy industry is no different and better access to customer data has the potential to unlock significant benefits. Yet the ability to do this with energy usage data is lagging. In May 2022, United filed a set of comments in this proceeding, laying out our industry's collective thoughts on the importance of third-party data access in Pennsylvania. In our comments, we highlighted the importance of utility customer usage data for determining the value that can be provided through investments in advanced energy technologies. Providers of energy efficiency, demand response, and other distributed energy resources can more fully develop and offer innovative solutions to reduce energy use and costs. Importantly, these solutions not only benefit the customers deploying them, but they benefit all users of the grid, for example, by reducing peak demand, which is a major driver of electricity system costs. Without timely access to this data, opportunities where value could be created are missed, meaning the ability of the market to support progress toward clean energy goals, lower costs, and enhanced customer service is diminished.
While the broadening of customer data usage should be accompanied by careful consideration for data privacy and security, this type of access can provide stronger insights and create progress for Pennsylvania and its utilities to meet various goals on clean energy and demand side management. By refusing to take action, the PUC is effectively putting up a wall between customers who want expanded clean energy offerings and the companies that can provide them.
Other States are Taking the Lead on this Issue
As Pennsylvania falls behind in empowering customers to effectively manage their energy usage and costs, and reduce energy burdens, other states continue to make progress on this issue. The state of New York, through a comprehensive proceeding addressing customer and utility system data access, is in the process of establishing a single statewide electronic platform to facilitate third-party data access, built around a growing number of distributed energy resource use cases. California, Colorado, Kentucky, Michigan, New Hampshire, and Texas all have programs or policies in place that offer customer usage data portability to any third party operating in the state. As a result, these states are better positioned to reduce energy usage and costs for residents and business, realize greater value from a vibrant DER market, and support economic development through innovative energy management solutions. We encourage the PUC to reconsider its decision and move quickly to fully explore and establish a robust secure means for customers to share their usage data with the company of their choosing.