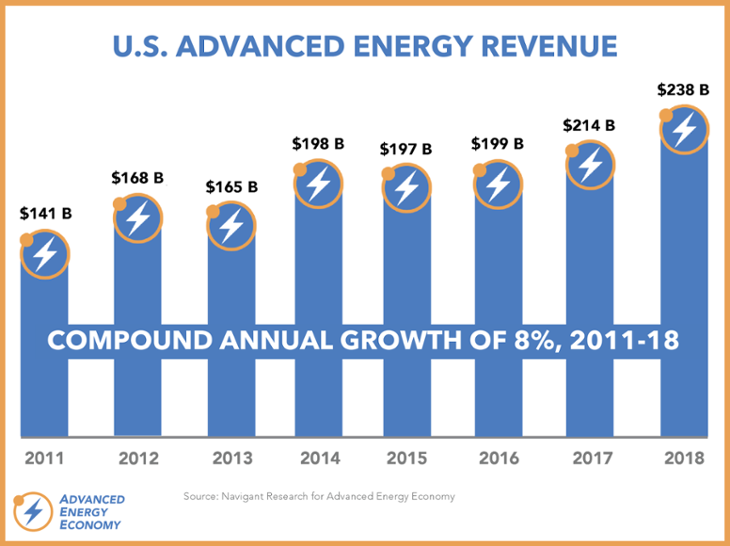 This is one in a series of excerpts from the Advanced Energy Now 2019 Market Report, prepared for AEE by Navigant Research.
Advanced energy revenue reached nearly $1.6 trillion worldwide in 2018, an increase of 4% over 2017, following growth of 7% the year before. Since Navigant Research started tracking for Advanced Energy Economy in 2011, global advanced energy revenue has risen at a Compound Annual Growth Rate (CAGR) of 4%. Advanced energy revenue is now equal to the global tourism industry, greater than pharmaceutical spending worldwide, and double the global airline industry.
Globally, the biggest revenue increase among the seven segments of advanced energy came in Building Efficiency, up $25 billion (9%) to nearly $300 billion in 2018. This growth was led by high-efficiency Heating, Ventilation, and Air Conditioning (HVAC), up 10% over 2017. High-efficiency Lighting, the largest category of Building Efficiency, was up 4% in 2018, after 7% growth the year before.
The fastest-growing segment globally was Advanced Industry, up $5.7 billion, or 12%, to $54.5 billion. Revenue from Industrial Energy Management Systems was up 19%, to $21.6 billion, following 23% growth the prior year. Industrial Combined Heat and Power (CHP) was up 7%, to $32.9 billion.
Advanced Fuel Production also saw a big increase in 2018, up $15.4 billion, or 11%, to $160 billion globally. It has been two big years for biodiesel – up 27% in 2018, to $30.5 billion, following 20% growth in 2017. CNG/LNG also had a big year in 2017 – 27% growth – then up 6% in 2018, to $77.3 billion. Ethanol also had a strong 2017, up 17%, followed by 7% in 2018, to $46.3 billion.
Advanced Transportation grew 2% in 2018 after 8% growth in 2017, at which point it overtook Advanced Electricity Generation to become the largest segment of advanced energy revenue worldwide. At $495 billion, Advanced Transportation has seen huge growth in Plug-in Electric Vehicles (PEV) in the past two years – up 69% in 2017 and 49% in 2018, reaching $77.5 billion. But the largest product category, Clean Diesel Vehicles, has been in decline since its 2016 peak, with revenue falling 2% in 2017, then 12% in 2018, to $263 billion worldwide.
Advanced energy revenue has grown even faster in the United States than globally, up 11% over 2017 – nearly four times the growth rate of the U.S. economy overall – and 8% the previous year. At $238 billion, U.S. advanced energy revenue is roughly equal to aerospace manufacturing and double the biotechnology industry. Since 2011, U.S. advanced energy revenue has grown at CAGR of 6%.
The bulk of the $25 billion U.S. revenue growth came in three segments: Advanced Transportation (up $7.9 billion), Building Efficiency (up $7.8 billion), and Fuel Production (up $5.4 billion).
Advanced Transportation saw both the largest increase and the fastest growth year over year (34%). Leading this growth was revenue from PEVs, up 75% from 2017, to $18 billion. Indeed, PEV growth has been explosive, with compound annual growth (CAGR) of 59% since 2011. In past years, some PEV growth has apparently come at the expense of hybrid vehicles, which peaked at $15 billion in 2013. But based on the past three years, revenue from hybrids seems to have settled in at about $9 billion annually.
Building Efficiency – the largest segment of U.S. advanced energy revenue – saw 10% revenue growth in 2018, continuing its streak of year-over-year increases. Counting only products for which we have eight years of data, Building Efficiency has grown at a CAGR of 11% since 2011. High-efficiency Lighting is still the largest subsegment of Building Efficiency, totaling $30 billion in 2018, and still growing, up 6% over 2017.
U.S. Advanced Fuel Production staged a comeback in 2018, growing 12%, to $33.4 billion. With sharp declines in 2015 and 2016 from previous near-$40 billion levels, Ethanol fuels have been a drag on overall U.S. advanced energy growth. But in 2018, Ethanol rebounded, up 11% to $22.4 billion, thanks to an uptick in price. Meanwhile, Biodiesel fuels had their biggest year since we have been tracking it – up 43%, to $7.3 billion, thanks to retroactive extension of a biodiesel tax credit, anti-dumping actions taken by the federal government, and an increase in price.
Advanced Electricity Generation revenue also grew in 2018, up 8% to $59.6 billion. This segment has grown every year but one since 2011, for a CAGR of 6%. Revenue from Wind installations was up 23%, to $14 billion, after a dip of 19% in 2017. After years of boom and bust – due to an on-again, off-again federal production tax credit (PTC) finally extended for five years with a scheduled phase-out – Wind has held relatively steady, at roughly $14 billion in annual revenue since 2015.
Solar PV revenue was up 8% over 2017, at $24.2 billion, even as unit costs continued to fall, and nearly returning to its 2016 boom-year peak of $24.9 billion. While Solar PV revenue increased 8% in 2018, installed capacity grew 14%. Solar PV revenue has grown at CAGR of 17% since 2011. Meanwhile, Concentrating Solar had a bit of a comeback, with revenue of $1.5 billion in 2017 and $1.3 billion in 2018, after registering zero in 2015 and 2016. Combined Cycle Gas Turbines also had relatively strong years in 2017 and 2018 – $12.9 billion and $13.2 billion respectively, up from $8 billion in 2016.
At $21.3 billion, Advanced Electricity Delivery and Management revenue was flat overall, but showed notable growth in certain categories. Energy Storage revenue was up 18%, to $701 million, after even bigger growth years in 2016 (54%) and 2017 (39%). Electric Vehicle Charging Infrastructure was up 23%, to $280 million, following a similar jump in 2017. Revenue from Smart Meters, sales of which had been slow following federal Recovery Act-related spending early in the decade, turned around in 2017, jumping 81% to $1.2 billion, before declining 6% last year. Still, at $1.1 billion in 2018, Smart Meters were within shouting distance of the 2011 and 2012 peak of $1.4 billion.