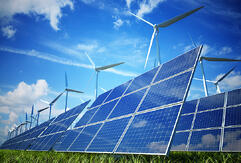 Utility Xcel Energy has submitted plans to buy solar and wind energy, not due to any mandate or even to bolster its public image, but because it costs less. Xcel Energy's filing with the Colorado Public Utility Commission listed 170 megawatts of solar and 450 megawatts of wind as the cheapest energy sources available.
"This is the first time that we've seen, purely on a price basis, that the solar projects made the cut – without considering carbon costs or the need to comply with a renewable energy standard – strictly on an economic basis," David Eves, CEO of Public Service Co., Xcel's Colorado subsidiary, said in an interview with the Denver Business Journal. This purchase will essentially triple the amount of solar Xcel Energy provides in Colorado.
Solar, even at utility scale, has long lagged behind natural gas and wind as a cost-effective advanced energy source. Several factors, however, point to solar energy's continued growth and increasing competitiveness. Bloomberg New Energy Finance reports that this year, for the first time, solar will be adding more megawatts worldwide than wind. This week The Atlantic named "cheap solar" as the first of ten "stealth economic trends that rule the world," pointing out that solar prices have fallen 99 percent since the mid-1970s and that solar is actively disrupting old industries.
More evidence of solar's march into the energy mainstream: this week Ikea announced that it would begin selling solar panels for home installation in Britain, part of a long-term plan to incorporate solar into their global sales. Residential solar installation is also getting cheaper, thanks to innovative financing models. Greentech Media has a roundup of this quarter's surge in residential solar financing, including new loan offers, new franchises, and multiple funding rounds for start up companies. Shayle Kann, Vice President of Research at Greentech Media, calls it a "flurry of investment activity," reflecting several market trends including a diversity of financing available. GTM Research predicts the American solar financing market will grow to $5.7 billion in 2016.
Again from The Atlantic, we saw a video this week that showcased the amount of energy the U.S. uses and from what sources. The two-minute video is the first part of a special report called The User's Guide to Energy, and it tracks the trend toward advanced energy sources and away from the old fossil fuel-based energy system.
And finally, in an effort to bring you all the advanced energy news that's fit to print, we can't pass up this story. A wave of jellyfish caused a clog in a Swedish nuclear reactor early this week, causing it to shut down until the pipes could be cleared two days later. This was not the first attack of jellyfish and similar creatures on nuclear power plants. Last year, the Diablo Canyon reactor in California shut down when its cooling pipes got clogged by sea salp, and the same Swedish power plant, the 1,400 MW Oskarshamn facility, had to shut down one of its units temporarily in 2005 due to jellyfish.
For more news delivered to your inbox every week, subscribe below to AEE Weekly.