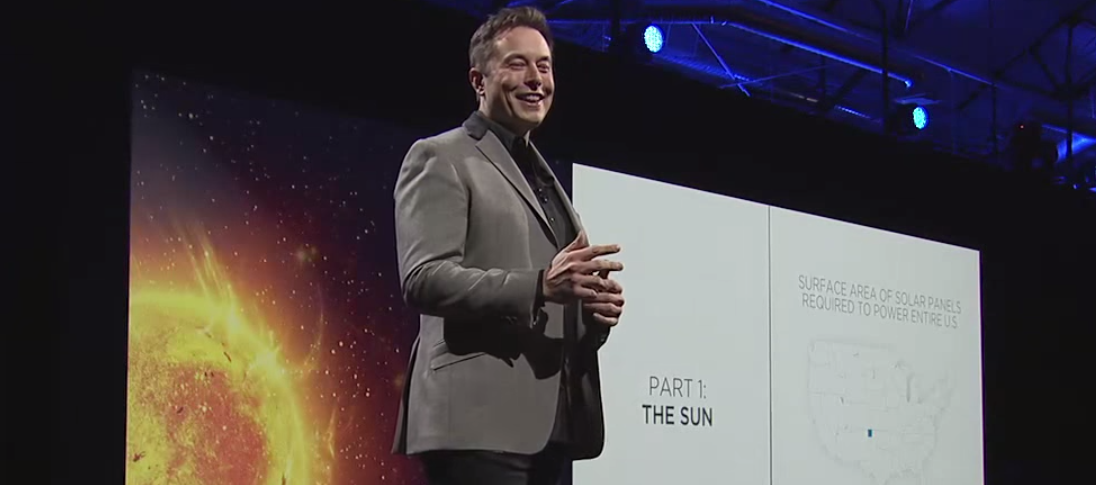 "Welcome, everyone, to basically the announcement of Tesla Energy,"
began Elon Musk
, as the lights went up in front of an enthusiastic auditorium of Tesla fans. Positioned as an unveiling along the lines of Steve Jobs's iPhone announcement, the announcement was for Tesla's new energy storage product, Powerwall. Will it fundamentally change the way we interact with electricity, as Musk claimed? "This is real," he said, as PowerPoint slides featuring towering smoke stacks spewed noxious-looking fumes into the sky, "this is actually how most power in the world is generated, with fossil fuels." A few slides later came an image of the sun. "We have this handy, fusion reactor in the sky: the sun," he said.
Musk's solution will come as no surprise to regular readers of Advanced Energy Perspectives: solar plus storage. But leave it to Musk to go big.
Still, the Tesla announcement brought two new and important things to the table: enthusiasm and relentless, wall-to-wall coverage of advanced energy technologies. One YouTube video of the announcement has nearly 2 million views in a week, on par with this week's most popular music videos. T.C. Sottek, writing for The Verge, called the speech "the best tech keynote I've ever seen." Overall, coverage included The New York Times, L.A. Times, Wall Street Journal, and every other major publication you can name.
While the mainstream press was sharing in the breathless excitement, several outlets within the advanced energy space were quick to walk the announcement back a bit: Jeff St. John at Greentech Media wrote "How Tesla's Energy Storage Play Could Take Flight—or Flop." And Tom Randall, writing for Bloomberg, cautioned that the Powerwall "doesn't work that well with solar—at least not yet."
All this isn't to say the technology isn't exciting! Energy storage paired with small-scale solar installations can create mini-microgrids to power homes, offices, even a network of communities – creating islands of energy self-sufficiency. It also offers a chance for the democratization of energy: home consumers are able to have a hand in energy production and energy use.
"Energy storage is very disruptive in the hands of customers like you and me," IDC Energy Insights analyst Marcus Torchia said in an interview with NBC News (like we said: every major news outlet). "Utilities are in an unbelievable position to usher in massive change for society's benefit," but only if the utilities see the value in it.
For their part, utilities are beginning to invest in a major way in storage technologies. Green Mountain Power, Vermont's largest utility, announced that it would roll out the Powerwalls directly to its customers. According to Fort Worth Business Press, Tesla lists Oncor , the largest transmission and distribution company in Texas, as one of the utility partners investing in the new Powerpack 100 kW-hour storage system. Last year, Oncor expressed interest in investing more than $2 billion in a battery storage system in the state (subscription required). Late last year, Oncor commissioned a study from the Brattle Group that found that a customer's monthly bill could fall by more than 30 cents by 2020 with the installation of 3 GW of storage in the ERCOT territory.
Consumers are responding. Powerwalls are already sold out through summer 2016, even though shipping on the products won't begin for another few months.
Tesla is far from the only energy storage game in town. AEE member General Electric has relaunched its energy storage business with lithium-ion batteries for utilities, and has already announced a partnership with Con Ed Development. Another AEE member, Ambri, recently closed a $35 million financing round to bring energy storage to utility-scale solar and wind projects. Greentech Media also listed AEE member Sungevity as a direct competitor for the consumer energy storage space through its partnership with Europe's leading home energy storage firm, Sonnenbatterie. Existing Sungevity customers will be able to purchase Sonnenbatterie's smart energy systems as early as mid-summer this year.
"The Sonnenbatterie comes as an integrated system with a beautiful form factor," said John Ordoña, Sungevity's vice president of communications. "All elements of the energy storage system are fully integrated. "The system is then combined with panels, solar inverters, and other components into one Sungevity Energy System that's installed at the customer's home or business. The purchase will be as easy and straightforward as it is to purchase one of our solar systems today."
Needless to say, we are at least as excited for that as Powerwall.