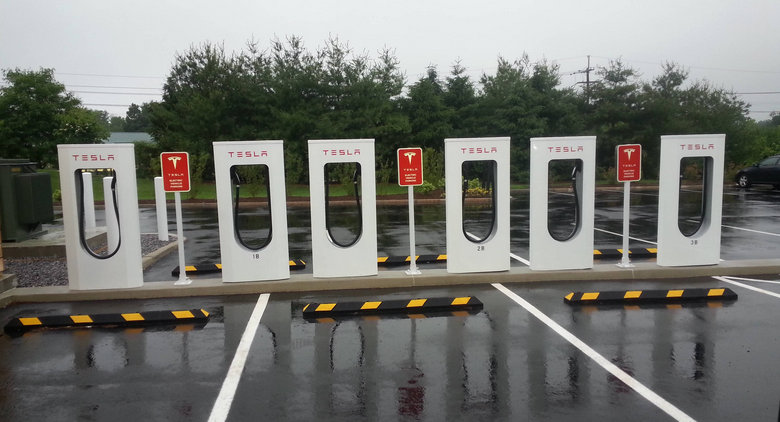 Elon Musk skyrocketed back into the news this week with major announcements from both his advanced energy companies. Late last week, Tesla Motors released all of its patents to the public. According to Musk, the move was "in the spirit of the open source movement" and a "modest thing." Musk expects the move will help the company recruit engineering talent, writing that it will make a difference to "the very best engineers."
"Too often these days, [patents] serve merely to stifle progress, entrench the positions of giant corporations and enrich those in the legal profession, rather than the actual inventors," Musk wrote.
One possible outcome of the patent posting could be the standardization of Tesla's technology across different makes of electric vehicles. This week, the International Business Times reported that several leading electric vehicle (EV) manufacturers are currently in talks to standardize EV charging. Currently, different EVs operate with power needs and use different adaptors – meaning Nissan Leafs can't charge at Tesla supercharging stations, and a Model S requires an adapter (which can cost as much as $1,000) to use public charging stations.
One automotive executive, speaking anonymously to the International Business Times, said, "It is obviously clear that everyone would benefit if there was a far more simple way for everyone to charge their cars." Together, Tesla, BMW, and Nissan account for more than three-quarters of the global EV market, and standardizing the cars' charging infrastructure could be a big step forward in driving greater adoption of the technology.
Turning from one outsized Musk pronouncement to another, AEE member company SolarCity announced this week that it had purchased Silevo, a manufacturer of photovoltaic panels. Musk, who chairs SolarCity's Board of Directors, said that the company would use the purchase to begin building factories "an order of magnitude" larger than the current solar panel manufacturing capacity – despite the underutilized capacity that is the case today.
"What we are trying to address is not the lay of the land today, where there are indeed too many suppliers, most of whom are producing relatively low photonic efficiency solar cells at uncompelling costs, but how we see the future developing," wrote Musk and SolarCity co-founders Lyndon Rive and Peter Rive in a blog post. "Without decisive action to lay the groundwork today, the massive volume of affordable, high efficiency panels needed for unsubsidized solar power to outcompete fossil fuel grid power simply will not be there when it is needed."
SolarCity has made a commitment to manufacturing those panels in America, as well: the company is negotiating with the state of New York to build a huge factory over the next two years. This week the U.S. announced that it would enact new tariffs on solar panels manufactured in China, raising prices of those panels by as much as 14 percent.
A factory in Buffalo capable of putting out a gigawatt's worth of solar panels each year is only the beginning, according to Musk and Solar City. The company expects the annual demand for solar panels to eventually reach "tens of gigawatts."
In reference to Musk's plans for manufacturing both batteries and solar panels on giga-scale, Katie Fehrenbacher wrote a feature entitled "The Elon Musk Model of Disrupting Energy: vertical integration and huge factories." Both SolarCity and Tesla Motors have run into natural constraints, she explained. For Tesla, the company's limiting factor was producing sufficient lithium-ion batteries to meet the growing demand and power EVs. The solution? Build an enormous gigawatt battery factory.
"We're building the gigafactory because we can't think of any other way to scale," Musk said at an energy forum held in May at the company's factory. "We either hit the sides of the Petri dish, or we build a bigger Petri dish."
In other advanced energy news we are tracking, AEE member Silver Spring Networks announced a new system that will allow towns and cities to build smart-city networks at their own pace, possibly cutting integration timelines by 30 percent, and ARPA-E awarded $33 million to 13 fuel cell projects.
In Elon Musk news that we are not tracking, Musk announced intentions this week to send humans to Mars by 2026. Shine on, you crazy diamond.
Although it doesn't include manned missions to Mars, the advanced energy industry represents a wide array of technologies and services worth more than $1 trillion globally. Download the Advanced Energy Now Market Report 2014 for more information on the size and scope of the advanced energy industry.