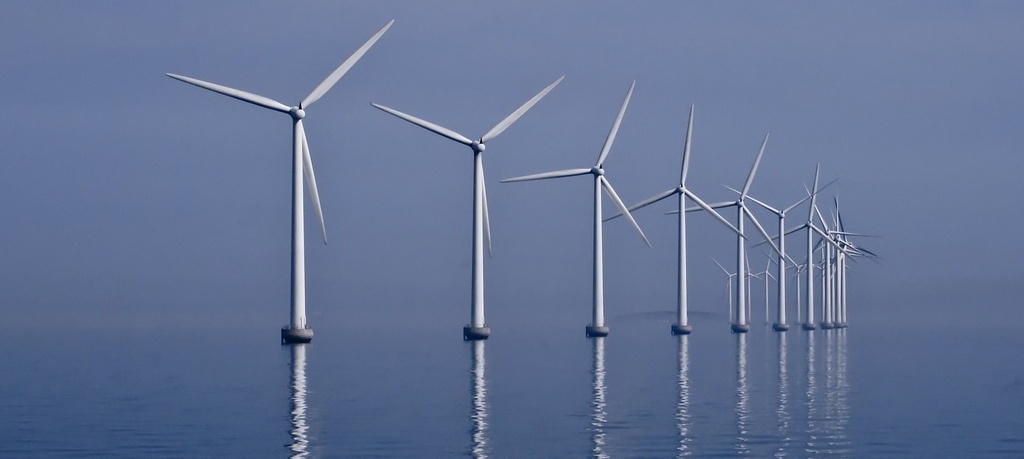 Image: Offshore wind turbines in Denmark.
This week, one AEE Member company dominated the news cycle with a major acquisition, HP joined the trend toward advanced energy-run data centers, and the American offshore wind industry is finally off the ground (and in the water).
SunEdison, a member of AEE's Leadership Council, announced that the company and its yieldco, TerraForm Power, would acquire Vivint Solar in a deal worth more than $2 billion. The transaction is expected to be finalized before the end of the year, and must first be approved by shareholders and regulators.
"SunEdison's acquisition of Vivint Solar is a logical next step in the transformation of our platform," Ahmad Chatila, CEO of SunEdison and Chairman of TerraForm Power, said in a news release.
Joshua Hill, writing for CleanTechnica, characterized the acquisition as part of the company's "spending spree," an overall strategy to expand its distributed energy assets through acquisitions of wind and solar companies around the globe. In the second quarter alone, Hill writes, SunEdison has moved to acquire India's Continuum Wind Energy and Globeleq Mesoamerica Energy (based in Costa Rica), as well as a combined 1.45 GW of wind assets from Atlantic Power and Invenergy (also an AEE Member). Last year, SunEdison acquired FirstWind in another deal worth more than $2 billion. As discussed in this week's Energy Gang podcast, SunEdison is becoming one of the world's leading energy companies, with a portfolio based entirely in renewable energy.
Back in November, Chatila explained the company's move away from an exclusively solar portfolio. "Electrons are electrons — solar or wind really doesn't matter for our customers. Our customers are demanding that we have a more comprehensive solution."
In Texas, Hewlett Packard partnered with SunEdison for a 12-year contract for 112 MW of capacity from an expanding wind farm. Like other tech giants such as Google, Apple, Microsoft, and Facebook, HP is investing heavily in advanced energy in part due to a voluntary commitment to reduce the company's greenhouse gas emissions. But the investment also makes good business sense. Once the wind farm is up and running, SunEdison's Chief Development Officer Kurt Adams pointed out, the electricity generated is not subject to price fluctuations like gas and oil. "Being able to procure a long-term, stable-priced energy source, that's just good business, and that's what we see a lot of corporates focused on these days," he said.
Off the coast of Rhode Island, Deepwater Wind is "breaking water" on what looks to be the first American offshore wind installation. This week, the company delivered the foundations that will eventually support five wind turbines about 12 miles from the Rhode Island coast. In what might count as real-life dramatic irony, the steel foundations are supplied by a company that usually builds foundations to support the infrastructure of the oil and gas industry on the Gulf Coast.
"It's a proverbial steel-in-the-water moment. In our industry, we don't have groundbreakings, we have water breakings," said Jeffrey Grybowski, CEO of Deepwater Wind.
Finally, the last word this week goes to AEE's own Malcolm Woolf, who was interviewed by the Washington Post for a story on state reactions to the EPA's upcoming Clean Power Plan. The article points out that, despite political rhetoric to the contrary, many states are positioned to meet their goals with little difficulty.
From the article:
"It's frankly the norm," said Malcolm Woolf, a former Maryland state energy official and now senior vice president for Advanced Energy Economy, an industry association that includes electricity providers and major manufacturers. While some power companies have logistical concerns about meeting the EPA's targets, Woolf said, "we've yet to find a state that is going to have a real technical challenge meeting this."
Advanced energy is a growth market. Check out specifics in Advanced Energy Now, AEE's 2015 Market Report.
Featured image courtesy of Kim Hansen and used under Creative Commons.