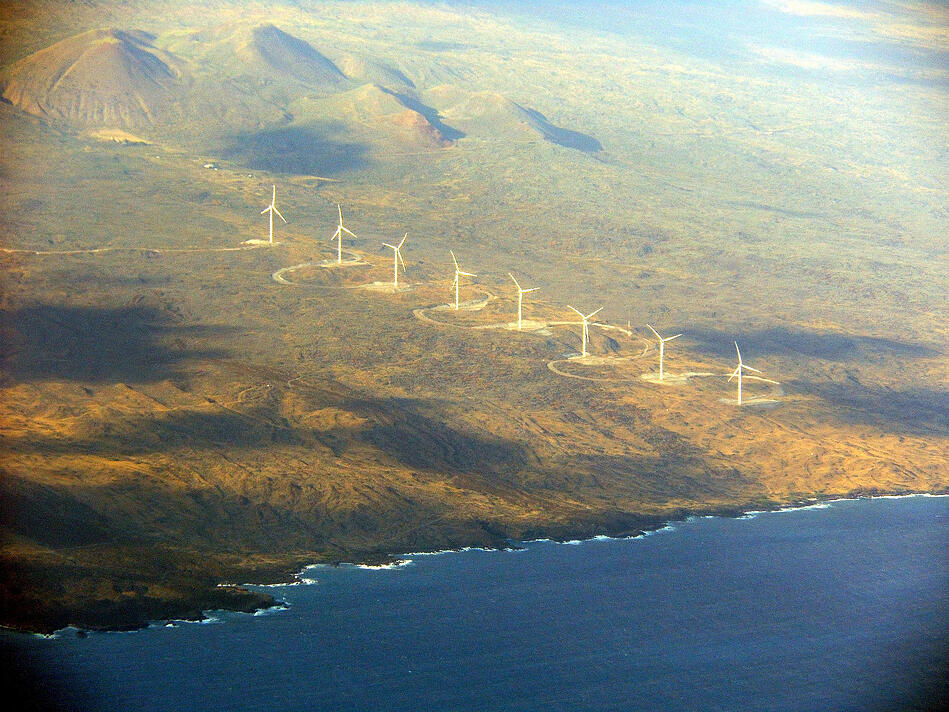 Remember a few months ago when Eric Wesoff of Greentech Media the story, "I Almost Bought Hawaii's Utility," in which a reported coalition of investors came incredibly close to purchasing Hawaii's largest utility and implementing an aggressive transition to advanced energy? Well, it wasn't Wesoff's investment group, but this week NextEra announced that it had acquired Hawaiian Electric Industries (HEI) for $4.3 billion.
The Aloha State has always had an unusual electricity profile. An isolated island chain in the middle of the Pacific, almost all energy resources must be shipped in at great expense. Currently, approximately 75 percent of the state's electricity generation is sourced from imported oil. As Wesoff points out, the entire state only has 2,400 megawatts of generating capacity.
With more than half a million customers paying the nation's highest electricity prices, advanced energy technologies such as renewable generation and energy efficiency are even more attractive to HEI than they are for utilities in the lower 48. (While the state is not rich in coal or natural gas, it does have sunshine and breezes in spades!) Hawaii is a national leader in transitioning to advanced energy technologies, and with a forward-looking public utility commission, is helping to write the book on what a 21st century utility will look like.
The deal with NextEra may bring that vision of the energy future even closer to reality. NextEra is already a major investor in wind and solar, with 17 percent of installed U.S. wind capacity and 14 percent of installed U.S. utility-scale solar.
"We are proud that Hawaiian Electric has agreed to join our company in large part because of our shared vision to bring cleaner, renewable energy to Hawaii, while at the same time helping to reduce energy costs for Hawaiian Electric's customers," said Jim Robo, CEO of NextEra Energy.
Not everyone is as certain about NextEra's commitment to advanced energy. Next Era is the parent company of Florida Power and Light, which has a checkered past with rooftop solar. Hawaii has embraced residential rooftop solar: currently, 9 percent of Hawaii's homes have solar installations, compared to just 0.06 percent of Florida rooftops. Rob Harris, Hawaii-based director of public policy at Sunrun, called (subscription required) that statistic "a big red flag."
As Davide Savenije writes in Utility Dive, however, the deal offers NextEra Energy "an intriguing and immeasurable" opportunity: using HEI as a guinea pig to solve the problems of managing high level of renewables and balancing with storage before the issues become common on the mainland. Many utilities are beginning to grapple with the issue, but Savenije points out that only HEI—and perhaps a few California investor-owned utilities—is experiencing it "right here, right now."
The deal is subject to approval from the Hawaii PUC, and NextEra and Hawaiian Electric intend to file a merger approval application within the next 60 days that will demonstrate the merger will ensure customer interests are protected.
In other M&A news, AEE member company EnerNOC announced that it had acquired Pulse Energy, an energy analytics and engagement company. EnerNOC, an industry leader in demand response technology, has been making strategic investments all year. From World Energy Solutions a month ago to Genability earlier this year, EnerNOC has consistently been increasing both market share and the company's competitive advantage in the demand response market.
Tim Healy, chairman and CEO of EnerNOC, said the Pulse acquisition allows EnerNOC to offer the "only integrated platform purpose-built to engage utilities' entire commercial and industrial customer base," and that the purchase "strengthens EnerNOC's software product offerings for utilities and significantly increases our addressable market."
This week AEE released an employment survey from another state with gorgeous sunsets and a burgeoning advanced energy portfolio: California. The state boasts more than 430,000 advanced energy jobs this year, and expects to grow even larger next year. Click the button below to learn more.