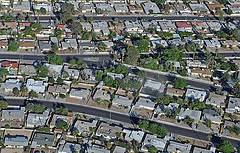 Energy efficiency, an advanced energy technology with great economic benefits, faces a unique challenge. Residential energy efficiency projects require upfront costs and pay back reliably, but over time. It can be tough to convince homeowners to spend hundreds or thousands of dollars to insulate their homes in order to save a few bucks a month in heating and cooling bills.
To solve this economic puzzle, residential Property Assessed Clean Energy programs (PACE for short) enjoyed a brief period of popularity between 2008, when the first pilot was introduced, and 2010, when the program stalled out. PACE programs allow property owners to borrow money for advanced energy upgrades, and then repay the money over time on their property tax bill.
Back in 2010, the Federal Housing Finance Agency (FHFA) put residential PACE in limbo. With the release of its Statement on Certain Energy Retrofit Loan Programs, the FHFA advised Fannie Mae and Freddie Mac (institutions over which the FHFA had held conservatorship since the housing crisis in 2008) not to buy mortgages with PACE assessments, since liens on the property stood in the way of mortgage holders in the event of foreclosure.
PACE programs for commercial property owners continued to flourish, most recently in Arkansas, which successfully passed the Property Assessed Clean Energy Act in 2013, thanks in large part to AEE's state partner, the Arkansas Advanced Energy Association. But this week, residential PACE got a boost, with 17 counties in California joining together to create CaliforniaFirst, a PACE financing program for homeowners.
CaliforniaFirst (which stands for "Financing Initiative for Renewable and Solar Technology") allows for loans up to $75,000 and a variety of repayment times ranging from five years to 20 years. It is backed by a state insurance fund created last year to cover any losses suffered by lenders due to PACE liens on property. With $300 million raised, it's the biggest PACE program ever, prompting the Greentech Media headline, "The Narrative That Residential PACE Is 'Dead' Is Now Pretty Much Dead Itself."
(Another GTM headline from this week: "Utility-Scale Solar Is Back From the Dead." Allow me to channel Mark Twain for a moment: perhaps it is time to walk it back on those premature death pronouncements.)
"The state of California has taken pretty aggressive action to mitigate the risk to mortgage lenders," said Cisco DeVries, the man behind the original PACE program in 2008. "The result has been to open the door for PACE, for residential properties, to move forward again."
It was a big news week for several AEE member companies. First Solar made headlines by beating the standing solar cell efficiency record. The lab cell has an efficiency of 21 percent, which beats the prior record (also held by First Solar) by more than half a percentage point.
SunPower, a vertically integrated solar module maker and project developer, had a big week as well. The company acquired solar startup Dfly Systems, a "very early-stage module-level power electronics player" that works with intelligent controls for PV module boxes, according to MJ Shiao of Greentech Media. The company also announced a new partnership with Audi and Volkswagen to offer rooftop solar (and, in Audi's case, provide energy storage) for electric vehicle customers. As we've said before, solar and electric vehicles are two great tastes that taste great together.
Finally, in biofuel news, Boeing and South African Airways are working to develop jet fuel from tobacco. Biofuels might be just the thing for the tobacco industry, which is facing a shrinking customer base as people stop smoking. "By using hybrid tobacco, we can leverage knowledge of tobacco growers in South Africa to grow a marketable biofuel crop without encouraging smoking," said Ian Cruickshank, South African Airways Group environmental affairs specialist.
Can advanced energy wipe out lung cancer? Well, probably not (and saying so might be just as silly as a premature death notice). But it is giving rise to innovation in surprising places.
Get all the advanced energy news and policy updates you need delivered to your inbox every Friday. Click below!
Image courtesy of Harshil Shah and used under a Creative Commons license.