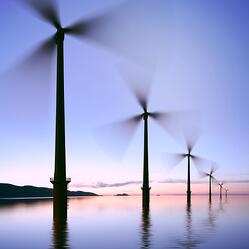 Late last week a federal judge dismissed the latest lawsuit facing Cape Wind. Cape Wind Associates, the New England-based organization behind the planned offshore wind project, is no stranger to the courtroom: the organization has faced consistent legal challenges since its inception a decade ago. As recently as March, a court resolved most of the legal challenges then pending, enough for the developer to pursue financing for the project.
Last week's ruling saw the latest lawsuit, which was filed in late January, thrown out on the basis of a procedural issue: Judge Richard Stearns found that federal law prohibits state officials from being sued for past actions in federal court. What made this ruling unique, Jon Chesto, writing for Boston Business Journal, points out, was the final footnote in the ruling. First, Stearns refers to the plaintiffs as an "obdurate band of aggrieved residents of Cape Cod and the Islands," and goes on to scold them for litigiousness, in no uncertain terms.
"In entering this decision, the court takes no position on the underlying merits of siting a wind farm in Nantucket Sound or the wisdom of a state policy that encourages utilities to purchase renewable forms of energy at above-market prices," Stearns wrote in the footnote. Then he went on: "There comes a point at which the right to litigate can become a vexatious abuse of the democratic process. For that reason, I have dealt with this matter as expeditiously as possible."
In other words, Chesto writes, "Enough with these lawsuits, already."
On the heels of last week's news of New York State's regulatory reforms, Utility Dive reports on Hawaii's challenge to the traditional utility business model. Hawaii's public utility commission (PUC) determined last year that Hawaii Electric Co (HECO), the state's largest utility, was using a business model that did not align well with the needs of electricity consumers or public policy goals. If it did not change its ways, the PUC said, it would be "forced" to scrutinize utility expenditures, operations, and investments.
After HECO and two other Hawaii utilities submitted updated integrated resource plans, the PUC indicated that they had not demonstrated "sufficient evidence [of] progress toward a sustainable business model."
What's next? Hawaii's utilities offer some of the most expensive electricity in the country, due to imported diesel as its traditional fuel source, and for Hawaii's electricity consumers, the economic incentives are in place to disconnect from the grid: Utility Dive reports that solar-plus-storage has reached grid parity for the commercial class. HECO is investing in advanced energy technologies that will allow for less volatility in electricity pricing: the company announced this week that it is seeking bidders to provide large-scale storage solutions for Oahu.
Ultimately, Hawaii's energy solution, whatever it looks like, may be a harbinger of what's to come for the rest of the country. For the time being, the PUC recommended that HECO pursue several strategies to update its business model for the 21st century: invest in low-cost, utility-scale renewable resources, modernize generation system to integrate renewable energy sources, achieve all possible operation efficiencies in existing power plants, and pursue opportunities to lower fuel costs in existing power plants.
Last week, we covered AEE member company General Electric's offer to purchase much of French energy conglomerate Alstom for $13.5 billion. This week, GE announced a $24 million investment in India's largest solar plant. While smaller scale (millions vs. billions) than the Alstom bid, the investment marks GE's first foray into India, one of the world's fastest growing advanced energy markets.
AEE is developing DocketDash, a new tool designed to let users search the dockets of the PUCs in all 50 states, find out what's pending, and follow proceedings. Help us refine it as a beta tester.