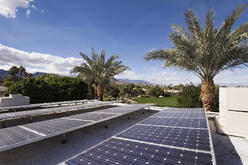 On Thursday, California's Public Utility Commission adopted a new energy storage mandate—the first in the nation. The mandate requires California's investor-owned utilities – PG&E, Southern California Edison, and San Diego Gas & Electric – to expand their energy storage capacity. Collectively, the three utilities need to buy more than 1.3 gigawatts of energy storage.
"The decision lays out an energy storage procurement policy guided by three principles: optimization of the grid, integration of renewable energy and reduction of greenhouse gas emissions," said Commissioner Carla Peterman, architect of the mandate.
The new mandate will accelerate California's push toward the state's goal of obtaining one-third of its electricity from renewable electricity sources. The increased energy storage capacity will give the utilities more flexibility in managing variable renewable energy sources, and allow them to better match supply and demand. With increased storage capacity, excess renewable energy production at off-peak hours can be stored for use when it is needed to meet peak demand.
The energy storage mandate is just another way California continues to blaze new energy trails. "California has the most aggressive policy framework of any government in the world," said Tom Steyer at AEE's August event Pathway to 2050. "I'd like California to take our show on the road."
Earlier this year, AEE asked California advanced energy leaders how the state could help them accelerate their business growth. Download the report by clicking below.
Also in the news this week was increased adoption of solar power by large American companies. Walmart and Costco top the list of companies with installed solar capacity in the second annual Solar Means Business report from the Solar Energy Industries Association (SEIA). Kohl's, Apple, and IKEA also make the top 5.
The list is "like a 'Who's Who' of the most successful corporations in America," said SEIA President and CEO Rhone Resch. "These iconic brands are leading the way."
Finally, in the world of advanced vehicles, General Motors unveiled its new dual-fuel Chevrolet Impala, which will be able to operate on compressed natural gas or traditional gasoline. The Impala, which will go on sale next summer, will be available both as a fleet vehicle and also as a retail option for direct sale to consumers.
This adds to GM's fleet of CNG-powered vehicles, which include natural gas vans. Nationwide, CNG-powered vehicles are gaining ground as well. earlier this year Ford announced plans to sell a CNG-powered F-150 and Honda has a CNG-powered Civic. Bi-fuel vehicles like the new Impala, which can run on either gas or CNG, will be able to mitigate range anxiety while allowing consumers to take advantage of low-priced natural gas.
To get more news like this delivered to your inbox every week, click below to sign up for AEE Weekly.