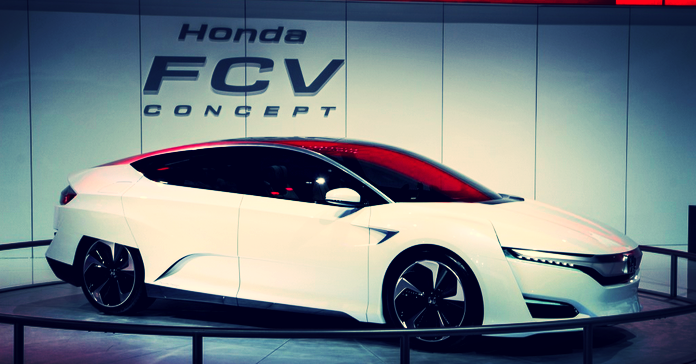 Advanced vehicles, front and center at last week's Consumer Electronics Show, enjoyed another week in the spotlight at the annual Detroit Auto Show. Some impressive numbers in solar employment were released this week, and renewable energy got new recognition from an unlikely source.
America's Motor City served as a showcase of innovation with this year's Auto Show as the major car companies pull out all the stops.
Leading the way was GM's new Chevrolet Bolt, a concept car that marries affordability and reliability, designed for a price tag of $30,000 and a single-charge range of 200 miles. A hatchback with substantial cargo space, the Bolt gives crossover appeal to the new all-electric vehicle, which should go into production in 2017. This model puts GM more directly in competition with Tesla, which plans to introduce an all-electric sedan with a $35,000 price tag in the same timeframe. GM has also revamped the plug-in gas-electric hybrid Chevy Volt, increasing its electric range to 50 miles and adding a fifth seat.
Speaking of Tesla, Elon Musk was on hand at the Auto Show for the first time in two years. When asked about the future of the company, Musk said Tesla expects to be making "a few million cars" a year by 2025, which, as the Detroit Free Press points out, would make the company about the same size as BMW today. Although confident as ever in his own company's success, Musk also urged the Big Three and other major automakers to accelerate their efforts to produce Tesla competitors… sorry, other electric vehicles.
"It's only going to go there if the big car companies make risky decisions," Musk said. That said, Musk clearly doesn't believe the decisions are too risky. Electric motors are "fundamentally better" in terms of efficiency, Musk pointed out, and said major automakers "won't regret making that decision" to electrify their fleets.
Just a week after Toyota announced that it would open its fuel cell patents, Honda introduced its own hydrogen fuel cell vehicle. Steve Ellis, Honda's manager of fuel cell vehicle sales, expects to compete directly with electric vehicles. "This is going to work for people who want a zero-emission car that you can fuel up in a few minutes for a 300-mile range and who live in the proximity of hydrogen fueling stations," Ellis said in an interview with New York Times.
Hydrogen fuel cell vehicles face the same conundrum as EVs: infrastructure requires demand, demand requires infrastructure. In Southern California, however, the landscape is changing. There are about a dozen hydrogen fueling stations already, and another several dozen are slated to open by the end of the year. Ellis said that the company expects enough fueling stations in Southern California by the end of 2015 to justify production of a fuel cell vehicle. As we all know, what happens in California is often a preview of what's to come in the rest of the country.
A new study out this week from the Solar Foundation confirms what we've known all along: advanced energy companies are creating jobs. According to the study, employment in the solar sector has almost doubled since 2010, to almost 174,000 jobs nationwide, with almost 90 percent of new solar jobs in 2014 in installation. As Bloomberg points out, advanced energy is a major driver of economic recovery after the Great Recession.
Solar got another media shout-out this week from an unlikely source: the American Petroleum Institute. In API's latest State of American Energy report, the organization touted renewable energy in addition to its usual oil-and-gas boosterism. API asked the Solar Energy Industries Association to write the section on solar energy.
"We see it as a clear recognition by the oil and gas industry that solar is now a mainstream energy source and an important part of America's energy future," said Ken Johnson, SEIA's vice president of communications.
Also collaborating with API on the report were the Nuclear Energy Institute, the National Hydropower Association, the American Wind Energy Association, and the Biomass Power Association.
Finally, for proof that advanced energy technologies can fit in unlikely places, we have New York City, which installed its first large-scale wind turbine last month and held a ribbon-cutting ceremony on Wednesday. The 160-foot 100 kW turbine, which might look more at home on a prairie in Texas than in bustling Brooklyn, helps to power a recycling plant. The turbine will provide about 4 percent of the energy used by the facility.
"They say, 'If you can do it in New York, you can do it anywhere,' " said Thomas Outerbridge, manager of the recycling facility. "And if you do it in Brooklyn, you can do it anywhere and you can be very cool."
For the record, we were into large-scale wind turbines before they were cool.
Want to cement your status as an advanced energy hipster? Sign up for AEE Weekly below!