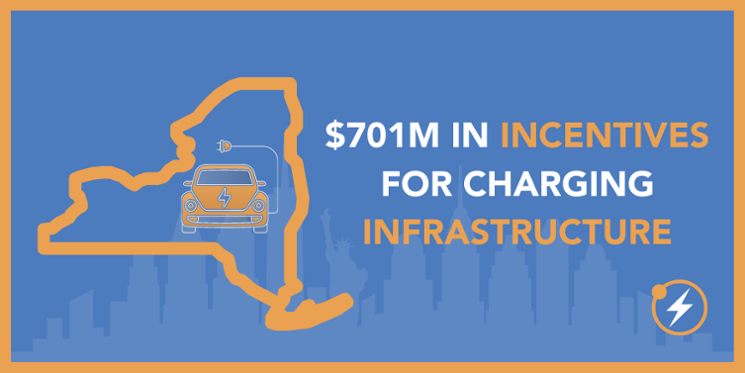 Last summer, New York passed the Climate Leadership and Community Protection Act (CLCPA), which adopted the country's most ambitious climate targets, including 100% carbon-free electricity by 2040 and economy-wide, net-zero carbon emissions by 2050. With transportation as New York's largest emission sector, accounting for nearly one-third of the state's greenhouse gas (GHG) emissions, transportation electrification is an absolute necessity for meeting those goals. Several years ago, New York set a goal of deploying 850,000 zero-emission vehicles by 2025. Now, thanks to a big new incentive program, the Empire State is going to get ready to charge up all those electric vehicles.
In July, the New York Department of Public Service approved a $701 million electric vehicle (EV) make-ready charging infrastructure program. The program was initially proposed in January 2020 at just under $600 million, but after two rounds of stakeholder comment, the Commission added $100 million in new investments.
The largest state commitment to EV charging outside of California, the EV Make Ready program will fund over 53,000 public Level 2 (L2) charging stations and 1,500 public Direct Current Fast Charging (DCFC) stations by 2025. The program is expected to stimulate $1.5 billion in new private investment and provide more than $2.6 billion in consumer benefits and economic opportunities.
The final order, by the numbers:
$480 Million will go toward the "make ready" costs associated with installing 35,217 workplace L2 chargers, 18,556 public L2 chargers, and 1,500 DCFC chargers. The final order expanded the types of charging station locations that will be considered publicly accessible and thus eligible for the maximum incentive levels. Make-ready costs for publicly accessible DCFC within one to two miles of disadvantaged communities and for L2 stations located at multi-unit dwelling resident parking in disadvantaged communities will be eligible for up to 100% funding. Make-ready costs for sites that meet all of the applicable eligibility requirements, including being publicly accessible, will be eligible for up to 90% funding, and sites that do not meet all of the applicable eligibility requirements will be eligible for up to 50% funding.
The final order also clarified what qualifies as "make ready" costs eligible for funding, for both utility-side and customer-side investments. Utility-owned equipment includes traditional distribution infrastructure, i.e., step down transformers, overhead service lines, and the utility meter, and will be installed and owned by the utility. Equipment owned by an EV charging station developer, owner or manager, includes any conductors, trenching, and panels needed for the charging station. The EV charging station itself, power blocks, modules, mounting hardware, and co-located distributed generation or energy storage are not eligible for funding. The final order also allocates $15 million out of this pot of money to the New York Power Authority (NYPA) for the installation of DCFC equipment through its program, Evolve New York.
$85 Million will go to the New York State Energy Research and Development Authority (NYSERDA) to put toward three prize programs. These include the Environmental Justice Community Clean Vehicles Transformation prize ($40M), the Clean Personal Mobility prize ($25M), and the Clean Medium- and Heavy-Duty Vehicle Innovation prize ($20M). These competitions were added to the final order in response to many parties calling for additional focus on disadvantaged communities, as directed by the CLCPA. The Environmental Justice Community Clean Vehicles Transformation prize will focus on reducing harmful air pollution in frontline communities and creating transportation "green zones" across New York State. The Clean Personal Mobility prize will solicit innovative and high impact approaches that enable access to clean transportation services for disadvantaged and underserved communities. The Clean Medium- and Heavy-Duty Vehicle Innovation Prize will examine and prove out innovative approaches to medium- and heavy-duty electrification that can be replicated at scale.
$72 Million will be put toward a fleet assessment service proposed in the Staff Whitepaper, with some modifications. As approved, this assessment service will be open not only to operators of light-duty fleets, but also those managing medium- and heavy-duty fleets.
$38 Million will be allocated to future-proofing expenditures to ensure the longevity and value over time of infrastructure assets. In the final order, the Commission agreed with comments from the Joint Utilities that future-proofing expenditures, such as increasing space available for panel expansion, and installing additional connection points and conduit to permit future expansion of charging facilities, should be recognized as a separate line item inside the Make-Ready Program budget, so that costs associated with preventing future obsolescence will not negatively factor into a utility's selection of projects. No more than 8% of each utility's overall program budget will be spent on future-proofing.
$15 Million will be split between the utilities, excluding Con Edison, for the development of a Medium- and Heavy-Duty Fleet Make-Ready Pilot Program. Con Edison must expand its existing Fleet DC Fast Charger Make-Ready Program to include a pilot program for medium- and heavy-duty fleets. The additional focus on medium- and heavy-duty vehicles found in this pilot and other parts of the final order comes in the final order based on many commenting parties calling for increased attention to this important sector.
$10 Million will go to Con Edison, National Grid, and Rochester Gas and Electric Corp. (RG&E) to partner with the Capital District Transportation Authority, Niagara Frontier Transportation Authority, Rochester-Genesee Regional Transit Authority, and the Westchester County Bee-Line Bus System, to make-ready bus depots for EV charging. Under this program budget, transit authorities will be eligible for full 100% funding.
In addition to this $701 million program coming through the investor-owned utilities, New York has announced that it will devote $48.8 million of Volkswagen diesel emissions settlement funds to transit bus and school bus operators and EV charging station owners to advance electric vehicle infrastructure, clean public transportation and transit options, and electric school buses.
Approval of the EV Make Ready program represents a much-needed step toward meeting the emissions reductions and vehicle deployment goals established by the State of New York. It will also stimulate much-needed activity in the EV infrastructure market at a time when COVID-19 has slowed economic activity. The program is designed to work in concert with other initiatives that the state already has in place and other initiatives that will need to be developed, including programs developed based on the Memorandum of Understanding that New York recently signed with 14 other states and the District of Columbia pledging to develop an action plan to reduce toxic diesel emissions from medium- and heavy-duty vehicles by 2050. With over 20 bills introduced in the state legislature that focus on EV issues, it is safe to say that these programs are going to have a lot of company.
To download our guide for regulators considering action related to EVs, click below.