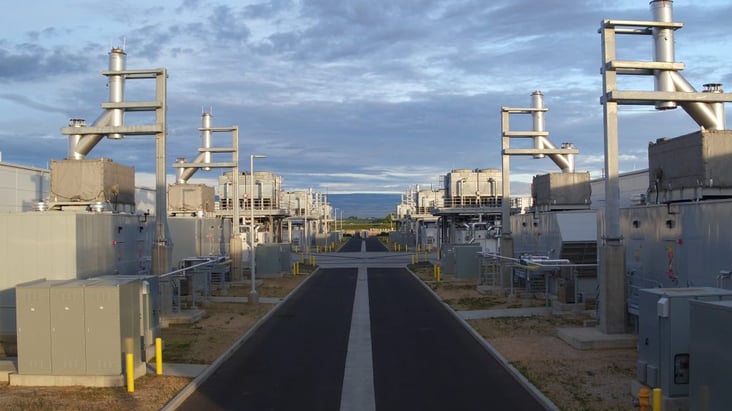 A Microsoft datacenter in Quincy, WA.
Advanced energy is a $200 billion industry in the United States that supports more than 3.3 million American jobs, as detailed in the new report Advanced Energy Now: 2017 Market Report. Earlier this week, Microsoft invited AEE, as well as other industry groups such as Edison Electric Institute, Northeast Clean Energy Council, and Michigan Energy Innovation Business Council, and executives from SunPower and Direct Energy, to discuss the power of the advanced energy industry to drive economic growth.
The panel discussion, moderated by AEE Senior Vice President Lisa Frantzis, focused on public policy and economics in the development and deployment of advanced energy, opening with AEE SVP Malcolm Woolf's presentation of topline findings of the 2017 Market Report. The conclusion? Advanced energy is an economic driver in states around the country.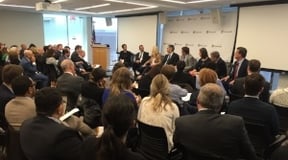 "The economics of these technologies are there on their own," Frantzis said. "The real issues are, can we get the business models right and can we get the price signals right to encourage adoption of these technologies?"
"Some of that is answered by folks like Microsoft, who are driving adoption and saying, 'We want more of this stuff,'" said Dan Scripps, president of Michigan Energy Innovation Business Council. "I think that's only going to increase, and I don't think that will change based on any changes in the federal level."
"Regulatory policy matters a lot, but cost is a huge driver," said Emily Fisher, of Edison Electric Institute. "Our members" – investor-owned utilities – "have deployed almost all the wind projects in the United States, and about 60% of the solar in the United States… Our investments are economically driven and long-term. Federal regulations sometimes have a big impact on pace and timing, but the arc of this industry is getting cleaner all the time."
In response to a question on cyber vulnerability in a grid with more advanced energy, Scripps responded that a grid with a greater penetration of advanced energy technology can be even more resilient to cyberattacks. As the grid becomes decentralized, Scripps said, "you ultimately have a stronger, more interconnected grid than one where one point of entry can take down the whole thing."
In a blog post about the event, Microsoft's Director of Sustainability Policy, Michelle Patron, went into more detail about one of her company's advanced energy success stories, which she mentioned on the panel:
In Cheyenne, WY, Microsoft's datacenter is by far the biggest customer on the grid. We needed more energy and wanted to use wind power to satisfy our growing demand, but didn't want the local utility (or ratepayers) to shoulder the cost of this additional investment. So, we crafted an approach that eliminated the need for a new peaking plant to support our wind projects by using our own on site generators as a backup to the grid. By allowing local utilities to tap power from our datacenters' backup generators during periods of peak demand for the city, we were able to meet our need for clean power while boosting the reliability of the grid and keeping energy prices low for all ratepayers.
The private sector can make good progress on accelerating the advanced energy economy through sourcing commitments, clean energy and tech procurement, and policy engagement. To catalyze even greater economic growth, companies should work together with other companies, utilities, policymakers and local communities to create solutions that work for businesses large and small, as well as households and other organizations. That's why Microsoft works with partners like AEE and the Renewable Energy Buyers' Alliance to support market-based energy policies.
By working together, we can ensure an energy future that is clean, efficient and inclusive—one from which everyone, including the planet, benefits.
The panel had representatives from all areas of the advanced energy industry: Malcolm Woolf, senior vice president of policy and government affairs at AEE; Michelle Patron, director of sustainability policy for Microsoft; Emily Fisher, vice president for the Edison Electrical Institute; Peter Rothstein, president of Northeast Clean Energy Council; Dan Scripps, president of Michigan Energy Innovation Business Council; Tom Starrs, vice president at SunPower; and Jim Steffes, executive vice president at Direct Energy. You can see video of the panel here.
Download a copy of Advanced Energy Now 2017 Market Report by clicking the button below!