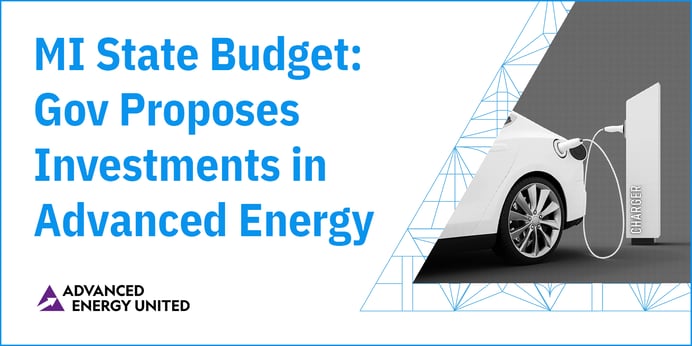 On February 8, Governor Whitmer announced her budget proposal for fiscal year 2024. Taken in totality, the proposed budget represents a generational investment in the state's decarbonization efforts and advanced energy economy, and the Governor should be applauded for such a bold agenda. The Governor's budget includes commitments to transition the state's energy to renewable resources, improve and decarbonize housing, electrify the transportation system, decarbonize industry, and strengthen energy infrastructure. Among the broad range of investments in communities and businesses proposed within the $79 billion budget are substantial funds for advanced energy projects and technologies, allocated to various administering agencies using both state and federal funds.
The investments in clean energy—totaling upwards of $1.35 billion—are summarized below. They represent the next step in the Governor's vision to decarbonize the economy as laid out in her MI Healthy Climate Plan.
Healthy and Efficient Housing
The Department of Environment, Great Lakes, and Energy (EGLE) will be receiving approximately $212 million in federal funds from the Inflation Reduction Act (IRA) for the implementation of the Home Energy Performance-Based, Whole-House Rebates (HOMES) and High-Efficiency Electric Homes Rebate Act (HEERHA) programs. The programs are meant to reduce household energy costs by driving demand for appliance replacements, comprehensive energy efficiency projects, and energy-efficient electric alternatives to gas appliances through point-of-sale rebates.
In addition to this federal funding, the budget allocates American Rescue Plan funding to the Department of Health and Human Services to provide households with home energy upgrades ($50 million) and weatherization ($25 million) meant to supplement existing investments in energy efficiency from state and utility energy efficiency programs. Together, the supplemental federal funding for energy efficiency and electrification will allow Michigan households to cut energy costs, improve housing quality, and reduce energy waste.
Electrifying Transportation
In 2018, transportation became the greatest source of emissions in the state. The administration's proposal includes substantial investments targeted towards light-, medium-, and heavy-duty electric vehicle adoption and the charging infrastructure necessary to support 2 million EVs on the road by 2030. Specifically, the plan focuses on public fleet conversions, including state and local government vehicles, transit authorities, airports, and school buses, as well as consumer tax breaks. In addition to these initiatives, the proposal includes funding for multimodal transportation expansion as recommended in the MI Future Mobility Plan. The EV programs within the proposal include:
$150 million in matching grants to support schools in purchasing electric school buses;

$65 million in federal funding for Electric Vehicle Charging Infrastructure to support the statewide expansion of charging and fuel electric medium- and heavy-duty vehicles as well as providing residential charging and panel upgrades;

$48.4 million in tax breaks through 2025 for consumers to buy EVs; $45 million in federal funding for EGLE to administer a Michigan Clean Fleet Initiative to provide grants for public fleet operators to move towards net-zero emissions; and

$10 million from the general fund for state fleet electric vehicle conversion.
Michigan has historically been the home of the nation's auto industry. The budget proposal to invest in electric vehicle conversion and charging expansion will position the state to lead on both clean mobility and electric vehicle manufacturing, resulting in cleaner air and more high-paying jobs in the state.
Industrial Decarbonization and Business Attraction
The Governor's proposal includes new incentives and support for existing incentives to encourage businesses to invest in in-state clean energy and manufacturing of advanced energy technologies. The proposal creates a new Onshoring Clean Energy Supply Chain Tax Credit within the State Treasury that will work in tandem with the federal credits and Investment Tax Credits, enacted in the IRA, and allows businesses of all sizes to invest in clean energy production and industrial decarbonization projects in the state. The budget would also expand the state's Strategic Outreach and Attraction Reserve (SOAR) Fund, providing a $500 million ten-year annual investment (in addition to the funding from the supplemental budget package passed last month) to attract private capital and incentivize businesses crucial to the clean energy economy, like chip manufacturers, battery plants, and EV parts manufacturers, to locate in the state. The SOAR fund has already helped the state secure $13.5 billion in projects for advanced manufacturing.
Energy Infrastructure
More frequent extreme weather events pose an existing and growing threat to the reliability of Michigan's energy infrastructure. Load growth from EVs and other electric technologies will increase reliance on the state's grid. As emphasized in the Governor's MI Healthy Climate Plan, the state needs to invest in grid resiliency and renewable energy to ensure a resilient, affordable, and decarbonized energy system. The proposal allocates $43 million in federal and state funding to shore up power lines and diversify the state's energy mix. And to draw private investment with favorable terms towards clean energy in the state, the budget allocates $5 million to the Michigan Saves Green Bank. The investment is expected to leverage $150 million in capital for clean energy projects across the state.
Moreover, restrictions on utility-scale renewable siting and permitting on the township and county levels is a significant barrier to achieving state decarbonization and renewable deployment. The new Renewable Ready Communities grant program makes $40 million available to local governments to incentivize development of regional renewable projects in their communities. While this program is a stride towards reducing local barriers, more program details are expected as the budget process gets underway.
Next Steps
The budget will be debated in the legislature before a final bill is sent by July 1 for the Governor to sign by October 1. This Spring, Appropriations subcommittees will take up select areas of the budget proposal to craft their own spending plans. Advanced Energy United will be engaging in the legislative process, advocating for these great programs to be retained throughout the process, including tracking opportunities to support clean energy. We encourage members, businesses, and communities to participate in advocating for a continued clean energy emphasis.
Advanced Energy United supports a robust budget that capitalizes on the opportunities of the advanced energy economy to deliver affordable, clean, and reliable energy and jobs to the State of Michigan. We applaud the Whitmer Administration for putting forth a proposal that invests in the state's communities, helps to bolster US advanced energy manufacturing, and benefits Michigan's economy by going bold on clean energy investments.