This blog post is the first in a two-part series on states' reactions to the EPA's Clean Power Plan. Read Part 2 here.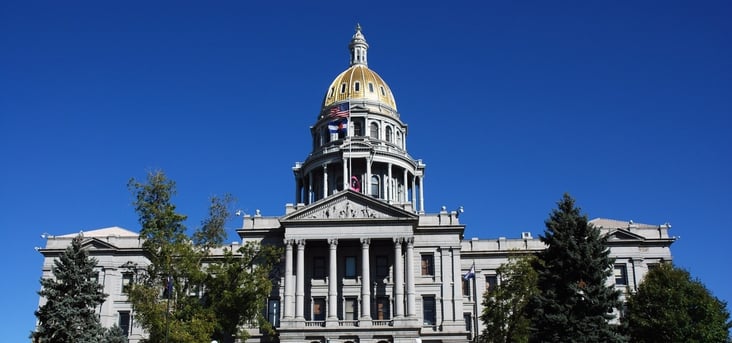 Photo of the Colorado State Capitol courtesy of Ryan Tolene and used under a Creative Commons License.
Ever since the Environmental Protection Agency (EPA) released the final version of the Clean Power Plan (CPP) on August 3, the rule's 1,560 pages of dense text (and an equally daunting pile of Technical Support Documents) have kept legal analysts and policy wonks busy and bleary-eyed. Perhaps the most important group of readers, however, are state regulators, the officials tasked with producing a state plan for implementation.
Across the country — including in states whose attorneys general are pursuing legal action — regulators are checking where their states stand (see below), asking questions, convening stakeholders, and making plans to comply — or not. In this post, we look at states that are getting ready to develop compliance plans, whether they like the CPP or not. Tomorrow, we will post a look at the states that are showing no sign of preparing to submit a plan, whether they don't have to, they haven't decided how to respond, or they just refuse to — in which case EPA will impose a federal plan.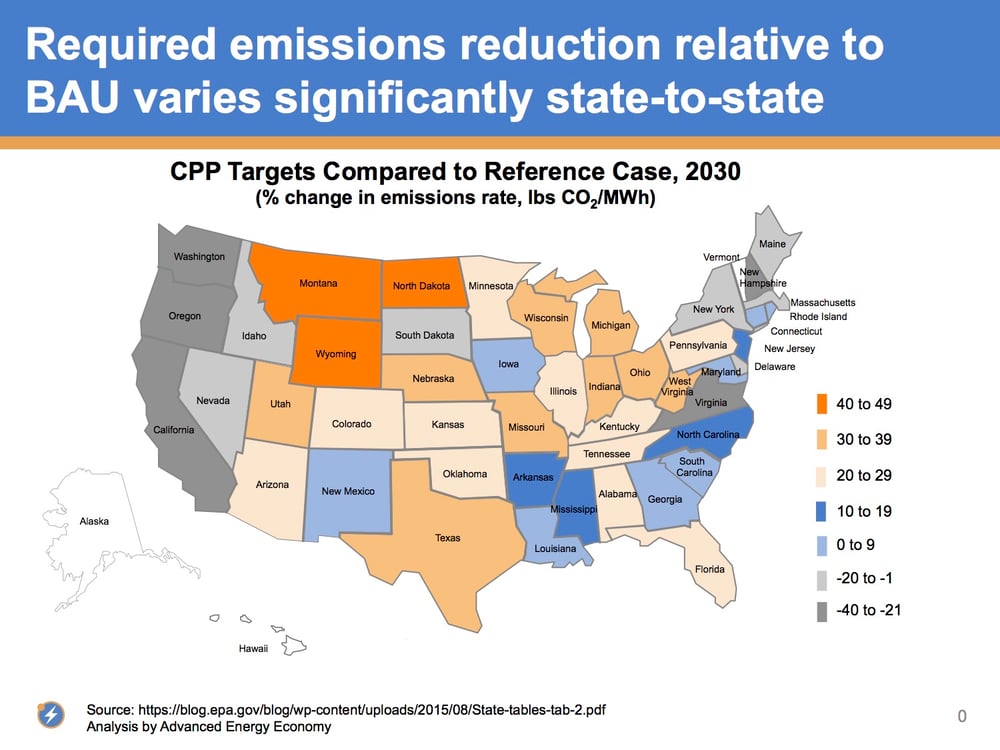 (BAU stands for Business As Usual case, or the reference case.)
Moving Forward Toward Compliance
According to EPA, California, Delaware, Maine, Massachusetts, Nevada, New Hampshire, New York, Oregon, South Dakota, and Virginia are all on track to exceed their targets. In many of these states, regulators and other state officials have already committed to submitting compliance plans to EPA.
Bloomberg BNA confirms that six of the eight states participating in the Regional Greenhouse Gas Initiative (RGGI) that are subject to the CPP (Vermont, with no fossil-fueled power plants within its borders, is exempt) are set to achieve their 2030 targets by 2020. AEE regional partner New England Clean Energy Council (NECEC) released a statement urging RGGI states to use the CPP as an opportunity to expand on the progress they've already made. In New York, NYISO spokesman David Flanagan expressed approval of the final plan, saying, "Based on our initial review, it appears EPA responded positively to major concerns regarding reliability in the draft rule, and that the final rule is generally favorable to New York."
Joining RGGI has been raised as a potential compliance option for Virginia. Whether pursuing that option or not, Gov. Terry McAuliffe stated, "I look forward to working with stakeholders to accomplish the objectives of reducing carbon emissions, creating the next generation of clean energy jobs and building the new Virginia economy." At an Americans for Prosperity rally, some state legislators announced plans to file legislation to halt McAuliffe's compliance planning prior to the 2016 legislative session. However, David Christian, executive vice president and CEO of Dominion Resources Inc., the state's primary electric utility, is operating under the assumption that the CPP will move forward, saying "We're not sitting on our hands."
Nearby Pennsylvania has a steeper climb towards compliance than its RGGI neighbors, but the CPP has found acceptance from Gov. Tom Wolf. Following the release of the final rule, Wolf said, "My administration is committed to making the Clean Power Plan work for Pennsylvania." The Department of Environmental Protection has already scheduled 14 public listening sessions across the state starting September 15, and will accept written comments through November 12. Brian Kauffman, Executive Director of AEE's state partner in Pennsylvania, the Keystone Energy Efficiency Alliance, wrote in the Times-Leader, "For Pennsylvania, [the CPP] could revolutionize the ways in which we produce and consume energy, and usher in an advanced energy economy that creates thousands of new jobs and spurs innovation."
In Minnesota, Lt. Gov. Tina Smith issued a positive statement on the CPP, saying, "The Clean Power Plan is a good step forward for our country."
Nevada, one of the 10 states projected to exceed their targets, also plans to submit a plan. Paul Thomsen, head of the Governor's Office of Energy, said, "My position is there's no state better positioned to be able to comply with those standards… We've been ahead of the federal government for some time. We think they won't have much of an impact." NV Energy spokeswoman Jennifer Schuricht said in a statement, "We do not anticipate a significant impact on our customer rates as we move towards reliable renewable generation methods and reducing our emissions."
In Arizona, Eric Massey, Air Quality Division director for the Department of Environmental Quality, said, "We have a team of our top experts reviewing this… we're working as quickly and responsibly as possible." While Gov. Doug Ducey has yet to respond to the final rule, ADEQ will continue meeting with stakeholders to develop an initial plan submission, and has indicated that it plans to take advantage of the extended final plan deadline. Former Arizona Energy Office Director Amanda Ormond, who is representing AEE and its regional partner Interwest Energy Alliance in Arizona's technical working group on the CPP, said, "Policy certainty is absolutely necessary for investment… The EPA plan gives the state the flexibility to find Arizona solutions to the problem." Arizona is already on track to meet its renewable portfolio standard in 2016, and if this progress continues the state will get 15% of its electricity from renewables by 2025. Massey agreed that "the future for renewables in Arizona is pretty bright."
Moving Forward While Suing
Even officials in some states involved in litigation against the CPP have indicated that they will comply with the rule. Arkansas Gov. Asa Hutchinson made clear that his state will develop a compliance plan, saying, "While we will continue to fight the final rule, we will also work with our industries and consumers to determine a lowest cost option to compliance." In fact, the state has already arranged stakeholder meetings, which begin October 9. Arkansas Public Service Commission Chairman Ted Thomas expressed optimism, saying "I believe we're ready." Entergy, which serves a large part of the state, is already moving towards compliance: the utility may close the coal-fired White Bluff power plant by 2028 to meet regional haze requirements, and is moving into renewables, with a planned $0.05/kWh solar facility.
In Colorado, where AG Cynthia Coffman has decided to pursue legal action against the CPP, Gov. Hickenlooper indicated in May that his state would comply. On the day of the release of the final plan, director of the Colorado Department of Public Health and Environment Larry Wolk said, "from my standpoint and the governor's standpoint (the Clean Power Plan) is certainly something we support."
The Governor and AG have also expressed divergent views on compliance in the state of Michigan. Gov. Rick Snyder was the first Republican governor to announce that he will develop a compliance plan for his state even as AG Bill Schuette pursues legal action against the rule. Gov. Snyder's statement said, "the best way to protect Michigan is to develop a state plan that reflects Michigan's priorities of adaptability, affordability, reliability and protection of the environment." Valerie Brader, director of the Michigan Agency for Energy, clarified the Governor's intentions for Michigan with respect to the Attorney General's decision to pursue legal action. Brader noted that Schuette's decision to join other states in a lawsuit was in his "independent capacity" and that "there are no plans for the state to join the current challenges."
The Governor also released a list of stakeholder comments that supported his decision to develop a plan. Supportive stakeholders included Michigan's two largest investor-owned utilities, Consumers and DTE, as well as the Michigan Electric Cooperatives Association, Ford Motor Company, AEE member company Invenergy, and AEE's state partner Michigan Energy Innovation Business Council. The Solar Energy Industries Association (SEIA) also released a statement supporting Gov. Snyder's decision.
In addition to supporting a state compliance plan, some Michigan businesses also expressed support for the rule itself. The owner of one Michigan solar company wrote that "we expect to grow our business as a result of the Clean Power Plan." And Consumers Energy chief compliance officer, David Mengebier, said that, regardless of which of the four energy reform packages being considered by the state legislature this year, "the Clean Power Plan will stimulate jobs in Michigan."
South Carolina's Department of Health and Environmental Control has similarly indicated that the state will develop a compliance plan, despite AG Alan Wilson's promise to challenge the CPP in court. Director of Environmental Affairs Elizabeth Dieck issued a statement saying, "We remain committed to working collaboratively with our partners to ensure that the facilitation of this national ruling is done in a manner that provides maximum flexibility in the development and implementation at the state level, is tailored to meet our state's unique economic challenges, and is right for South Carolina."
Keep up-to-date on all advanced energy legislation moving through state legislatures. Check out AEE's PowerSuite, your one-stop shop for tracking regulation and policy changes. It's available for free for members!