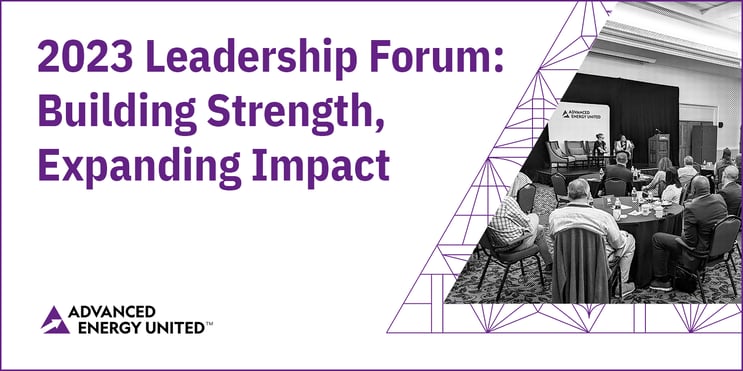 Renewable energy is now the most cost-effective form of power, electric vehicles are competitive with gas combustion vehicles, and grid-edge business innovations and demand-side management technologies are revolutionizing the way consumers use and control their energy. Following the federal energy legislation boom in 2022, the advanced energy industry stands at the edge of an opportunity to grasp the clean energy goals that are being set throughout the country.
But we won't achieve these goals without significant changes to the way businesses engage with decision-makers and consumers. To get there, the industry needs a united, sustained approach from the businesses leading the transition.
To that end, last week, we hosted a Leadership Forum in beautiful Ponte Vedra, Florida exclusively for business and policy leaders from across our membership and our country. The retreat-style forum served as an opportunity to step away from our day-to-day work to think creatively and collaboratively about common strategies to drive the energy transition in the face of big challenges, such as moving the needle on siting and permitting or forging the path to a clean distribution grid.
While our panelists and speakers varied in background and discipline, including experts from within our organization and member companies, state legislative leaders, industry partners and allies, and those outside of our industry who have led successful social movements, a few key takeaways echoed across our conversations:
We Need to Embrace "Losing Forward"

—

A

chieving

our clean energy goals

, including passing legislation and implementing it effectively,

requires

long-term

thinking and planning

.

Year

-

to

-

year and legislative session

-

to

-

session,

we'll

win some fights and lose

others

, as all movements do, but we can "lose forward,"

learn

ing

from the losses in addition to

building on our

wins, even the incremental ones.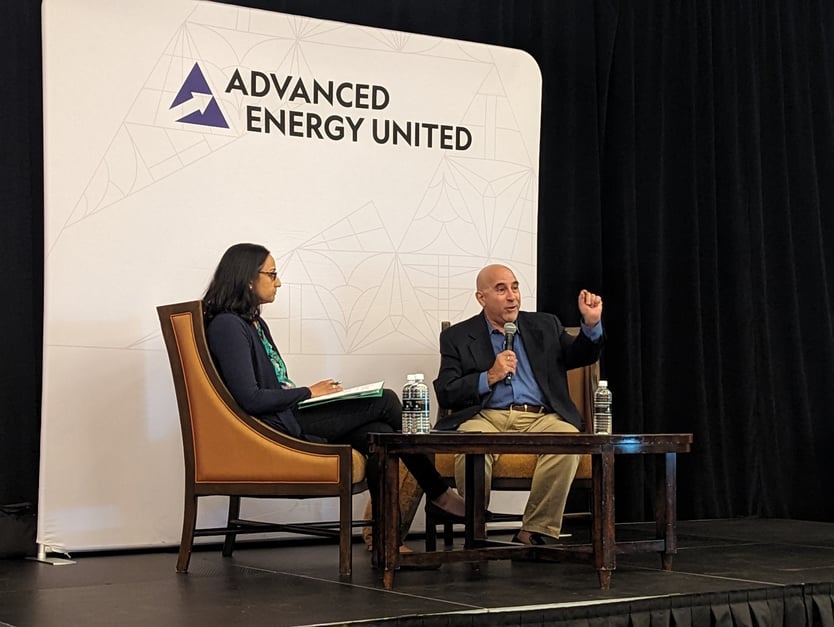 Advanced Energy United's Amisha Rai (pictured left) spoke with Evan Wolfson, the founder of Freedom to Marry – the campaign that won marriage equality in the United States. The conversation examined lessons learned from the marriage equality movement on how to effectively activate key messengers, bridge a partisan divide, and build power to create a movement that could dramatically change the politics around clean energy in the states.
Everything is Political

—

Realizing United's 100% clean energy vision requires a paradigm shift to re-envision the regulatory structures, policy, and business models that have served as the foundation of our energy system for decades. To make this happen, our industry needs to engage politically in ways we haven't historically. We need to support clean energy champions early and often, we need to build relationships with political candidates so they can become champions for our industry and issues, and we need to depoliticize the conversations – whether local or national – that stand in the way of our energy transition.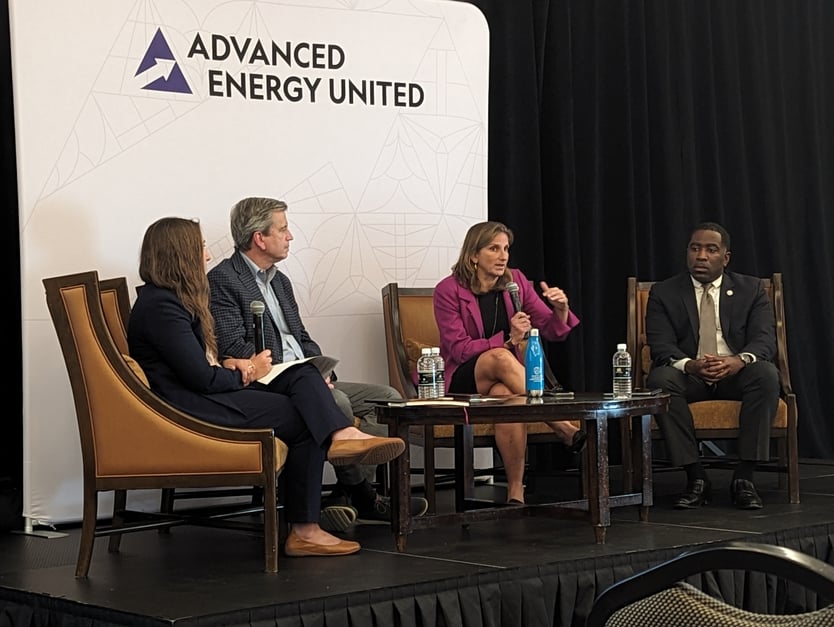 Sunpower's Suzanne Leta (pictured left) moderated a discussion with Virginia Delegate Rip Sullivan (pictured second from left), Maryland Delegate Lorig Charkoudian (pictured second from right), and Illinois Representative Marcus C. Evans, Jr. (pictured right), who shared the challenges, gaps, and opportunities they've seen that can inform our roadmap to achieving our clean energy goals.
… and perhaps most importantly (and most on brand)...
We Are Better United -

There is no substitute for doing the work: we need to build relationships early and often and create community connections for durable solutions. No one industry solution or even our industry as a whole will achieve our goal alone. We are an essential part of a movement and must build stronger and durable coalitions and partnerships to win.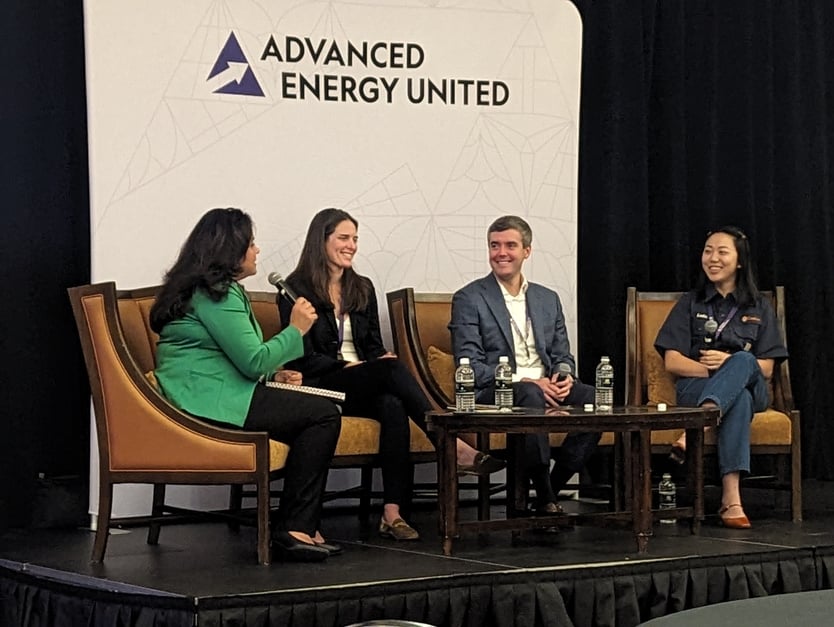 Advanced Energy United Board Chair Megan Beauregard (pictured far left) moderated a discussion with Fervo Energy's Sarah Jewett (pictured second from left), Ørsted's Brady Walker (pictured second from right), and Caelux's Leslie Chang (pictured far right) focused on job-creating facilities. The panel discussed manufacturing, centers, project hubs, and the like, as well as the impacts on building community support for the industry.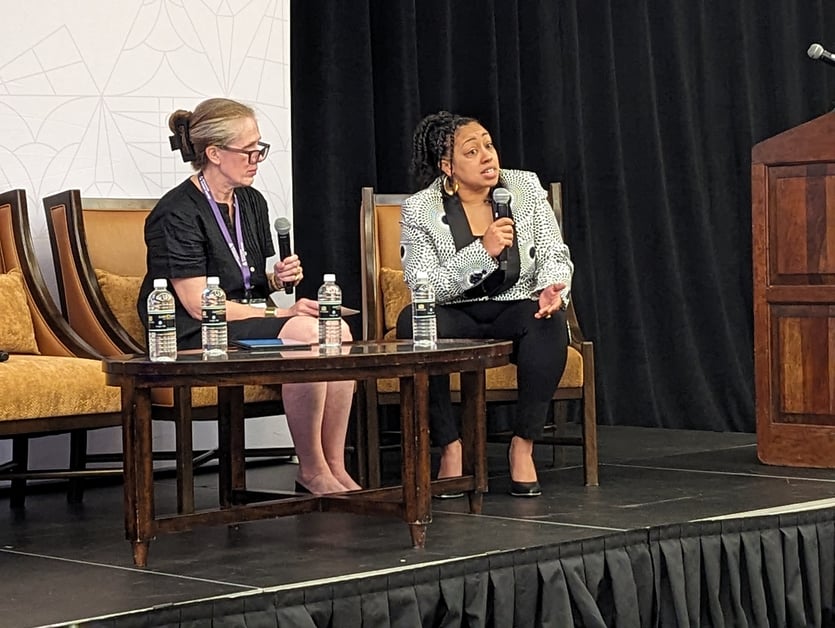 (Pictured right) Shalaya Morissette, Chief of the Minority Business and Workforce Division with the Department of Energy, spoke with Advanced Energy United's Laura Bartsch (pictured left) about how the industry can ensure clean energy development and equity go hand in hand and bring cost savings, job creation, and economic development to marginalized communities and create opportunities for women and minorities.
We send our gratitude to Shalaya Morissette, Evan Wolfson, Rip Sullivan, Lorig Charkoudian, Marcus C. Evans, Jr., Megan Beauregard, Suzanne Leta, Sarah Jewett, Eugenia Gibbons, Amy Fuerstenau, Leslie Chang, and Brady Walker for taking part in the panel discussions, and a special thank you to Pattern Energy Group for sponsoring the event.
The forum reminded us how fortunate we are to work with some of the brightest minds in our industry, all eager to tackle critical issues and committed to making a meaningful difference in our world.
The 2023 Leadership Forum was an event exclusively for United members. If you are interested in becoming a member, please contact us at sales@advancedenergyunited.org.