This post is one in a series of feature stories on trends shaping advanced energy markets in the U.S. and around the world, drawn from Advanced Energy Now 2016 Market Report, which was prepared for AEE by Navigant Research.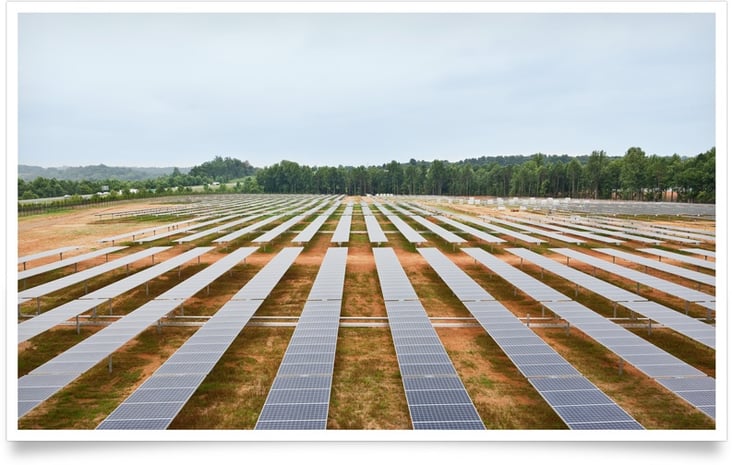 Solar panels help power a North Carolina Apple data center.
Intelligent buildings integrate software and services to maximize energy and operational ef ciency across building systems—from HVAC to lighting and plug loads. Integrated data center energy management is the implementation of a uni ed intelligent building strategy to optimize both IT and facility resources. As building owners invest in intelligent building solutions to deliver comprehensive energy management, they have begun to look at on-site and enterprise data centers as key candidates for optimization because of data centers' high levels of energy consumption.
By coordinating investment in energy conservation measures, equipment upgrades, and the use of software and services, integrated data center energy management promises to deliver greater energy and operational ef ciency improvements to the facility or campus that hosts the data center. The idea is to leverage resources that can meet the needs of both the data center and the larger facility.
The deployment of intelligent building solutions and approaches across facility and IT systems will only increase over time, making the integrated data center the next frontier for the intelligent buildings market. A few examples of solutions that help customers manage their on-site data center resources framework include:
BEMS

Advanced cooling solutions and strategies

Intelligent lighting controls

Integrated monitoring and control hardware, such as electric submeters, occupancy sensors, and smart thermostats

Building-integrated renewables
Integrated Data Center Category

Intelligent Building Offering

Visualization and reporting, fault detection and diagnostics, predictive maintenance and continuous improvement, optimization

BuildingIQ, Daintree Networks, Honeywell*, Johnson Controls*, Paci c Controls*, Schneider Electric*, Siemens*

Capacity planning, asset management, adds and changes, resource management, operations management, alarms and reporting

1E, CA Technologies, iTRACS, Modius, NetApp, Raritan

Energy Efficiency Services

Project design, implementation, and management for energy ef ciency measures

Ameresco, CBRE/ESI*, EnerNOC*, JLL, McKinstry, Trane,* Johns Manville, Opower, CLEAResult

Data Center Energy Efficiency

Electrical system efficiency, virtualization

Eaton*, Emerson*, Viligent

Building automation for scheduling, equipment set- tings, load management

Aircuity, Delta Controls, Dis- tech Controls, Entic, KMC Controls

Cooling redundancy, con- trols, dynamic cooling

Carrier, Daikin, Lennox International

Intelligent lighting controls, software analytics

Acuity, Bridgelux, Cree, Digital Lumens*, Enlighted*, GE Lighting, Philips

Leidos, RGS Energy, SunPower
(Source: Navigant Research) – * Vendors with offerings that cross categories
Navigant Research tracks the development of specific intelligent building technologies and solutions, many of which are gaining significant traction in the market. (See above table.) The promise of the intelligent building is centered on fully integrated energy management enabled by software, services, and advanced automation and control technologies. The evolution of a traditional facility into this intelligent building framework also relies on collaboration across customer teams. This is important context for the integrated data center, as the IT assets represent not only an additional set of energy end uses but also business decision-makers.
Furthermore, these assets will continue to demand energy, capital, and business resources. The integrated data center energy management approach can ensure that data centers are optimized for savings and efficiency, and allow data center operators to leverage innovations already underway. A Microsoft natural gas fuel cell pilot project reported a 30% efficiency gain by installing fuel cells directly onto server racks, bypassing the need to convert from direct to alternating current and thereby reducing conversion losses. Fuel cells play a small but growing role at data centers, with installations such as Apple's 10 MW system at its North Carolina facility and Ebay's 6 MW system in Utah.
The North American integrated data center energy management market is expected to grow from $46.9 million in 2015 to $119.7 million in 2024, representing a 43% CAGR. This aggressive outlook reflects the early beginnings today, but also the bullish expectations for broad adoption of intelligent building strategies including integrated data center energy management. As commercial facility owners become more comprehensive in their approach to energy management, on-site information technology resources such as servers and small data centers are essential assets to incorporate into their approach.