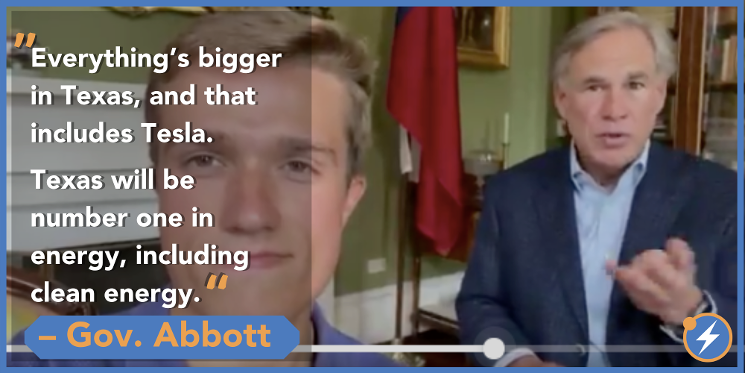 Over the summer, headlines proclaimed the news that Tesla, the global leader in electric vehicles (EVs), had decided to locate its next U.S. factory in Austin. Recently, Tesla's famed founder, Elon Musk, even announced that he would be moving to Texas himself. None of this should come as a surprise. Texas has long been a leader in energy of all sorts, including advanced energy technologies like wind and solar power, so it's only natural to add EVs to the mix. "Everything's bigger in Texas, and that includes Tesla," said Gov. Greg Abbott in a video interview posted to Twitter. "Tesla is moving here because of the free market principles that allow it to come here and be an innovator without government dictates… Texas will be number one in energy, including clean energy." By welcoming Tesla, Texas has earned a place at the forefront of the forthcoming electric transportation revolution – and a new analysis shows Tesla could be just the start.
This electric transportation (ET) revolution is coming due to the intrinsic benefits that EVs provide to consumers, including proven cost savings over the vehicle's lifetime and better performance, making these vehicles an attractive option for more drivers. Traditionally many consumers have faced either sticker shock or frustration with a lack of available models. But as EVs become more affordable due to lower battery prices (battery costs have dropped nearly 90% in the last decade, from $1,100 per kilowatt-hour in 2010 to $137 in 2020), and more models arrive in showrooms, with announcements ranging from the Jaguar XJ Electric to the Ford F-150 Electric, consumers are starting to make the switch. Just in Texas, passenger EV sales – including Battery Electric Vehicles (BEVs) and Plug-in Hybrid Electric vehicles (PHEVs) – more than doubled from 2017 to 2018, when EV sales surpassed 11,700 units.
As not only consumers but municipalities, public school districts, and private-sector companies turn to EVs as fleet vehicles, there will be opportunities for new companies and new workers to join the automaking industry. A new study released by Texas Advanced Energy Business Alliance (TAEBA) assesses the business and employment potential from the supply chain for electric transportation in Texas. This study, prepared by BW Research Partnership, found that Texas is well-positioned to benefit from the growth of ET, which could give the state's economy a serious boost. Already in 2019, the ET sector contributed nearly $690 million to Texas Gross State Product (GSP), more than twice the economic contribution of the state's established Guided Missile and Space Vehicle Manufacturing sector.
The analysis found that over 1,200 companies currently employ more than 7,100 workers in ET-related businesses spread across 203 Texas counties. ET jobs are expected to nearly double to upwards of 13,000 workers by 2024, including those in the Tesla factory currently under construction outside of Austin. Other companies involved in ET have already taken root in the state. Peterbilt, an American truck manufacturer, began the development of zero-emission electric trucks in 2016, and now manufactures three trucks for a variety of uses. In its Denton manufacturing facility, the company has over 1,000 assembly specialists and a team of engineers building Peterbilt trucks. Just south of Dallas, Orange EV, a Missouri-based electric truck company, has plans to expand both its footprint in Texas. The company hopes to have 25 to 35 electric trucks at shipping yards and terminals in the state by the end of 2021, expanding its employee base in the state as well.
Outside of the expected boost in employment from the Tesla factory and other workers already involved in this space, the Lone Star State has a strong industrial and workforce base in segments poised to grow with ET — more than 5,000 companies and over 400,000 Texans total are currently part of industries that could readily jump into the growing ET supply chain.
To capitalize on ET and start putting Texans to work, Texas needs to be a place where consumers feel comfortable buying an EV and companies – out-of-towners like Tesla, but also homegrown Texas companies that might join this growing industry – feel confident in investing.
What would that mean? Here's one thing not to do: HB427, filed by State Representative Ken King in November, would slap an extra registration fee of $200 and an additional renewal fee annually on Texas EV owners. This would be far more costly to an EV owner than the gas tax they would avoid, which the fees are ostensibly intended to compensate for, and it would hobble a market just starting to grow. A recent survey of current EV owners concluded that just a $100 annual registration fee on EVs would reduce sales by over 10%. A better approach would be a fee formula that takes into account the greater efficiency of EVs and is more comparable to what drivers of these vehicles would be charged if they paid the state's gas tax.
Other legislative and regulatory actions would signal to the rest of the United States that the Lone Star State is open for EV business. Examples would be ensuring continued funding for programs, such as the Texas Emissions Reduction Plan (TERP) Program, which provides financial incentives for the purchase of EVs, and extending Chapter 313 tax incentives that help bring manufacturing and other economic development projects to Texas.
And on the regulatory front, the Public Utility Commission of Texas (PUCT) has included in its biennial report to the Legislature a recommendation that the Legislature clarify that an EV charging station is not an electric utility or retail electricity provider. Such a clarification would reduce the risk of inappropriate and unnecessary regulations impeding the growth of EV charging companies.
By pursuing these and other pro-growth EV policies, the Lone Star State can tap the growing demand for ET for a Texas-sized boost to its economy.
For a copy of TAEBA's "Electric Transportation Supply Chain in Texas" report, click on the button below.