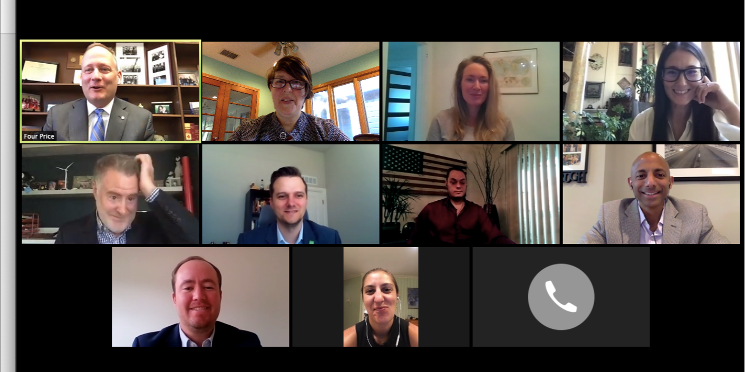 TAEBA members hold a virtual meeting with Rep. Four Price, a candidate for re-election to the Texas House of Representatives, top left.
Texas is the national leader in energy. As the undisputed leader in wind generating capacity with an interconnection queue stacked with almost exclusively wind, solar, and energy storage, and with billions of market potential available for distributed energy resources such as solar, demand response, storage, and electric vehicles, advanced energy is poised to play a key role in accelerating economic recovery, building a more resilient Texas, fostering market competition, and lowering customer electricity bills. Next year, as in all odd-numbered years, the Texas Legislature will meet for 140 days starting on the second Tuesday in January to consider the state's regular business. The Texas Advanced Energy Business Alliance (TAEBA) will be actively engaged in the legislative session, working to expand opportunities for advanced energy in 2021. But we recognize that policymakers need to learn more about the many benefits advanced energy can bring to Texas – and the best time to educate them is when they're running for office.
Over the course of August and September, TAEBA and member companies have used virtual means to meet with more than 30 candidates for Texas state legislature – incumbents running for re-election as well as challengers from both sides of the aisle – to discuss the economic benefits that advanced energy brings to the Lone Star State. Representatives of TAEBA member companies including Apex Clean Energy, CPower, EDF Renewables, Enel, EVgo, Greenlots, Savion, Schneider Electric, and SunPower have shared information with candidates regarding the technologies their companies bring to the state, along with investment dollars, jobs, and related economic impacts to the state and local communities.
As of 2019, Texas had 254,300 people working in advanced energy. This represented more workers than those in Real Estate (231,031), and more than triple those working in Chemical Manufacturing (83,470) across the Lone Star State. Advanced energy employment grew at nearly twice the rate of Texas jobs overall from 2018 to 2019 (4% versus 2%) and employers expected to add another 5% to their headcount in 2020, when surveyed last fall. Although hard hit by the coronavirus public health crisis, like many other industries, the track record of job growth and optimism of employers for future growth suggest that the advanced energy industry could help to drive the economic recovery in Texas. The Texas advanced energy industry lost an estimated 10% of its workforce, or 25,000 jobs, since the pandemic struck in March, before regaining an estimated 8,000 jobs in June, for a 4% employment rebound.
With all these candidates for the legislature, we discussed TAEBA's policy platform, which identifies ways to support and grow advanced energy in Texas by promoting competition, removing market barriers, and facilitating infrastructure development. In 2019, bills that would have removed barriers for distributed energy resources (DERs) such as energy storage and distributed solar generation (e.g., SB 2066) were introduced but did not pass, so action is needed in 2021. Meanwhile, during the legislative interim, Senate and House committees have been reviewing opportunities for DERs and microgrids, including the potential for non-wires solutions. Texans stand to save $5.47 billion over 10 years by integrating distributed energy resources (DERs) onto the grid. Therefore, advanced energy will be critical to the state's economic recovery, as it continues Texas energy leadership, diversification, and innovation.
Candidates also heard from TAEBA member companies about the benefits of supporting investment in large-scale solar and wind generation, energy storage, and clean energy manufacturing with a continued commitment to Texas economic development. In 2019, Chapter 312 tax incentives for manufacturing and large-scale renewable energy projects were preserved.In 2021, Chapter 313s, which provide relief from Texas's burdensome property tax structure in exchange for investment, will need to be extended, as this is no time, in the wake of the COVID pandemic and its economic dislocations, to tinker with tax provisions that have helped bring billions of dollars of investment and landowner payments to Texas. Legislators in rural districts, in particular, emphasized that these incentives are essential economic development tools for their communities.
Electric vehicles (EVs) and expanding charging station infrastructure were popular topics for candidates as well. Legislative committees have been exploring a wide range of EV-related topics in 2020, such as EV fees, development of charging infrastructure, and how EVs fit into competitive energy markets. In addition, the Public Utility Commission of Texas (PUCT) has an open project to review electric vehicle policies, which may result in recommendations to the Legislature for action in 2021. Legislators commented on the growth of fleet electrification with fleet owners such as Amazon, noting that electrification is underway and acknowledging the substantial infrastructure and market development opportunity that vehicle electrification brings to Texas.
Based on these meetings, many candidates for the Texas legislature are aware of the opportunities offered by advanced energy and are supportive of policies to facilitate advanced energy investment in Texas. We look forward to working with them after they take office on policies to attract more investment in advanced energy that will accelerate economic recovery, build a more resilient grid, foster competitive markets, and lead to customer savings.
Click below to download TAEBA's "Advanced Energy Jobs in Texas 2020."